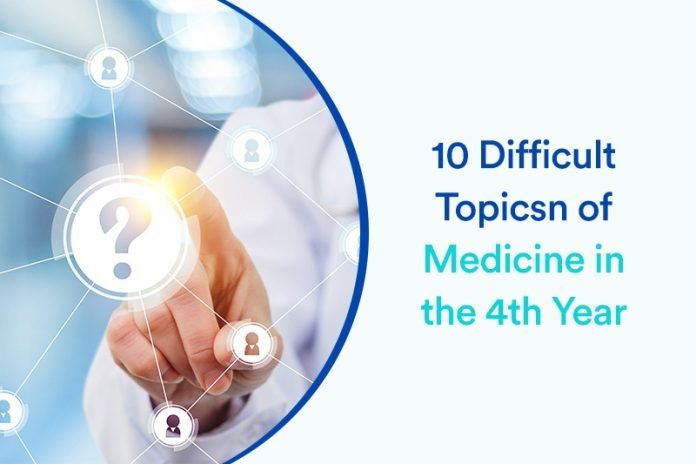 Last Updated on October 2, 2022 by admin
Internal or General medicine is one of the 19 subjects a medical student has to study during the MBBS course. Medicine is included in the 4th year of MBBS. Studying this subject will introduce the aspirant into a myriad world of disorders and diseases, with lengthy chapters and endless concepts on each topic. Due to the sheer length of the chapters and overall volume, aspirants often feel overwhelmed. The huge volume also causes learning gaps to develop as aspirant struggles between learning new concepts and revising the old ones. Medicine for Undergrads is not a very complex or difficult subject if an aspirant formulates an effective preparation strategy. By the time an aspirant reaches the 4th year of MBBS, he or she becomes quite accustomed to time management, the routine of learning and revising, linking concepts with each other, and collecting study materials related to the latest developments in that respective field. Hence, to master Medical, an aspirant only needs the correct guidance to stay on the right track.
Medicine is one of the most scoring subjects as well. Often it is observed that a medicine student emphasizes learning important topics instead of focusing on the entire syllabus based on one's understanding of the subject. While studying in a peer group, for instance in classrooms or group study sessions, the difference of opinions regarding important topics and subjects is well seen among the aspirants. Hence, it is advised that an aspirant seek advice from experienced mentors and renowned faculty of Medicine, to obtain the most reliable guidance. In the digital era, one easy way to get in touch with distinguished medical faculty is to simply get associated with the renowned medical platforms that offer Medicine Undergraduate Courses. This provides the aspirants the opportunity to attend the video lectures at any time that is convenient to them, and also learn and revise chapters at their own pace.
Due to the vastness of the subject, time management becomes a crucial aspect. A medical student has to increase one's reading speed as well as the pace of revision to finish a chapter, topic, or concept in a time-bound manner. By subscribing to an online Medicine course, a medical student will be benefitted in ways more than one.
10 most difficult topics in Medicine are –
Cardiovascular system
Respiratory system
GIT and liver
Kidney
Nervous system
Psychiatry
Infections and skin
Immunology
Endocrinology
Blood
These topics listed above are some of the most important topics one needs to cover for undergrad Medicine exams. Apart from these, there are a few other topics as well, like – electrolyte and acid-base, poisoning, vitamins and minerals, drugs and their classifications, and signs and symptoms of diseases. These topics are part of diagnosis and treatment procedures. A top medicine expert having extensive knowledge of the field is highly revered in the healthcare sector. An apt online medical course progresses by segregating the chapters into units, thereby helping a medical student ace routine patient care for a wide range of regular diseases and disorders. By building rational connections between those explained units, for instance- by going through a disease or disorder like a story, not only an aspirant can save precious time for learning and revision, but also can lessen the pressure on memory for retaining important information for a longer period.
To master the important topics of Medicine, an aspirant must put equal emphasis on learning from practical case scenarios, demo diagnosis procedures, case studies, and more. Apart from textbooks and lecture notes that contain high-definition photographs, illustrations, and diagrams, an aspirant must read along miscellaneous cases on Medicine. There is a lot of clinically relevant information that is not always given in textbooks or lecture notes. Such information can well be gained from first-hand experience by serving as a doctor in OPDs. Medicine for undergrads introduces the aspirants to the basics of Medicine. After completion of MBBS, an aspirant can pursue a specialization in various branches of Medicine with much more confidence and expertise.
Apart from this if you are interested to know Understand the Reason to Opt for quality education Abroad then visit our Education category.