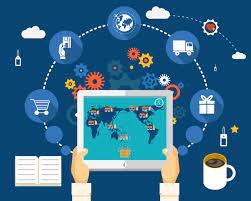 Last Updated on December 25, 2022 by
Apart from technology, one of the backbones of the eCommerce industry is the underlying supply chain management system. With hundreds of millions of orders being placed daily across online marketplaces, not including the returns and exchanges, a robust eCommerce supply chain allows online stores to meet their commitment of timeline to customers. Failure to do so can lead to a big dent in their operational metrics, and average customer ratings, and lower their brand image in general.
A couple of years ago in the wake of the global pandemic, the global eCommerce supply chain took its biggest blow to date. As the world was trying to revive itself from its effects other events such as the economic slowdown leading to the closure of several logistics companies, the war in Ukraine etc. occurred. The message here is that it is not always possible to predict events and their consequences. Not only does this serve as a lesson regarding the importance of a streamlined eCommerce supply chain it also amplifies the significance of being prepared for uncertain eventualities.
What has changed?
The earlier supply chain model was used to emphasize staying lean (only as much inventory as deemed needed) and just-in-time delivery. In other words, this approach focussed on keeping a limited inventory to keep the handling and storage costs low, and relied on the calculated, estimated timelines without provisioning for unforeseen shock events like the pandemic or the Ukraine war.
The recent approach derived as a learning from recent events, is to bulk up the inventory and absorb the associated costs rather than suffering bigger losses later on – tangible losses of cancelled orders or unfulfilled commitments and intangible losses of loss of reputation and brand value. Another approach is to use faster delivery mediums like priority air freight surface or local depots. All of these approaches can cost quite a lot and may not be feasible for a small or medium business owner. So, what needs to be done? Here are a few tips that can help optimize your e-Commerce supply chain management.
Know your business: The foremost and possibly the most pertinent step is to understand the intricacies of your business operations. As mentioned earlier, one of the approaches is to always have a 'requirement plus X' inventory. But there is no single formula for calculating this X. How much additional inventory you should carry depends on a lot of factors including (but not limited to) the nature of your business, the products in your catalogue, the typical demand (for example if there are seasonal spikes and troughs), knowing your customers' preferences, etc. A clear visibility into your business, customers, and objective data to back it up will help you arrive at the ideal approach for your eCommerce supply chain.
Understand your contracts: A lot of SMBs do not manage their own logistics as it can be too cumbersome and expensive to do so. Most choose to outsource the function to specialists in the field. Hence, it is very relevant to understand, at length, the service contract in place between you and your eCommerce supply chain service provider. Knowing the caveats, inclusions and exclusions that you are paying for, the rates for the addition or deletion of items in your contract, and your overall pricing model will help you ascertain areas that can be further streamlined.
Be flexible: No single solution can fit all. An eCommerce supply chain management strategy needs to be tailor-made for your unique business needs. This is especially true in case you are catering to different markets and disparate geographies. Even within your own company, you can choose to implement different eCommerce supply chain management systems as per requirements. For example, for high-demand areas that generate the most orders, you may deploy a more direct and dedicated logistics service, while for others you may use a passive one and piggyback on other service providers.
Consult experts: The eCommerce supply chain sector, much like the overall market, is constantly evolving. It can be difficult to stay on top of each emerging trend and use it to your advantage. Expert organizations that have exposure to different brands and strategies deployed by them can be of immense value. Allowing them to understand your current operations and helping them suggest best practices that you can assimilate into your operations can make a world of difference.
A good eCommerce supply chain can reduce a lot of hassles and costs in the long term. However, it cannot be achieved overnight. It takes a fair bit of due diligence to carefully understand the challenges in your current model and ways to plug them. It also requires you to stay abreast of the global best practices and regulatory updates to ensure smooth sailing for your products in your customers' homes. If you feel overwhelmed by this activity and wish to seek professional guidance from an expert, then check out this handy guide to understand eCommerce supply chain challenges and how to mitigate them.
Apart from this if you are interested to know about 7 Ways to Promote and Grow Your Taxi Business then visit our business category.