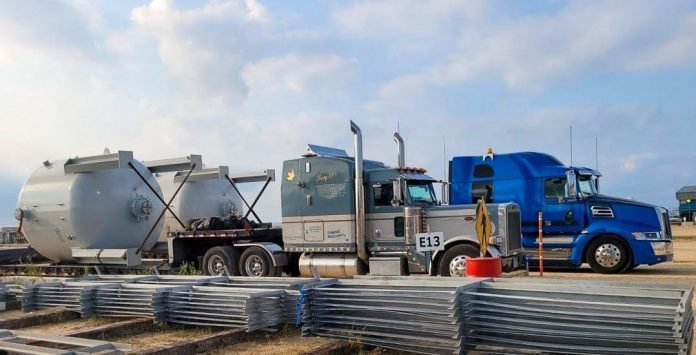 Last Updated on September 12, 2023 by
Heavy hauling refers to the process of transporting heavy equipment across places either within a state or across borders. Well, it is not as simple as it sounds. It is a risky business that requires a professional approach. It involves a lot of care and expertise to handle over-dimensional trucking. With lots of blind ends around the heavy hauler, there are so many things to consider to ensure safe and timely freight transportation. Dry van shipping services are the most commonly used type of truckload shipping. Dry Van Service refers to moving freight in sealed, fully enclosed trailers.
Tips For Heavy Hauling
Since heavy hauling is the need of many industries these days, the job is becoming more demanding because of the ever-growing liabilities. Professional trucking companies in Canada and other parts of the world ensure the maximum safety of your freight. But you still have to consider the risk involved. If you are new to heavy hauling and want to know how to hire a professional company for you, keep reading.
Project Management:
It is really an uphill task to initiate and complete a project involving over-dimensional trucking. If you want to carry out a successful shipment, you have to work with your service provider to manage the project appropriately. Everything has to be perfect from initiation to delivery, from the choice of vehicle to the selection of an expert driver.
For that matter, you have to know how your freight will be transported. For example, you should know the exact dimensions of the goods along with their precise weight. This information is crucial while you are packing and loading the goods. Similarly, you have to be clear about the choice of transporter for your project.
Choice of heavy haul truck:
You have to be specific about the right type of heavy hauler that is appropriate to carry your freight. You have to make an intelligent choice considering the type of load you need to transport. Whether it is a dual lane or a modular trailer, you have to be sure about the safety of the freight.
Plan the Pickups/Drop off Sites:
You should develop a comprehensive plan with your trucking company in Ontario or wherever you live. It can avoid a potential loss of property or lives, and it will ensure on-time delivery. Since not every heavy haul vehicle can park and load/unload at any place, some trailers need rather specific sites for these processes. So, you have to plan accordingly. Keep in your mind the budgeting and scheduling limitations to avoid unnecessary delays. Similarly, additional equipment like cranes, etc., might be needed to unload the freight. Make sure to get them at the sites at the right time.
Map out your route:
Before your heavy haul truck is loaded and ready to move, you should have a clear route planned with your over-dimensional trucking company. Time management is the key to heavy hauling success. For example, if you get your truck going in the daytime, it is likely to face many roadblocks and heavy traffic. Instead, the nighttime is the best as there is less traffic, and the driver will be able to reach the destination well within the provided deadline. Moreover, many states have their own regulations about the movement of heavy vehicles.
Know the local laws and permit regulations:
It is one of the most important things to consider. Especially when you are hiring cross-border transportation, you have to be aware of the local laws. Similarly, not all types and dimensions of heavy loads are permitted to be carried everywhere. Every state has its own rules and regulations in place, allowing the abiding vehicles only to pass through them. You have to apply for the permits to avoid any litigation. The best way to deal with this issue is by hiring trucking companies in Ontario or whatever your city is. These companies are well-prepared for the legislative procedures, and you don't need to bother about that.
Choice of the Heavy haul company:
Always consider the most reputable and experienced heavy haul companies to handle your freight. In this way, you can ensure the safety of your valuable freight and everyone involved in heavy hauling. Trucking companies in Canada are handling projects of many sensitive industries, while their clients can sit with ultimate peace of mind. You can also find a reputable heavy hauling company in your area if you don't live in Canada. Since they are the experts, they will serve you to the best of their capacities.
Conclusion:
A lot of effort and expertise goes into the process of over-dimensional trucking. You have to be careful at each and every step to ensure the safety of your freight. However, if you follow the steps mentioned above, you can do it easily and professionally. It is highly recommended to hire professional trucking companies in Ontario or anywhere around you. In this way, you don't need to be worried about the liabilities, and your freight will be in safer hands.