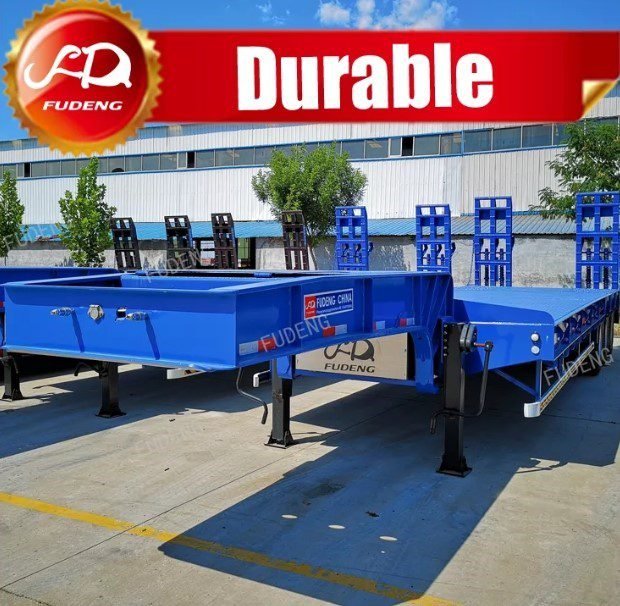 Last Updated on August 23, 2022 by
Lowboy trailers have lower cargo platforms that are known as concave beams or staircase structures. This lowers the center cargo platform. Lowboy trailers are usually used for moving high-height cargo or heavy equipment. Gooseneck lowboy trailers are also available, which have an adjustable gooseneck. The gooseneck on a lowboy allows heavy equipment to be loaded at the front of the trailer. In the past, loading lowboy trailers was a difficult process. But now, thanks to improved design, the low-height lowboy trailers are more secure.
There are several advantages to owning a FUDENG Lowboy semi trailer. Compared to other types of trailers, they offer much higher load capacity and air ride suspension. Additionally, they are lighter and easier to maneuver, making them a good choice for hauling over-width machines and those requiring low approach angles. 
Air ride suspension
Air ride suspension allows you to customize the height of the suspension so that it suits your driving style. These suspension systems are more comfortable than spring-ride trailers and provide better handling. In addition, you can use them for transporting equipment with ease. You need to make sure that you buy the right tires for your trailer and check that they do not wear unevenly. If they do, it could be due to an axle misalignment. Overloading or poor road conditions can also cause damage to the trailer.
There are two basic types of lowboy trailers: the ordinary and the air-ride type. The air-ride type is the most expensive, but it provides better stability and flexibility than conventional suspension systems. Unlike the single-point system, an air-ride trailer has front and rear suspension systems to reduce the risk of a rollover accident. The disadvantages of this suspension type are that it costs more than a conventional suspension system.
Removable gooseneck
If you want to haul heavy machinery, consider a Lowboy semi-trailer with a removable gooseneck. This type of semi-trailer is designed to be safe and easy to operate by one driver. Because of its low profile, it allows the prime mover to pass it without hitting it. Its control procedures are among the best in the industry. It can be operated manually or by the prime mover alone.
Easy to load
The carrying capacity of a lowboy trailer typically varies from 25 to 35 tons, depending on the options and length of the deck. These weights are not just the weight of the load carrier; the trailer itself is also weighed. For this reason, lowboy trailers are often multi-axled and longer. For added strength, operators also use drop decks and extra heavy-duty flats to increase their load capacity. Although this makes them heavier, lowboy trailers are easy to load and unload.
Versatility
The versatility of a Lowboy Semi Trailer is one of its main attractions. Many contractors use this type of trailer to haul heavy machinery and equipment. Because of this, they often require large weight capacities. Lowboy trailers can be as long as 30 feet and have load capacities of 40,000 to 80,000 pounds. Depending on the load, different Lowboy models can carry a variety of items. In addition, these trailers can come in different sizes and weight capacities.
The Lowboy Semi Trailer can be either fixed or removable and has two primary types: hydraulic and mechanical. Fixed-neck lowboy trailers feature a single-piece gooseneck that can be detached or attached. Fixed-neck lowboy trailers tend to be lighter and may offer more carrying capacity than their counterparts. But they may also be less flexible and require more maintenance than mechanical lowboy trailers. For this reason, a low-bed semi-trailer is a better choice if your load is very heavy and requires high handling capacity.
Read More: Offering Cooking Classes? Here's the Insurance You Need