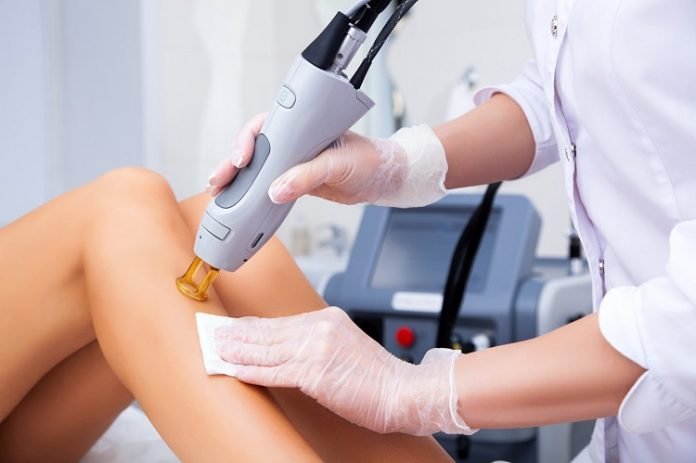 Last Updated on July 31, 2022 by
It's time to say goodbye to the razor and the waxing. Consider laser hair removal as an alternative for a more permanent cure. You don't want to spend another minute of your life attempting to remove undesired hair that will just come back.
For those fed up with shaving, waxing, and epilating and fed up with the time-consuming major hassle factor, and want to wear skirts or go to the beach without worrying about their leg hair or chest hair, electrolysis may be the solution for you.
What is Laser Hair Removal, and how does it work?
Laser hair removal is a long-term hair removal method that eliminates the issue at its root. The procedure, which uses focused lasers, destroys hair follicles while causing no damage to the skin.
The laser is a focused beam of light absorbed by the pigment, or melanin, in the hair, resulting in hair growth. The light then destroys the hair follicle, stopping it from producing more hair.
Because the melanin in the hair absorbs the laser, the treatment must be conducted on regions with dark hair to be effective. When it comes to laser hair removal, they cannot successfully eliminate blonde, red, and white hairs.
What is a laser hair removal patch test, and how does it work?
If your clinician thinks you are a good candidate for laser hair removal and that you are not currently tanned, they will do a patch test on the area in question. It is required that you do patch testing at least 24 hours before your first session.
Here's our step-by-step approach to prepping your body for laser hair removal treatment.
For three days before treatment, refrain from using any topical treatments that may induce photosensitivity in the treatment regions. Use a mild cleanser and lotion to prevent irritation on the affected areas.
Avoid direct sun exposure to the treatment region, and refrain from using UV tanning beds for at least two weeks before the procedure. Make sure to regularly apply a broad-spectrum mineral sunscreen with an SPF of 30 or higher, as suggested by your doctor.
Follow any oral prescription medicine directions that are given to you during your medical laser consultation, including any special instructions. Before your scheduled visit, you must notify the doctor in advance if you are taking any new or changing drugs, including antibiotics. You can ask as many questions as you like at the Hair Removal service in Gilbert, AZ.
It is recommended that you refrain from having Botox injections, dermal filler injections, chemical peels, or microdermabrasion in the treatment region for at least 14 days before laser hair removal.
Before you go for a session, make sure your skin is spotless and free of lotions, oils, creams, or scents of any sort. It would help if you also washed or bathed before you attended.
Before treatment, You should fully shave down any treatment areas to the skin. Legs should be shaved at least 24 hours before your visit to minimize irritation during the procedure. Two weeks before treatment, refrain from waxing, tweezing, epilating, or using chemical depilatories, as well as throughout the two weeks between laser treatments.
Because the laser is designed to target the root of the hair, the hair must be present for the treatment to be successful. During the duration of your medicines, shaving is the only hair removal method suggested.
Few tips before going for a hair removal session
You should avoid any tanning. If you allow your skin to tan before your laser treatment or apply a fake tan, you are risking your laser therapy. The laser might burn the surface of your skin if it is tanned. You may also be in danger if all traces of your fake tan are not eliminated. If your skin is tanned, wait at least four weeks before undergoing laser treatment.
Make sure you don't bleach your hair. The laser can see the hair follicles better if they are darker. Before your session, avoid using any cosmetic products. You may also ask your practitioner for sanitary towels to clean the area at the start of your session.
This is the opportunity to ask questions during the consultation. You'll have all the knowledge you need to make an educated choice this way. You and the technician will discuss your prospective therapy at this first visit. They'll also inquire about your medical background.
Make a point of mentioning any previous skin disorders you've had, as well as whether or not your skin is prone to scarring.
It will help if you avoid caffeine. It might make you more sensitive. You may also take modest pain medication before your session if you have a low pain tolerance.
Conclusion-
Choosing a specialist board-certified in a specialty like plastic surgery is critical. Your expert from Hair Removal service in Gilbert, AZ. will likely assess your medical history, explain risks, benefits, and expectations before recommending laser hair removal.
Read More: Is Getting A Laser Hair Removal Worth It?