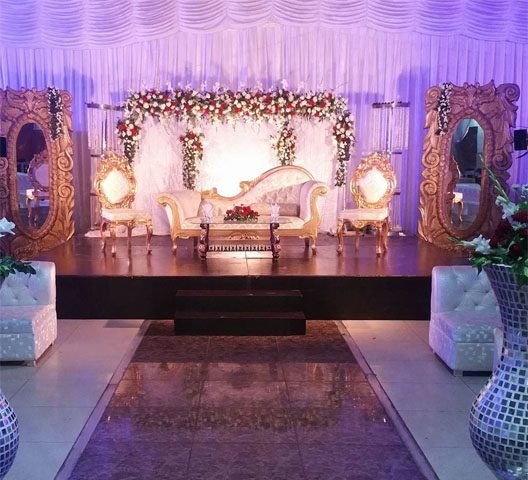 Last Updated on July 31, 2022 by
When we talk about the wedding day/event, the first thing that comes to our mind is where we will go to celebrate that special day. Wedding Day is the most important day in the life for every man and woman. And every man/woman tries his/her best to choose the best wedding hall or Marquee within budget. Some people prefer marquees over wedding halls because there is a huge space in marquees, and if you are going to invite all of your family, friends, and relatives then marquees can be best for you. If you are living in Lahore, then it will be really very difficult for you to find the best Marquee because, as you know, there is a variety of marquees in Lahore. 
And you don't really know which Marquee is best, affordable and according to your taste.
No one wants to compromise on his/her special day. So, now you don't need to worry about where you will go for your wedding celebrations. Just go and check out Pakcheers.com
Because now, Pakcheers.com is going to provide you the complete information about the best marquees in Lahore within your budget.
Everyone is concerned about their wedding day. And every man/woman wants to make his/her wedding day up to the mark. When you make your guest list, then you realize how many family and friends you have, and you don't want to leave anyone out. Now you don't need to worried about where you will go for your wedding event and how you will manage your guest because there are a lot of best marquees in Lahore. Marquees are the best solution for the grand wedding event, and there is also a huge space.
So, here is a list of the top 5 marquees in Lahore for your wedding day:
Royal Fort Marquee by Mughal-E- Azam
Royal Fort Marquee by Mughal-E- Azam is known for maintaining the quality of services and the high standards of food. There are a lot of professionals, chefs, caterers, and experts are working to make their customers satisfied. They try their best to keep their standard high. There are five halls, and each hall has a capacity of 80-1000 people. Royal fort's aim is to provide you the best services and total satisfaction at competitive rates. Their wedding packages are affordable. And Royal fort helps you to make your event memorable, outstanding, and up to the mark.
Grandiel 8 Marquee
The first priority of Grandiel 8 Marquee is to provide comfort to their customers. Grandiel 8 Marquee was presenting the best staff to cater to the needs of their customers. And always try their best to execute the idea/theme of their customers.Grandiel 8 Marquee was also providing the best and delicious food, comfortable and suitable sitting arrangements, elegant and amazing lighting.Grandiel 8 Marquee offers you the experts and highly trained staff to fulfill the desires of their customers according to their needs and wants. From floral décor to the best catering services, from mehndi nights to wedding day Grandiel 8 Marquee, always make sure that the décor and arrangements of your events are extraordinary.
Grandiel 8 Marquee aims to provide the best services to their customers.
Topaz Marquee
Topaz Marquee is one of the most beautiful and outstanding marquees in Lahore. Topaz Marquee is appreciated by many people, so that's why its network is expanded. The quality of services is unmatched. Décor and the arrangements of the wedding events are designed according to the taste and idea of the customers. Topaz Marquee presents you with the best catering services and perfectly cooked food. Topaz Marquee has now introduced outdoor events services. And the interior is also very beautiful and breathtaking. The experts, professionals, and highly qualified staff is offering the best and high quality of event management services. So, here the desires and the expectations of the customers can be fulfilled.
Imperial Marquee
Imperial Marquee is best for all kinds of festive occasions—the outstanding Marquee is located on Shah Jalali road. Imperial Marquee tries to make your wedding event more special and appealing to the guests by adding some delicate lighting. The amazing and outstanding stage setting or décor can be customized as per the need or choice of the customers.
Imperial Marquee is considered as one of the best marquees in Lahore and providing the best catering services and delicious & mouth-watering food to the customers. And also offers live BBQ that moderates the wedding events. There are different packages for your wedding events that are affordable according to your budget.
So, these are the best marquees in Lahore that are absolutely amazing and excellent for your wedding celebrations. Go and avail the opportunity to fulfill your dreams and demands.
You can also find the best marquees in Lahore at Pakcheers.com