Last Updated on May 24, 2022 by husnain
There is no greater feeling than getting back to nature and enjoying the great outdoors. Camping is a popular activity for many people, but it can be difficult to know where to start when you're just starting out.
Camping is about having fun, not being uncomfortable. When you feel comfortable in your surroundings it makes it easier to relax and have a good time! Sleeping on the hard ground will get old fast if you're not ready for it. Find an area that has some sort of insulating layer between yourself and the cold earth below – otherwise, you're going to have a bad time.
Camping advice from other camping enthusiasts will help get you started on the right foot! Here are five pieces of advice that we hope will give you some insight into what it means to camp like a pro.
Why Should You Go Camping?
Camping is a great way to spend some quality time with friends and family while spending quality time outdoors. Camping is not as hard as some people think – it's worth the struggle for those who love the outdoors. Camping offers an opportunity to disconnect from our gadgets and reconnect with nature, as well as improve relationships with one another. Campers will have an unforgettable experience that they'll never forget!
How do I prepare for my first camping trip?
The best way to prepare for your camping trip is to pack everything you need before the trip. Camping, at its core, is just about being outside and roughing it. Don't forget snacks and entertainment so that you don't feel bored while you're out in the wilderness!
It's easy to start with a small list of what you'll need: toothbrush, toothpaste, clothes (both warm and cool), any medications or personal items all layered up, rain gear if necessary, cooking supplies or propane stove for making food, the food itself in whatever form works best for everyone interested in eating camp-style – hot dogs work well when nothing else does because they are ready instantly without much preparation needed. The bedding-wise ground is the easiest to set up and it is also relatively comfortable – but there are alternatives like inflatable matt-mats which many people use for camping.
5 Real Campers tell you their best single advice for camping!
Advice 1: Don't Be Afraid To Invest In Your Gear
Invest in technical gear. Good gear costs a lot, and it's worth every penny. There are a few basics worth investing in for tent camping, so you'll have the best experience possible. You need a tent with a rainfly. You never know when a storm will pop up, and if you don't have a rainfly, you might as well pack up and leave.
A good tent will stay dry even in violent storms with driving rain. Look for a tent with a bathtub floor that extends up several inches so you won't have to deal with runoff water flowing through your tent.
Your car may be the most important piece of equipment you have on a camping trip, even if only because it gets you to your destination. Invest in quality tires and car covers, and be prepared for rainy nights before you go camping. Look up the weather forecast and be sure to practice safety when driving in the rain.
The other essential items are a sleeping pad that has a high R-value. If you camp at high elevations or in cold climates, you can count on chilly nights. Without insulation, an air-filled sleeping pad will contribute to a chilly night because the air under you will be as cold as the air around you.
And finally, a good sleeping bag is worth finding. Cheap sleeping bags have frustrating zippers, liners that twist, and insulation that clumps up. To enjoy camping, you have to be able to sleep comfortably, so make sure your sleeping arrangements are compatible with good sleep.
Quote provided by Deborah Goldberg, a driving safety specialist with CarInsurance.org.
Advice 2: Always waterproof your tent
The thing about mother nature is that she always has an endless amount of surprises up her sleeve and because of that, you can never be too sure of what the weather will do. One moment it could be sealer blue skies and the next, it could be raining cats and dogs. As such, you need to always be prepared while camping, and the best way to do this is by waterproofing your tent.
And you can easily do this by purchasing a can of silicone sealant, then spraying the tent from top to bottom, including the zippers, before you leave on your camping trip. This will ensure that you are prepared for the worst, even if you suddenly find yourself camping out in the middle of a downpour.
Quote provided by Eden Cheng, Co-founder of PeopleFinderFree.
Advice 3: Take Care Of Tidal Waves if you Decided To Fish
What if you decided to camp near the seas to enjoy the soft touch of the winds there! You probably have to do some fishing to get the whole experience.
That Being Said, here is advice that came from our friend Marc Bromhall:
Be aware of tidal changes when fishing in the sea or in lagoons. The ebb and flow of the tides have a huge impact on how, when, and where saltwater fish feed.
Marc Bromhall is the founder of Beginner Surf Gear. A site that provides information to those learning to surf. Feel free to check his guide to Mini Mal Surfboard.
Advice 4: Always Check The Weather Before Camping
I enjoy the occasional camping, especially when I take a break from work because it helps me to clear my head and think.
My singular best advice for anyone looking to go camping is to make sure to check the weather forecast. You should check the weather forecast days in advance, the day before, and the very day you're to leave because you do not want to be caught in bad weather outside with nothing but a tent.
Quote provided by Alina Clark, Co-Founder & Marketing Director at CocoDoc.
Advice 5: Take Care of Your Sleeping Arrangements
I spend a lot of time outdoors and especially camping throughout the course of the year.
My best camping advice has to do with selecting the right tent and sleeping arrangements. If you're camping with only two people, it might seem logical to have a two-man tent. As a rule of thumb always select a tent that is about twice the size as what you need. Two people with all their belongings can get cramped in a smaller tent.
Another tip is to place a Mylar or reflective blanket on the ground under your sleeping bag or mattress. The reflective blanket will redirect radiant heat and reduce the cold penetration from the ground.
Quote by Marty Kelly, Founder, and Editor Actively Outdoor. A website that writes informational content about a wide variety of outdoor hobbies and activities such as kayaking, general fitness, canoeing, camping, hiking, fishing, and more. They like to help beginners discover actionable tips and information when it comes to staying active and enjoying the outdoors. You can check their guide to lightweight kayak to read some more useful information!
We also wanted to participate with some of our own advice, so here we go:
Always Have Fun
I've been camping before and it is always fun. Camping can be quite an amazing experience. Camping is also very rewarding in many different ways for many reasons. Camping with friends or family sounds like a great idea. don't get overwhelmed with the arrangements and forget about having fun and getting the most out of the experience.
Consider Camping With Pets
Camping with pets can be fun, but you need to prepare them for the trip. Camping with pets has many pros, but there are also some cons. It will give you more adventure but less comfort.
Camping is also more work when you have a pet because of the extra responsibility of caring for your pet. It is more suitable if you are camping by yourself or if there are other campers that are bringing their own pet as well. I think it's important to consider how the campground feels about animals before bringing them because not all campgrounds accept animals.
Plan your activities in advance.
Planning your activities in advance is a vital part of camping. Campers should not have to spend all of their time deciding what they should do each day. Camping can be a lot more fun if you plan ahead and decide who you will camp with before the trip. Campers also need to decide what they want to wear and what they will bring from home for this type of experience. They should always have a first aid kit, extra clothing, and other useful supplies on hand at all times. Camping can be stressful if campers are unprepared, but it's also more enjoyable when everything is organized beforehand.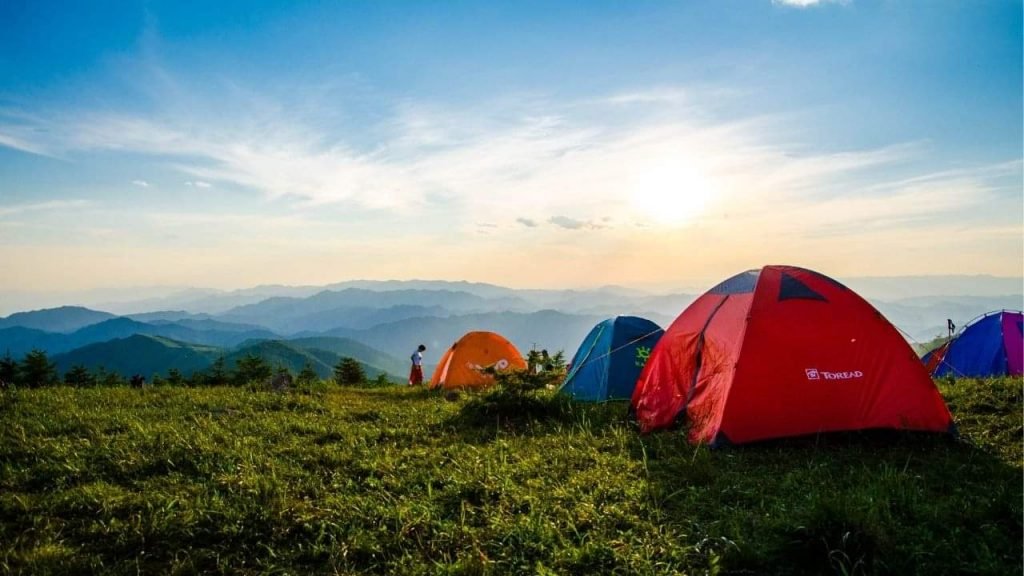 Use a packing list before setting off
A packing list is very helpful before setting off for a camping trip. Camping requires being well prepared, so I always use a packing list to pack my belongings properly. Use this list to check that you have everything you need:
Camping gear
water container
Food Containers
Food
cooking gear
Cooking Utensils
Cooking Fuel
Personal hygiene items
Don't pitch up under a tree
Pitching under a tree may provide for an excellent photo opportunity, but there are certain drawbacks. Tall trees in high winds can be quite dangerous because falling branches are very likely to cause damage to your tent. It's also inconvenient having to clean debris out of your tent because it's full of tree sap or bird droppings.
Leave your tech at home
Because signal strength varies in rural camping settings, online streaming may be hit or miss. Keep your phone with you when using internet maps, chatting with others, and snapping photos; otherwise, the rest of the technology should be kept at home to get the full experience.
Give kids something to do while you set everything up
Every camper has a different idea of what makes a great camping experience. Camping is about simplicity, and it can be more fulfilling if you know what you're doing. Camping basics will ensure that both kids and adults have a great time. For one, have the kids do something while you set up camp. They'll be less likely to wander off or get restless, and they'll also learn some helpful skills that they'll use on future trips.
Take your own toilet paper
If you're camping at a park that doesn't provide toilet paper, bring your own. If necessary, you may keep it in a re-sealable bag to save space. Many campers take anti-bacterial wipes and wet wipes in order to be prepared for any blockage of the facilities.
The Bottom Line
Camping is often seen as a family activity, but it can be just as fun for people who are camping solo. Campers should always make sure they plan their activities ahead of time and pack accordingly to ensure that everyone stays happy (and safe) throughout the experience.
Camping with pets may require more work than usual because you'll need to spend some extra time caring for your pet – especially if there aren't any other campers bringing theirs along too.
Camping, in general, requires being well-prepared so all campers have an enjoyable trip; this includes laying out a packing list beforehand or else forgetting important items like toilet paper!
We hope our camping advice makes a difference in your next camping trip!