Last Updated on September 12, 2023 by
The world of shapewear has been surrounded by a lot of myths, rumors, misconceptions, and many preconceived ideas, and sadly, they keep persisting as time keeps passing. Post-surgery shapewear has struggled for too long with its dated image but that is far from the reality today. It is important that now, people get rid of the most popular misconceptions and that most of the myths are debunked too.
There are plenty of different post-surgery shapewear styles, from compression stockings to wholesale high waisted leggings. It is really important to investigate and research post-surgery shapewear so you use them right and also benefit from the benefits they will provide you and your health.
One of the first misconceptions that people have to get rid of is that compression stockings are just for grandmothers. People tend to have the image of the varicose vein stockings grandmothers wore. But there's has been so many advances in technology that they have been updated to contemporary hosiery and the best thing is that they are comfortable, which is something vital for the treatment to be successful.
Another misconception is that wearing post op shapewear can make you feel too hot. Hot weather can be a nightmare for everyone, no matter if you just had surgery or not. This can make people who need to wear them the most not wear them. They will help improve circulation, and they will provide not only great relief but also a great feeling of lightness.
Another big misconception is that post-surgery shapewear can be a nightmare to get on. It's important to remember two specific words: material and method. With method is crucial to note that they should not be worn the way you'll put your normal shapewear, as they are made differently than the traditional shapewear. They are made to provide compression in specific areas without damaging your skin or your incisions helping you heal properly.
And material. This means that they have been made with material science and also manufacturing technologies that make them more flexible and stretcher and even breathable, which makes them easier to put on… even easier than normal shapewear, as you can be careful with your surgery incisions or wounds.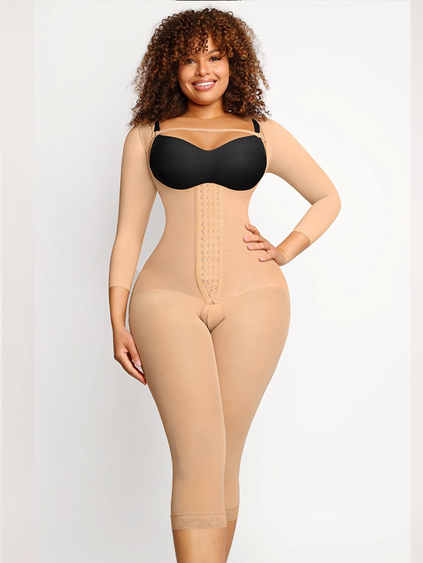 Another very known misconception is that the compression for post-surgery shapewear is too tight. And this isn't the reality. Shapewear in general, and also most importantly, post-op shapewear… and nowadays has been designed to offer a comfortable fit with the right compression strength that the body needs and in the latter case, the one that has been recommended by the doctor or physician.
It is always important to get the right size and type for the individual's needs and body shape for it to be effective. In the case of post-op shapewear, it is important and very vital that a health professional helps you make sure that the size and compression level that has been chosen is the right one for the specific healing needs that the patient needs.
It is also important to remember that post-surgery shapewear can benefit everyone, they can also be fashionable, believe it or not. You can find the proper techniques to make it easier to put them on or off, and if not, you can always get help from a friend or family member.
Also, not everything is extremely expensive, a wide selection of quality post-surgery shapewear can actually be very affordable. The right ones will be very comfortable even if you have to wear them in the warmest of weather… especially if you want to speed up your healing process.
It is important to remember that they won't help you lose weight and won't heal injuries. They will help the healing process, improve blood circulation, etc., and help your body adjust better to a new shape, depending on the surgery the patient went under.
Apart from that, if you are interested to know about Shapewear Before and After Review then visit our Lifestyle category.