Last Updated on August 17, 2022 by rida
Scanning documents is one of the most frequently performed activities by office workers, students, teachers, and researchers. They are people who depend on various kinds of documents in their daily activities and scanning can be the best way to transfer knowledge. There are many sources of written documents and most of them have not been digitized. When we work on old documents, the need to digitize them is very urgent.We may not have more time.
Scanners are not really new tools and they have been around for about 100 years. Today, photocopiers have been largely abandoned as the world digitizes. However, as already mentioned, the digitalization of the world can't really leave behind a wealth of knowledge that is still mostly stored in paper documents.
We know that photocopiers are becoming increasingly obsolete but the scanning activity cannot be abandoned. Practitioners just use different tools. There are many apps created for scanning, one of which is PhotoScan, the official Android app for scanning. But the tool is only able to scan "flat documents" not books.
Unfortunately, of the many scanning tools and applications that are "out in the market", only a few of them are reliable. This article will talk about one of the few, the CZUR ET18Pro. For your information, this scanner is one of the most sought-after scanners on the market.
What is the CZUR ET18Pro?
This is a reliable document scanner made in China. Yes, CZUR is a famous Chinese company in the document scanning field. The Chinese company has produced a wide variety of scanners, each of which meets the expectations and needs of a specific user segment. CZUR ET18Pro is one of the many CZUR products that have been launched to the public.
What are the advantages given by this tool?
We certainly wouldn't have written this article if the CZUR ET18Pro didn't offer such glaring advantages. Curious? Keep reading to the end!
Elegant design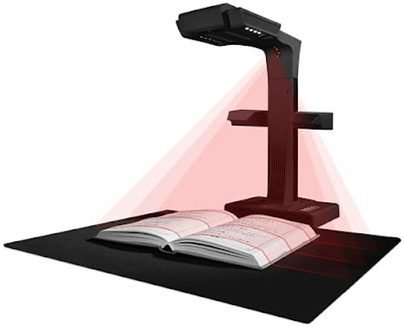 This scanner has an elegant design. Black, if it is placed on your desk, will change the "feel" of your desk significantly. Imagine a Parker pen or two on your desk. They will bring an exclusive appearance. The CZUR ET18Pro can be compared to a Parker pen. Forget the scanners that only focus on function but forget about aesthetics. With the CZUR ET18Pro, you can get both! You certainly wouldn't risk your reputation (in the eyes of your clients) by placing a scanner with a cheap design.
Ability to scan two sides quickly
The CZUR ET18Pro is powered by a 32-bit MIPS processor, one of the most powerful processors used by the scanner. As a result, it can scan two book pages in just 1.5 seconds. It is even capable of scanning linked documents at a speed of 80 pages per minute. This allows the tool to scan about 10 times faster than other scanners.
Patented Book Curve Flattening Technology
CZUR ET18Pro is very sophisticated because it is powered by Patented Book Curve Flattening Technology. With this technology, you don't have to bother to "flatten" the surface of the book's pages when scanning. The ET18Pro's technology is also capable of turning pixels into full book page layers. Of course, you can't scan randomly, but this technology will ensure that your scan results are much better than before. We've already proven it!
Sony's 18 MP camera
Sony's 18 MP camera is the reason behind flawless and fast scans. This is a high-resolution camera that accommodates a scanning speed of 1.5 S / P, and every quality scanner has a quality camera too. The 18 MP Sony camera that the CZUR ET18 Pro uses is one of the best cameras used by today's scanners.
Foot pedal
The pedal will make it easier for you to operate the scanner optimally. You can use your hands to press the book and use your feet to operate the scanner. Thus the scanning process will be more practical and faster. Based on our experience, using the foot pedal helps us in scanning various books quickly.
Accommodating to A3 and A4
This advanced scanner is perfect for scanning A3 and A4-sized documents. In other words, it is perfect for scanning magazines, books, catalogs, and "other similar documents".
Excellent lighting
This is thanks to two additional high-quality lamps. Even glossy paper won't stop you from getting great scans. However, for best results, it is recommended for you to use only sidelights. These two additional lights can also function as reading lights. Imagine you get a scanner as well as a cool reading light!
OCR Technology
Thanks to OCR (Optical Character Recognition) technology, the CZUR ET18Pro scanner is capable of scanning documents in 186 different languages. You can also change your material right after the scan is done. For example cutting, thickening, thinning, increasing or decreasing contrast, and so on. Whatever material you work on, it can be converted to a variety of popular formats such as Word, PDF, and TIFF.
Split and merge two pages
It's normal to stretch out a book while scanning. But with this powerful scanner, you can split a scan so it looks like it was taken from two different materials. On the other hand, you can combine two scans so that they appear to be from the same material.
Conclusion From the points above it can be concluded that the CZUR ET18Pro is what you need to scan books, catalogs, magazines, and other similar documents. This scanning tool can be relied on for any situation and one of the nice things about it is that it's easy to carry anywhere. This scanner is quite light and you won't have any trouble moving it from room to room (in case you work in an office that requires you to scan documents in different rooms). Hopefully, this article is useful for you. Thanks for reading and have
Read More: How Do Barcode Scanners Actually Work in Practice?