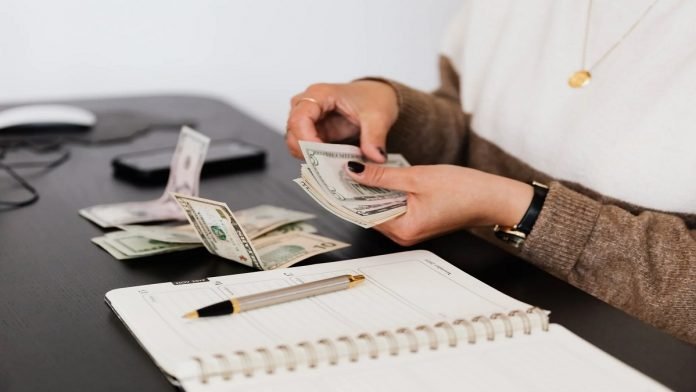 Last Updated on February 28, 2023 by admin
In this article, we will cover the importance of having Electrical Contractors' Insurance. Before we ‌talk about Insurance Coverage, it is worth mentioning why electrician's general liability insurance should be a requirement for every electrical contractor.
An electrician is a professional, trained and certified to carry out their work. As a general rule, it involves working at different places every day, so having the right insurance coverage can help electrical contractor business to grow and prosper. Having an electrician's insurance will protect you, your property and every person who is using electrical equipment in case something happens.
Electricians–Injury and Fatality Statistics
According to the International Electrical Safety Foundation (Electrical Safety Commission), ‌87,508 occupational fatalities occurred between 2003 and 2020, and of these, 3,114 were due to contact with an electrical current. The ESFI study found that the transportation and utilities had the highest number of electrical fatalities (31,357), followed by Assaults and Violent Acts (13,817), Falls, slips, trips, (13,087), Struck by object or equipment (8,843), and Exposure to harmful substances or environments (4,849) .
Also, the International Electrical Safety Foundation remarked that "In 2020, 5.3% of all electrical incidents were fatal. Hispanic or Latino workers accounted for 40% of electrical fatalities. Constructing, repairing, and cleaning accounted for the leading worker activity for electrical fatalities at 64%. Using or Operating Tools, Machinery accounted for 22% of electrical fatalities."
This statistic shows us how important electrical contractor insurance is. There are a variety of policies available that suit electrician's daily needs, being able to choose between protection during work or 24 hours a day.
Electricians Insurance Types and Coverage
● General Liability Insurance
● Professional Liability Coverage (Claims and Per Occurrence)
● Worker's Compensation Insurance
● Inland Marine Insurance Coverage (tools and equipment)
● Commercial auto insurance for electricians
● Umbrella liability insurance
It helps protect electrical contractors and covers medical costs if you physically harm another person or cause damage to another person's property. Hence, no matter how careful you are, accidents happen, so we should consider general liability coverage as a requirement for electrical contractors Professional Liability Coverage
The aim of Professional Liability insurance is to cover errors or negligence committed during an activity that generates economic, personal, or material damage to a third party. It is designed to protect your business if a customer claims you have delivered faulty workmanship or unsatisfactory service. It will cover your defense expenses as well as any compensation to correct the error.
There are two different types of professional liability insurance:
Claims: it provides protection only during coverage
Per Occurrence: The claims that you receive during the insured period and those claims that you notify when the policy has been ended would be covered here. Of course, the error must have occurred during the insured period with the company and will only be claimable during a certain period of time established by the insurance company (usually two years after cancellation of the policy). Worker's Compensation Insurance
Protect your business in case of employee work-related bodily injury on the job site, covers lost wages, and also medical bills. That is why it is important to have this policy as part of electrical contractors insurance. If one of your employees receives an electrical shock and injures their hands, Workers' Compensation insurance provides coverage for the employee's medical bills, rehabilitation expenses, and a portion of their lost earnings while unable to work.
This equipment insurance helps business owners (electrical contractors) with replacement costs and financial losses. Also, it is important to know that a business owner's policy or commercial auto insurance in most cases will not cover these losses.
This electrical insurance policy will have covered claim costs for vehicles used for business purposes. Note that if you want personal auto coverage while doing business-related work, you need to speak with a licensed insurance agent to choose the right coverage or, on the contrary, the claim will be denied.
Everyone who works with high-value assets should consider having this business insurance coverage because it gives an extra layer of protection, especially for electrician liability insurance, which you can then maximize and provide custom coverage.
Costs for Electrician Insurance
According to ContractorsLiability.com, here are the estimated costs for some contractor electrical coverage. The ultimate cost will depend on many factors, such as the size of the business, the revenue, and the number of employees, among others.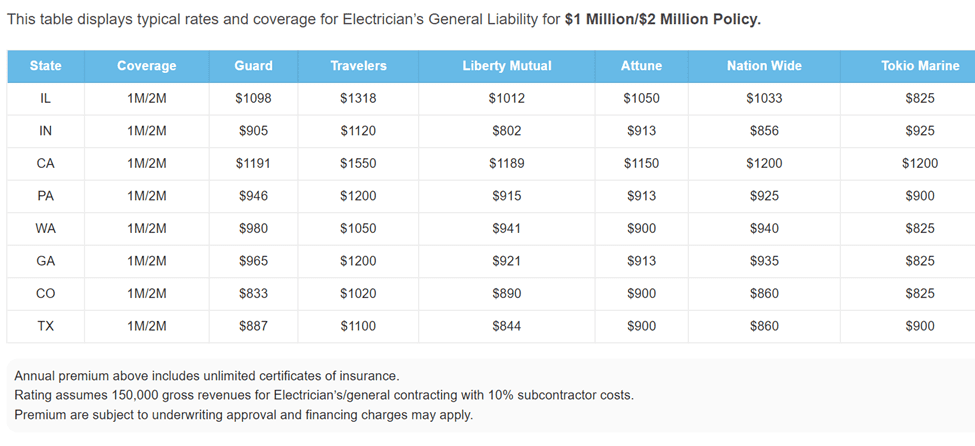 As it was mentioned earlier, the cost will depend if you are a sole proprietor or a business owner with employees. In case you are a sole trader, general liability insurance could be low as $50 per month. Of course, this will rise if you, as a business owner, have bigger revenue and a higher number of employees.
Getting a broker makes everything easier
Brokers are specialized financial advisors in insurance like general liability insurance, so they can assist you in choosing the right policy which will fit your needs as a business owner or sole trader. Having good and cheap business insurance is possible. With the right broker, like ContractorsLiability.com, who can offer a variety of policies for electrical contractor insurance,  you will have exactly what you want and, most importantly, get insurance policy rates that are unbeatable. 
Whether you are a business owner or sole proprietor electrician, it is a requirement to have the right electrician liability insurance and surety bond, since the job can present a potential risk to the business and the client.
Read More: Top 5 Factors to Consider When Hiring a Residential Electrician