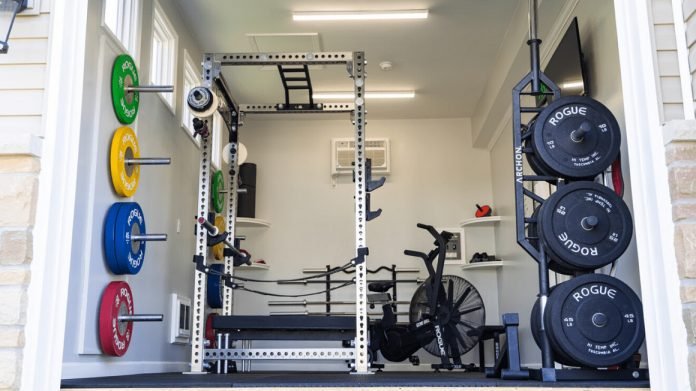 Last Updated on June 1, 2023 by
Squat racks are one of the best gym equipment available on the market today. There are millions of people who are using a squat rack today, but most of them are unaware of several facts about the equipment. Yes, a squat rack is different from most other gym equipment; while most people think that a squat rack could be used only for doing swat, it is not true. A squat rack could do more than this. Here is everything you need to know about a squat rack.
There are 4 different types of squat racks available on the market today.
Squat stand –
A squat stand is the worst type among the four types of squat racks. This type of squat rack does not offer any level of safety. They simply offer adjustable support, which helps you to start and finish the exercise.
Regular squat rack –
A regular squat rack is a slightly advanced version of a squat stand. This one offers multiple stands at different heights. If you are unable to finish a squat in the final rep, you could safely leave the bar at the safety rail at the bottom to prevent any accidents.
Power rack –
A power rack is considered a very advanced version of a squat rack. This type of squat rack combines several different types of equipment. A power rack comes with a single adjustable rack section that could enable you to load weight and support it at the bottom, to avoid accidents.
Squat cage –
Unlike most types of squat racks, a squat cage comes with a design that distributes the weight evenly all over the surface, making it more stable. If you want a squat rack that offers higher safety and efficiency, then the squat cage is the best option.
Never become too reliant on the squat rack –
Yes, people tend to rely on a squat rack too much. While a squat rack is a good piece of gym equipment, we recommend that you do not become over-reliant on the rack. Once you have mastered the skill to do squats correctly, try to do it without squat racks and use it only when you find it impossible to avoid. Consider using a squat rack only once in a while, this could help in improving your balance and confidence.
Never position the bar too high on your neck or below your neck
Do not copy other people's style and technique; identify your style and technique
Set up the bar in the right position. Check the safety pins twice
While squatting, your feet should be shoulder-width apart; neglecting this could do more harm than good.
Never try doing squats while engaging in some other activities. While performing squats, you should be more careful.
Do not overload your bar; load the bar with an appropriate weight.
Overview
A squat rack is an essential piece of equipment for anyone who wants to build strength and muscle in their lower body. It is a specialized piece of weightlifting equipment that allows you to perform squats safely and effectively. In addition to squats, a squat rack can also be used for other exercises, such as overhead presses, lunges, and calf raises.
One of the main benefits of a squat rack is that it provides a stable and secure platform for lifting heavy weights. It typically consists of two upright posts with adjustable height settings, and a horizontal bar that rests on the posts. The barbell can be loaded with weights, and then lifted and lowered as you perform your exercises.
When using a squat rack, it is important to ensure that the bar is positioned correctly on your shoulders and that your feet are in the proper stance. This will help you maintain proper form and avoid injury. Some squat racks also come with safety bars or straps that can be adjusted to catch the weight in case you lose control of the barbell.
There are many different types of squat racks available, including power racks, half racks, and squat stands. Each has its own unique features and benefits, so it is important to choose the one that best suits your needs and goals.
Apart from that, if you are interested to know about shuttle racking then visit our Business category.