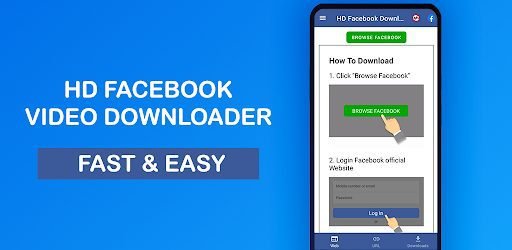 Last Updated on April 13, 2023 by
In recent years, video is a popular and sought-after format, and many creators use this format to create content. Facebook is the network that detects and prioritizes this trend quickly. As a result, Facebook has begun to prioritize video over other content formats.
However, as a Facebook user you probably understand that downloading videos on phones, PCs and tablets is something that can hardly be done on Facebook itself. If with photos, Facebook offers users the ability to download, with videos you cannot do that. c
Here are the best options of Facebook video downloaders that I want to give you. Stay tuned to the end of the article.
Method of downloading Facebook 4K videos with Facebook video downloader
Finding a method that supports downloading 4K quality Facebook videos is really difficult. So if you want to download videos in 4K high quality then you can use SnapSave.App Facebook video downloader online.
To use SnapSave, you need to follow the steps below:
First, go to Facebook and select the video you want to download.
Next, choose to copy the video link and go to the SnapSave website on your Internet browser.
At SnapSave you need to paste the previously copied link into the link paste box provided and select download.
Select 4K quality for the video to download.
Finally, choose to download the video to the device to complete.
Some other free Facebook app and website downloader
Video Downloader for Facebook is a free Facebook video downloader online for Android devices. Users can install it on Google Play. It's extremely simple to use and you can download all Facebook videos to your phone. You just need to access Video Downloader for Facebook by logging in, selecting the video you need to download and the quality that suits your wishes.
Docs is a Facebook video downloader app for iOS devices. You need to install it, then go to the browser and write https://snapsave.app. Then select the video you need to download and paste its link in the 'SnapSave.app' tab. The video will then appear in the app's downloads folder. You need to edit and email the video to be available on mobile phones.
Video Grabber: This is a pretty good Facebook downloader to download Facebook videos for PC. You don't have to download any apps because it's a website that works online. You need to login Facebook.com, select your video and paste it in the Video Grabber download bar. Finally, choose the desired quality and format to download and save the video.
Fdown.net: This is also a Facebook video downloader and its usage is very simple. After you have the link of the Facebook video, you need to go to FDown.net, paste the copied link and click download. Finally, you choose the quality at which you want to download the video and that's it.
Steps to download Facebook videos without third-party tools and apps
All you need to do is find the video you want to download to your computer by clicking on the video's upload date to show the link that you want to download. you need to download the video.
Next, you have to change the link by changing the three "w"s to m. When that happens, the look of the video will change as it will appear in landscape format. You have to press play the video and click the right mouse button to select the "Save Video As" option.
Conclusion
Those are the best Facebook video downloaders that I would recommend to you. They are very convenient and safe, but you should experiment and choose the best method for yourself. Good luck.
Read more: WHY BUYING FACEBOOK VIDEO VIEWS ARE USEFUL FOR THE PROMOTION OF ANY BUSINESS