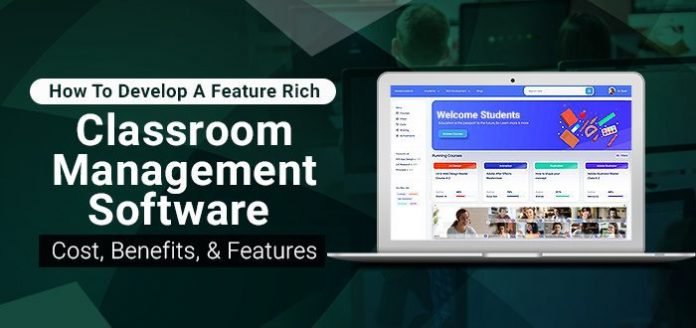 Last Updated on July 28, 2022 by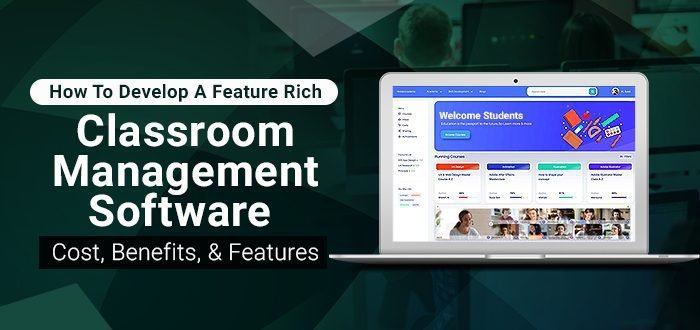 Technologies, such as Artificial Intelligence, Robotics, Machine Learning, AR/VR are easily seen and available around us. People are more and more embracing technology to make their lives easier and convenient each day. The evolution of these technologies has also opened doors to new opportunities for organizations to integrate and innovate more effectively and be productive.
Comparable to every other industry, the education sector is also adopting these advanced technologies. These technologies are assisting educationists to deliver simpler, easier, and intuitive learning.
Professional trainers and educationists can give learners and students a plethora of new resources with the help of the right technology integration. In this article, we will share how a technology-integrated and feature-rich enterprise software development solution can help trainers and educationists support learners and students and keep them on the right path.
Structuring Learning Methods With IT
To assist the education industry, IT professional services providers are trying to comprehend which edutech solution can fit best.
As per the report, the U.S. government relief package has set $122 billion to spend on education solutions.
Compared to schools, educational institutes are also expected to spend on eLearning solutions. The industry is expected to generate $325 billion by 2025.
In order to facilitate digital learning, IT teams developed classroom management software. The software assists educators to provide lessons to distant learners. Though the idea evolved over 30 years, its importance was understood during a pandemic.
Classroom management software became a hit among teachers and students as the software was able to create the right engagement, gauge progress on assignments, have easy access to learning material anytime, as well as leverage trainers to customize learning material and environment whenever needed.
Classroom management software has multiple benefits for the educators ranging from proper guidance to students to preparing presentations and collaboration with students or learners on an individual level. Let's learn its benefits one by one.
Key Benefits of Classroom Management Software
Where schools and colleges are moving towards digitization, classroom management software becomes evident. Additionally, for better engagement, student-led interactions are also encouraged in the classes.
Here, educators should focus on methods for continuous engagement and collaboration among students. Integrating classroom management software can aid in creating a required environment for students, which offers better engagement, independence, interactiveness, and task orientation.
Here is a list of advantages to introducing classroom management software.
Time-effective
The classroom management software allows teachers to track every student, which helps them understand which student is distracted and which is not. The software also aids in finding the right solution for students to get them back on track, thereby effectively managing the class.
Effective Communication
The chief component that motivates classroom management software integration is helping teachers and students build strong & effective connections. Classroom management has some fantastic in-built tools for teachers to deliver personalized instruction as per the learning requirements.
Access Remotely
With digital classroom management software, teachers, despite being in remote locations, can virtually keep track of each student's progress. The software permits access to the student's device to check whether the student is using the technology for studies or entertainment purposes. If so, the teacher can quickly redirect them to focus on study-related content.
Peer-based Learning
The classroom management software enables real-time monitoring and management of students' screens. When students are not on the task instead playing games or exploring social media, teachers can track them done just with a glance. The broadcasting or screen sharing enables the teacher to look at every student's screen, augmenting their engagement ratio.
Team Work
One of the most important aspects that students can learn through classroom management software is to develop teamwork quality. The software is designed in a way for teachers to classify students into different groups and set a diverse task for each group. Teachers can also conduct brainstorming sessions that effectively pace up the lessons.
If your students are having trouble navigating to the roadmap you created, unable to progress, and lack engagement, then you must look for eLearning software development to help you build a perfect classroom management software.
Before selecting the company for a management solution, check out the features that need to be incorporated into your software to make it valuable and effective.
Features to Incorporate in a Classroom Management Software
Access Control
Teachers must be able to control the student's online activities that can easily distract them, impacting their performance. Access to different applications, installing them, and operating them must be restricted on the device or institution network. Teachers must be able to specify the apps that students can install and run on their devices during the class. A feature-rich classroom management software must allow teachers to predetermine applications once the students have logged into the school network.
Instant Messaging
Chat is one of the easiest and quickest methods to convey your messages when needed. Today, when social media is the most preferred platform to send messages, the classroom management software can also be integrated with interactive modes of sharing thoughts. The software must be enabled with communication tools, such as sharing audiovisuals, texts, photos, graphics, and videos. These tools allow teachers to quickly align with the students' learning experience leading to improved classroom participation.
Intuitive Activities
Delivering continuous engagement is a much bigger task than teaching. Students need teachers to be innovative and surprise them with new & short activities to create engagement every day. Classroom management software supports different methods, such as creating multiple quizzes, consisting of true/false, yes/no, or MCQ type, for students' improvement.
Remote Monitoring
Monitoring every student is an arduous task, especially when teachers are training remotely. Hence, a classroom management software integrated with a remote monitoring facility offers complete visibility to the teachers into their students' devices. Teachers can also blackout students' screens, disable keyboards and mouse, to ensure that the students are always attentive and engaged.
Internet Permissions
Genuinely, the internet is a prominent distraction for anyone. It can decrease the productivity as well as the progress of a student. Classroom management software is an efficient tool to guide and bring back the students on track. With this software, teachers can restrict when and how students can connect to the institution's network, enable permission to specific sites and online resources to prevent students from performing displeasing activities.
Broadcast Screens
Since a class contains multiple students and teachers need to collaborate with all, thus a virtual solution must also offer freedom to collaborate. A powerful and efficient classroom management software permits the teachers as well as students to share their screens. Through the broadcasting facility, teachers can assist students to follow instructions properly allowing every student to learn at the same pace.
Automated Operations
An optimum classroom management software solution must have all the features that also fit your budget. A few extensive features a classroom management software offers include remote restart, shut down, log of computers. Additionally, the instant launch of applications and websites also ensures operational efficiency and system maintenance.
Assessment Mode
How would teachers learn that their students are grabbing all of what is taught? The only method is through conducting assessments. This exceptional feature must be integrated into classroom management software to determine which student requires more attention for obtaining a progressive result. However, any software is integrated with built-in security features for the utmost safety of the information. The exceptional assessment mode must be integrated into the software to lock the students' system permitting only authorized resources to access (determined by the teacher) during assessments.
Cost for Developing a Classroom Management Software
With features and benefits at hand, you would also want to know the budget needed to get feature-rich software developed for classroom management.
There is a multitude of software integration companies that can develop the desired classroom management software. However, every company has set standards, methods, and costs for developing software.
The development of any software runs through multiple stages such as understanding requirements, MVP specifications, underlining languages for developing software both back-end and front-end, adding video communication solutions, and more. The development team takes at least 5-7 months to develop a feature-rich software that may take approximately $80,000-$120,000.
| | | |
| --- | --- | --- |
| Features of A Classroom Management Software | Cost | Time (approximately) |
| Video and Audio | $25,000 | 4 weeks |
| Screen Sharing | $15,000 | 4 weeks |
| Collaborative Board | $7,000 | 2 weeks |
| Live Puzzles | $10,000 | 3 weeks |
| Recordings | $10,000 | 2 weeks |
| Live Notes | $6,000 | 1 week |
| Learning Materials Creation & Sharing | $15,000 | 4 weeks |
| Calendar and Chat Integration | $3,000 | 1 week |
Read more: What Does Hotel Management Software Do?
Summary
Technology-integrated software solutions are helping most industries to accomplish business growth while accommodating customer satisfaction. Classroom management software is a technology-integrated software that aims to develop a better connection and collaboration between students and teachers. The teacher can monitor and improve the engagement and performance of every student with the help of this software.
Remote studying, effective and result-oriented, is possible through this software as it facilitates a superior and coordinated environment to conduct tests & assessments and restricts students from accessing undesirable apps or websites.
With several benefits of classroom management software, teachers can surely improve communication, interpersonal skills, team coordination, optimize learning time, enhance focus, and get every student on the same page.
Author's Bio:
 Alicia works with the editorial team of A3logics, a leading company offering cloud computing consulting services. Exploring the latest technologies, reading about them, and writing her views have always been her passion. She seeks new opportunities to express her opinions, explore technological advancements, and document the details. You can always find her enjoying books or articles about varied topics or jotting down her ideas in a notebook.
Read More: 5 Tips to Create Good Classroom Ergonomics