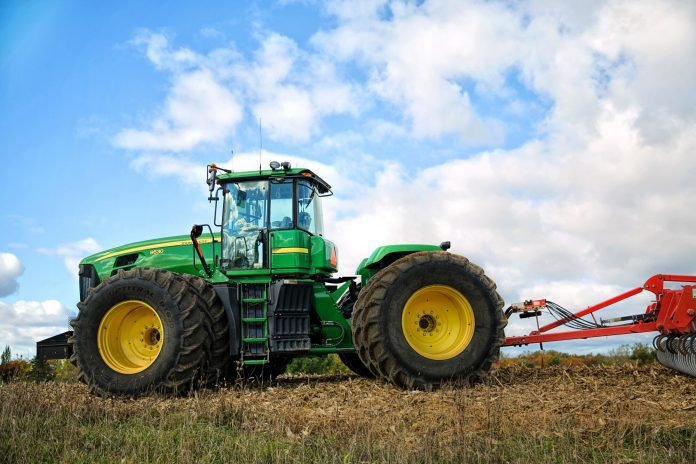 Last Updated on August 8, 2022 by
It's no secret that farm equipment suppliers are an essential part of the farm operation. But how do you know which farm equipment supplier to choose?
There is no shortage of options in today's market, and with so many choices, it can be difficult to find the right farm equipment supplier for your specific needs.
How much research should you put into finding a farm equipment supplier? What questions should you ask before choosing one?
In this article, we will explore some important considerations when choosing a farm equipment supplier. Hopefully, by the end of this article, you will have all the information necessary to help find a great farm equipment supplier for your business.
1. Assess Your Needs
Before you can start shopping for farm equipment, you need to assess your needs. What type of equipment do you need? What size tractor or combine do you require?
It's no secret that shopping for farm equipment is a fun part of building your business. However, it's essential to be realistic when assessing your needs. The last thing you need is to buy something only to realize that you didn't need it.
Buying a tractor that is too large or powerful for your farm will only lead to frustration and wasted money in the long run. Before you go shopping, make a list of the supplies and other equipment you'll need for your farm and stick to it.
2. Never Settle for Lower Prices
Whether you're looking for new or used farm equipment, there are a lot of farm equipment suppliers out there. Some even claim to offer the lowest prices in the market. Don't let the lower prices impact your purchasing decision.
Most of these suppliers cut corners by using lower-quality materials or inferior craftsmanship. As a result, their products don't stand up to the rigors of farm life and end up breaking down prematurely.
Don't be afraid to spend a little bit more upfront to get higher quality farm equipment that will last longer and perform better. In the long run, you'll save money by not having to repair or replace your equipment as often.
3. Do Your Research
It's essential to do your research and read online reviews before settling on a farm equipment supplier. There are many websites that allow customers to leave feedback about their experiences with different companies.
By reading these reviews, you can get a better idea of what to expect from different suppliers. You can also learn about any potential red flags that might make you want to avoid doing business with a particular company.
When reading the reviews, check whether their customers complain about the same things. It's always a good idea to stay away from farm equipment supply stores with more bad reviews than good ones.
4. Get Referrals from Other Farmers
Another great way to find a reputable farm equipment supplier is to get referrals from other farmers in your area. These people have first-hand experience working with different suppliers and can give you an honest opinion about the quality of their products and services.
If you don't know any other farmers, you can try visiting your local tractor supply store or agricultural co-op. The employees at these businesses usually have a lot of knowledge about the different farm equipment suppliers in the area.
Getting referrals from people you know or trust within the farming business will give you the confidence you need to work with a supplier.
5. Check for Online Deals
One of the best ways to save money on farm equipment is to check for online deals. Many suppliers offer discounts and promotions on their websites at certain times of the year. Therefore, it's worth taking the time to browse through different options.
You can also sign up for newsletters or email lists to get notifications about upcoming sales and special offers. By taking advantage of these deals, you can get high-quality farm equipment at a fraction of the cost.
6. Compare Shipping Costs
When buying farm equipment online, it's vital to compare shipping costs before making your final purchase. Some suppliers charge exorbitant fees for shipping, which can end up adding a lot to the total cost of your order. Other suppliers often have free shipping for products exceeding specific amounts.
Before you make a purchase, make sure to ask the supplier about their shipping policies and fees. This will help you avoid any nasty surprises when it comes time to pay for your order. The last thing you need is to go over your budget because of the high shipping fees.
7. Look for Suppliers With a Wide Selection of Products
If you're looking for a particular type of farm equipment, it's crucial to find a supplier with a wide selection of products. Otherwise, you might have to spend weeks or months searching for what you need.
Suppliers that carry a wide range of products usually have something for everyone. They also tend to have lower prices than suppliers who only offer a limited selection of items.
When shopping for several pieces of equipment from one supplier, you can always ask for a discount. This is a great way to save some time and money. Instead of spending hours online looking for different equipment from different suppliers, you can buy everything you need from one seller.
8. Check the Quality of the Equipment
When buying farm equipment online, always make sure to check the quality of the products before making a purchase. This is especially important if you're buying used or refurbished equipment.
It's always advisable to buy from a supplier who offers a warranty or money-back guarantee. That way, you can return the equipment if it's not up to your standards.
Additionally, when inspecting the equipment, be sure to look for any damage that might have occurred during shipping. If you find any damaged items, make sure to get in touch with the supplier right away so they can send you a replacement.
9. Consider Your Budget
One of the most important things to consider when looking for farm equipment is your budget. Farm equipment can be pretty expensive, so it's essential to set a budget before you start shopping.
When setting your budget, always make sure to leave some room for unexpected expenses. You never know when you might need to replace a part or buy an accessory for your equipment.
It's also important to remember that farm equipment is a long-term investment. Therefore, it's worth spending a bit more on high-quality equipment that will last for years.
10. Always Test the Equipment Before Purchase
When buying farm equipment, it's important to always test the equipment before purchasing. Don't just take the suppliers' word for it. This is especially true if you're buying used or refurbished equipment.
It's essential to ensure that the tractor, tractor loader, muthing mowers, harvester, or sprayer are all in good working order before you buy them. Otherwise, you might end up with a piece of equipment that doesn't work properly and needs constant repairs or even replacement.
By testing the equipment first, you can avoid any costly surprises down the road. It's also a great way to ensure the equipment performs to your expectations. Failure to test your equipment means risking being stuck with something you can't use or return to the store.
11. Ask About the Return Policy
When buying farm equipment online, it's always a good idea to ask about the supplier's return policy. This is especially important if you cannot test the equipment before purchasing it.
Some suppliers offer a money-back guarantee or a warranty on their products. Others allow you to return the equipment for a full refund, minus shipping, and handling fees.
It's important to know what your options are if you're not happy with the product or it doesn't work properly. If you ask about the return policy right away, there won't be any surprises down the road.
12. After-Sale Customer Support
When buying farm equipment, it's also important to consider the supplier's after-sale customer support.
The best suppliers offer online chat support, email, and telephone support. They also have a detailed FAQ section on their website to help you answer common questions.
If you cannot find the answers to your questions on the supplier's website, be sure to contact them for assistance.
Good customer service is essential when something goes wrong with your equipment. If you're unable to get in touch with the supplier or they don't provide good customer service, you might end up wasting a lot of time trying to fix the problem yourself.
Find a Reputable Farm Equipment Supplier Today
The next time you need to buy some farm equipment, keep these tips in mind. By following our advice, you should be able to find a farm equipment supplier that will meet your needs and help you get the most out of your farming operation.
Looking for more vital tips? Be sure to read our other articles posted on the website.
Read More: Complete Guide to DB Pension Scheme