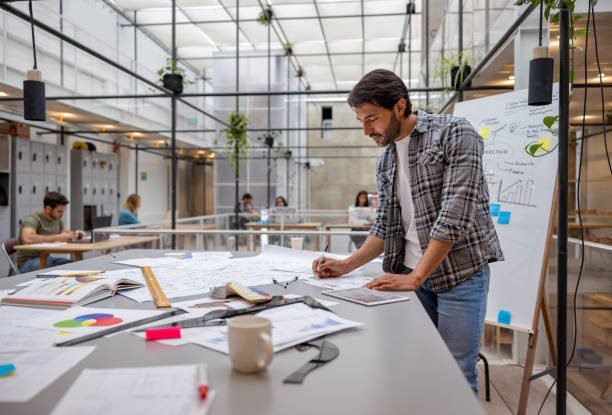 Last Updated on December 6, 2022 by Faiza Murtaza
Many organizations permitted their staff to work from home during the Coronavirus Pandemic. As the epidemic persists, many companies recognize that this may be a long-term, if not permanent, upheaval in the way they do business. In this guide, you'll learn about getting vacation rentals in front of workationers and regarding info about workationers.
Almost half of the population now works from home. It's the perfect setting for individuals with the appropriate setup (private workplace, no dogs or youngsters to distract them, and a wide garden to roam about freely without a mask).
The situation portrayed, however, is far from reality. Many families are spending the epidemic in modest city flats. They are eager for a change of scenery and some fresh air after being trapped indoors for many months.
Furthermore, according to a New York Times and Morning Consult poll, one out of every three remote employees said they would relocate to a new city or state if they could continue to work from home. This is fantastic news for holiday rental owners.
What do "Workationers" or "Remote Workers" mean?
We're witnessing a new trend of tourists hiring vacation houses to work from. Instead of being cooped up in a tight city apartment, kids have a change of scenery and frequently greater room to stretch out. Large outside areas allow children and dogs to play freely while parents may work in peace.
These "workationers" are also more likely to rent vacation houses for a month or more at a time. They discover that not only can they get more work done, but they can also rest and refresh in these peaceful settings.
More visitors are turning to vacation rental house platforms to discover new workspaces and temporarily move. It enables them to be closer to family while also exploring new areas. Working from home increasingly entails working from any house. Guests are taking advantage of the freedom, according to trends in rental property reviews. As an example:
In written evaluations, the number of visitors utilizing terms like "Workationers" "remote working" or "work remotely" has increased since the outbreak started.
Guests looking for homes that enable them to work remotely climbed by 90% over the previous year.
How to Make Your Home More Attractive to Remote Workers
Weekend trips are quickly becoming a thing of the past. Working from anywhere means that visitors may stay as long as they like without having to rush to beat the traffic on a Sunday afternoon.
But how can you make your holiday rental house more accommodating to remote workers?
1. Review Your Rates
Offering long-term stay discounts is a wonderful approach to encourage visitors to consider your house. Guests will be more inclined to book if the home is offered for weekly and monthly rent, knowing they will save money in the long term by bypassing nightly rents.
True, charging a nightly fee may theoretically earn you more money. But keep in mind that the world has changed. Even if your calendar was occupied with several visitors in previous years, you've undoubtedly already seen a significant decline since the outbreak.
Instead, concentrate on the fact that you have guaranteed money for the full month, even if it is a little less than what you previously earned. Remember that they will likely be repeat visitors who will need another "workstation" soon.
2. Advertise Your Booking on the Correct Platforms
Booking.com and Airbnb are currently extensively promoting the business travel industry. Each of these websites has "business-ready" options beneath their listings that enable owners to market their holiday rental properties to remote employees. It enables customers to quickly and conveniently discover lodgings that meet their working requirements. These venues also provide opportunities for prolonged and long-term stays.
3. Remodel Your Home
You don't have to completely redesign your vacation home, but by putting some effort into the décor and furnishings, you might enhance your reservations.
For example, the old sofa in the living room is a stunning focal point. But how pleasant would it be to use daily? Is it something your visitors will want to use for more than a few nights?
Making little adjustments will not only make your visitors more comfortable throughout their stay, but they will also find the appropriate design stimulating. We could all use a bit more of two things throughout the workweek.
4. Establish Multiple Work Areas
For a few days, using the kitchen counter as a desk is OK, but remote employees need a good workplace for weeks of labor.
Not only should they have a neat workstation, but it should ideally be in a location that provides the seclusion required for virtual meetings. If at all feasible, desk chairs should be adaptable to meet the demands of all your visitors.
Remember that if both parents work remotely, more than one member of the family may need a workstation. Children may need a space to do schoolwork and communicate with their teachers.
You don't have to convert your vacation house into a cubicle office, but make sure there are enough tabletops, desks, and seats for the family to spread out and focus on their work. All places should have plenty of adjustable lighting and, if feasible, natural light.
5. Improve Your Outdoor Living Space
Guests will notice the additional work you put into your outdoor living space. They may even opt to work outside by providing tables and chairs.
Comfortable seats surrounded by nature will also provide your visitors with a spot to unwind at the end of the day. Including choices for outdoor cooking or an outdoor fireplace will create a quiet environment and inspire further productivity.
6. Validate Your Internet Connection
If you advertise free WiFi, you should double-check the quality of the connection. Test it out for yourself. Is the video conferencing smooth, or does it take 10 minutes to load an email?
This is a common mistake that people doing Airbnb rental arbitrage make because they are not always too familiar with the property and the area. Avoid this mistake at all costs if you want to be successful.
You may need to update your internet service. A few days without the internet wasn't so horrible in past years. However, if you're promoting your house as a location for remote employees to come on a "workcation," the signal better be strong.
Your visitors aren't simply passing through for the weekend. They're in it for the long haul. Their success at work is closely related to the efficacy of their internet connection. A powerful and dependable internet connection cannot be overstated.
7. Offer Complimentary Office Supplies
You may do this by placing them on the desk or by making an office supplies guest basket. Try to predict what your visitor may forget or not want to take and add it to the basket. It might include:
Pens
Pencils
Paper
Paperclips
Stapler
Punch a hole
Scissors
Envelopes
Tea and coffee for increased productivity
Also, ensure that there are sufficient electrical outlets in the specified workstation spaces. Include extension cables or power strips as required if an outlet is distant from the desk.
8. Add New Pictures
You want to show off your house after you've made some of these improvements to make it more "workstation" friendly. Attract prospective visitors' attention with updated photographs that highlight the work-friendly atmosphere you've built.
Highlight not just the work areas but also the surroundings. Is there a lake visible from the window in front of the desk? Are there enough seats for work in the outside space? Will children and dogs be able to explore outside securely?
These are all areas that will appeal to your visitors and increase their likelihood of booking an extended stay with you.
TIP: Learn how to make money with Airbnb Rental Arbitrage from Vacation Rental Leaders themselves!
9. Improve Your Property Descriptions
Aside from refreshing your photographs, this is an excellent moment to improve your listing with new descriptions. Include how your house is great for a "workstation" and how you cater to distant employees and their families.
Include amenities like office space, internet access, and whether or not you offer long-term availability.
During the previous several months, there have been many changes in how we do almost everything. That includes how we work and how we spend our time off. You may maintain a consistent income from your vacation rental house by responding to these changes.
Apart from that if you want to know about chicken wire then please visit our daily bites page