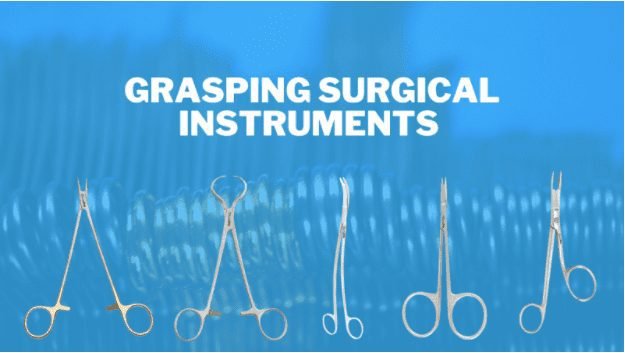 Last Updated on January 31, 2022 by azamqasim
Surgical instrumentation varies greatly depending on the type of surgery performed. Surgical Holdings offers a variety of general surgical equipment. These are some of them:
Scalpels, scissors, and saws are examples of cutting and dissecting instruments.
Grasping and Holding Instruments consist primarily of foreceps and clamps.
Hemostatic Instruments are instruments that are used to stop bleeding.
Retractors are used to help expose the body cavities that are accessible during surgery.
Tissue Unifying Instruments – include needle holders and other instruments that aid in tissue unification.
Are you looking for the best experience to share about how and when you should use these surgical instruments? One more important thing is precautions and the best you can get from these tools? Keep reading this article to learn more about your surgery instruments. All of the above-mentioned surgical equipment are made from German stainless steel. You can reuse most of the surgical instruments after sterilization. Most of the best-sellers like Surgipro, Inc. and a few others ensure a lifetime guarantee of these tools. Scalpels, scissors and saws need proper sharpening and repairing to work with perfection.
Scissors for cutting and dissecting:
These scissors have two blades at a pivot point, which are connected together so that the sharp edges swing against one other. To examine for abnormal growths and remove undesired tissue, surgeons must cut and dissect tissue.
Here are some guidelines to help you select the right pair of surgical scissors:
In some situations, fine tip scissors (such Vannas, Castroviejos, and McPherson's) are preferable. They're made for ophthalmological operations that necessitate a delicate tissue incision. When you don't want to cut the underlying tissues, curve-tipped scissors are a good choice. Heavy-duty scissors are ideal for cutting fur, tougher tissue, and vessels.
Grasping and Holding tools:
Hemostatic forceps are linearly polarized and clamping equipment used in surgical operations to compress blood vessels or hollow organs and prevent their contents from leaking. The word occlude refers to the act of closing or closing something. They come in a variety of shapes, including straight, curved, and angled.
Thumb forceps are a type of forceps that are used to grip, hold, or manipulate bodily tissue. Wound dressing is done with dressing forceps. In eye surgery, very fine/delicate dressing forceps are also used. Teeth are commonly found on tissue forceps, which provide a better grasp on tissues while reducing tissue injury. The majority of the time, these forceps are used to handle dense tissue, such as skin closures.
Surgical Retractors?
During abdominal or thoracic procedures, a large, handheld retractor is typically utilized to hold back the abdominal wall. It's also possible to utilize it to transfer or retain organs away from the surgical site.
Finger ring retractor with self-locking cam ratchet lock for holding back tissue and exposing a surgical site. The Weitlaner retractor is a piece of widely used equipment in basic plastic surgery, big bone and joint treatments, and mastoid surgery. It can also be used for small, deep incisions and superficial soft tissue dissection.
Multiple layers of deep tissue are held back with a hand-handled, single-end, right-angle retractor. Appendicectomy, Cesarean sections, and laparotomies are all common uses. The blade is concave with a tiny lip at the tip and is right-angled. For better grip, the handle is hollow and has finger grooves. Richardson retractors are frequently confused with Kelly retractors, although the Richardson retractor has a smaller blade.
Conclusion:
Surgipro offers a wide range of general surgical equipment, including artery forceps, clamps, hemostatic forceps, tissue forceps, sponge holding and sterilizing forceps, various forceps, scissors, and nephroscope. They only supply the highest quality German stainless steel instruments that have been expertly crafted. This means we can stand by our word when we say our surgical tools come with a lifetime guarantee and offer free shipping on purchases over $100.
Read More: 5 Surgical Equipment must be there during Surgical Operations