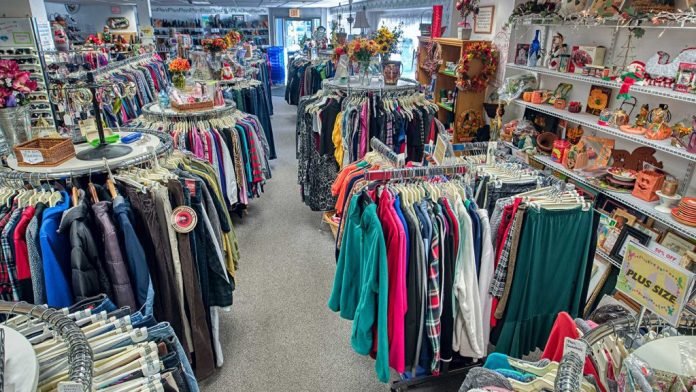 Last Updated on July 6, 2022 by
Feeling thrifty? Saving money is always a wise idea, and right now, with inflation so high, conserving cash is all the more important. Fortunately, you can save money by shopping at thrift shops. And often, you can find great deals and awesome goods. It's smart to start by searching for thrift shops in your area on Google. You might key in the best thrift shop in Los Angeles or perhaps the best bargain thrift store in Chicago or wherever you happen to reside.
Right now, buying goods straight from the factory is expensive. Big retailers selling first-hand goods are paying exorbitant shipping fees. Likewise, factories are paying a lot for materials, like cotton and dyes. Labor is expensive too. As a result, many customers are facing sticker shock when they go to traditional retailers. Whether you're buying groceries, furniture, clothing, electronics, or whatever else, costs are on the rise.
When you purchase products from thrift shops, you're often buying lightly used second-hand goods. These goods were, in many cases, bought and donated or sold before inflation even set in. This means the consumer who purchased them, and also the thrift shop, enjoyed a more affordable price.
Often, that affordable price is passed on to customers at the thrift shop. The cost of goods at second-hand stores may still increase as demand rises. However, the mark-up is often much more affordable, and you can still find plenty of great deals.
This means you can save money. And you don't have to skimp on quality. The best thrift stores carry high-quality goods that rival and even surpass more traditional retailers. Often, you can find your favorite brands. You might even find better brands, buying luxury goods at bargain prices.
Let's take a deeper look into how thrift stores can save you money and help fight inflation.
Here's How Thrift Shops Protect Your Wealth
Folks love the so-called "new car smell," whether talking about a vehicle or a sweater. However, that new car smell wears off after just a few days. That new polo shirt or coffee table becomes used the first time you use it. And as such, the value drops substantially.
With thrift shops, you can buy gently used goods. Often, shirts, pants, and whatever else are worn only a few times before being donated or sold. The best thrift shops specialize in lightly used goods that are still in great condition. In fact, goods are often in like-new condition.
New clothing, electronics, furniture, and whatever else might lose 25 to 50 percent of their value as soon as you take the price tags off. This hurts your overall wealth. When you pick up used goods, the value doesn't drop nearly so much once you start using them. After all, the goods were already lightly used and the original price tags long removed.
Put Saved Money To Better Use
When you shop at thrift shops, your dollar stretches further. Rather than having to spend $500 on clothing for the winter, you might spend just $300. This means you have $200 more in your pocket. What should you do with that money? That's your choice, but what's important is having the choice.
Many wealthy people are also very frugal. Indeed, being frugal is a key strategy for building wealth. The famed investor Warren Buffet has long lived in a home he bought for a mere $31,500 back in 1958. Rather than buying a mansion, Buffet put his earnings into investments, which have long prospered.
Saving money at thrift shops will ease the burden on your budget. This means you'll have more money to spend on other things. That could mean socking away more money in investment accounts. Or it could simply mean having more money to spend on groceries. Quite frankly, more money means fewer problems, especially with inflation on the rise.
Fortunately, you can find a lot of great thrift stores. It's smart to start by searching in your local neighborhood. You might try searching for a Westwood thrift store or a thrift store in Midtown Atlanta or wherever you happen to live. From there, you can start bargain hunting, protecting your wealth during a time of high inflation.
Read More: Buying Luxury Furniture for your Home