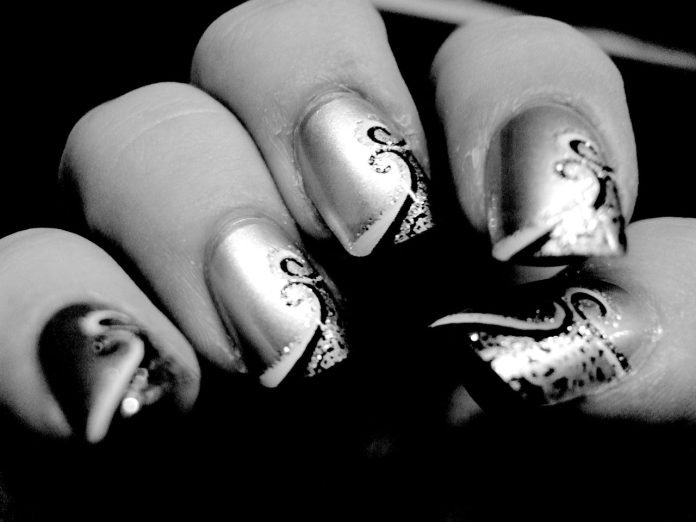 Last Updated on July 20, 2023 by
Safe removal of Acrylic Nails using different methods
Different salons are working on acrylic nails. Not only making of these nails but also removal of nails as well. The life of these nails is eight weeks; with a little span, the urge to remove these nails increases. Through different methods, one can easily remove these acrylic nails at home.
Note: Removing acrylic nails at home can be dangerous and can cause damage to your natural nails if not done properly. It is recommended to seek professional help for a safe and effective removal process.
Different tools can be used for the removal of acrylic nails
Acetone
Electric Nail File
Nail Clippers
Dental Floss or Cuticle Pusher
Cotton pads
Cuticle stick
Sandpaper/ scrape
Filer
Olive oil/body oil/ lotion
Nails clipper
Piece of cloth
Method-1: Removal of Acrylic Nails with Olive oil
Here is a step-by-step guide to removing acrylic nails using olive oil:
Soften the nails

Start by soaking your hands in warm, soapy water for 10-15 minutes to soften the acrylic and make it easier to remove.

Apply olive oil

Pour some olive oil onto a cotton ball and gently rub it over your acrylic nails. Let the oil sit on your nails for a few minutes to help soften the acrylic.

Gently scrape the nails

Use a cuticle pusher or an orange stick to gently scrape the edges of the acrylic nails, breaking the seal and lifting the acrylic away from your natural nails.

Use a nail file

Use a nail file to gently sand down the surface of the acrylic nails, working slowly and carefully to avoid damaging your natural nails.

Repeat steps 3 and 4

Repeat these steps until all of the acrylic has been removed from your nails.

Wipe away the olive oil

Use a clean cloth to wipe away any excess olive oil from your nails and cuticles.

Condition your nails

Once the acrylic has been removed, massage some moisturizer or cuticle oil into your nails and cuticles to hydrate and nourish your skin and nails.
Method 2: Removal of Acrylic Nails using Hot Water
This method can remove acrylic nails safely, easily, and gently. For this method, you must need tolerable material: hot water, a nail clipper, a nail filer, and cuticle sticks.
Shorten the length of the nails by trimming and filing.
Dip the nails in hot water and pour it into the bowl. The temperature must be tolerable for 30 minutes.
The nails must be at that angle where the glue can be dissolved in water.
After half an hour, the bond will be dissolved, and the acrylic nails will come off quickly.
Method 3: Removal of Acrylic Nails with Filer
This technique is best to remove the acrylic nails by using filers without the use of any chemicals. For this method, you need tools like a buffer/ Nails filer, Cuticle oil, Cuticle Scissors, Nail clippers, and cuticle sticks.
Short/ Trim the length of the nails, remove the nail paint or designs and clip them.
Start filer and file the nails until each is the natural nail layer. Be careful while trimming.
Use cuticle scissors to pry and clip the edges for those who have some bond left over after filing your nails. Take the cuticle stick to scrape off the glue once the acrylic nails are removed.
It can be a harsh method on your nails. Try to use oil after the technique.
Method-4: Removal of Acrylic Nails with Electric bit/Filer
Experts often remove acrylic nails without using acetone. Electric nail filers replace acetone. You can also buff acrylic nails with a nail file.
In the First step, shorten the length of the acrylic nails.
You can also use a nail clipper to cut down the acrylic nails.
File all the acrylic nails.
With an electric filer, avoid using it for a long time in one spot. This filter can produce heat at that spot.
You can use any cuticle oil to restore nails when the nails are filed.
Try to leave a tiny layer of Acrylic on natural nails. Do not fill all the acrylic nails to protect your hands.
Method-5: Removal of Acrylic Nails with floss
When it comes to Dental flossing, it is only used by dentists. So, you can take the floss and remove the acrylic nail easily at home, which can be painful.
Other than material floss, you need the following materials: Cuticle stick, Nail Buffer, Moisturizing Creams, oil, or cuticle cream. Following are the steps to remove Acrylic nails without any damage.
In this method, you can remove the acrylic nails without the help of a third person.
The nail is lifted from the base by using a cuticle stick.
Floss will be used to raise the acrylic nail.
Then slide the floss to and fro until the nail comes off.
Apply any oil/ moisturizing cream for the protection of natural nails.
Method-6: Removal of nails by using a laminated business card
Business cards can also be used for removing acrylic nails. Laminated cards are not the same as regular cards, but removing these nails is an easy and quick way. Less cost is on this method. This method uses a few materials: Cuticle Stick, Buffer, and Cuticle moisturizer.
Follow these steps to remove nails.
Remove the end of the nail gently and slowly without hurting the natural nails.
Slide the laminated card to and forth from the corner around the acrylic nails. Also, use a cuticle stick for removal.
Repeat the process for all the remaining nails—Polish the nails after it.
Apply cuticle cream or moisturizing cream on the hands. This method can cause dryness.
Some Tips to remove acrylic nails
Follow these given steps for healthy and moist skin.
Never try to tug or remove them by ripping.
Never use vinegar.
Never use too much hot water, which can damage your hands.
Always use oil or any moisturizing lotion after removing the acrylic nails. It will keep you safe from dehydration.
If you face difficulty, dip your hands in hot water for a few more minutes.
Always give a gap of a month for redesigning or acrylic nails.
Use calcium supplements in your diet to enhance the growth of nails.
You must protect your cuticles by applying cuticle oil or petroleum jelly.
Precautions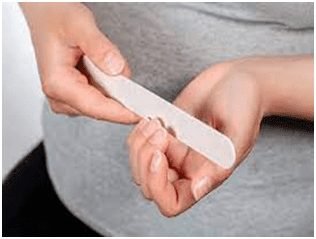 Acrylic nails are attractive and irresistible. You can apply different colors and designs to these nails. But with time, you can remove them. Removing these nails is quite tricky. You must try an easy and safe method to remove these nails; otherwise, it can damage the original/ natural nails. 
Different methods are discussed above. You can use any of the above-discussed techniques, which are safe and have fewer chances of damage. Try to avoid harsh chemicals which can make your skin dry and rough. Follow daily care routines like scrubbing, cleansing, and moisturizing for healthy and shiny hands.
Some Limitations of using Acrylic nails
Acrylic nails look pretty, but after a few weeks, natural nails outgrow, which can crack the acrylic nails and look awkward. There are some cons to using acrylic nails.
There is a higher risk of fungus and infections due to damage. Strong odor in the application process.
It is highly toxic.
This method can cause damage to the skin and natural nails.
Apart from this, if you want to know about How to make acrylic dip powder then please visit our Fashion category