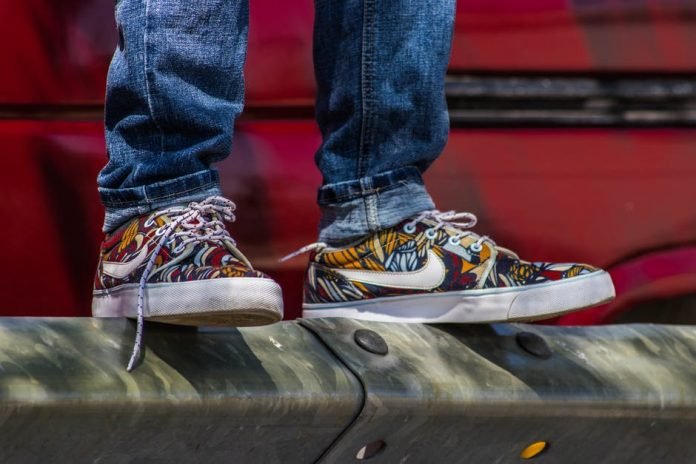 Last Updated on June 28, 2023 by
They say that shoes make an outfit. Some even say that shoes make a man (or woman). If you believe this, then you are probably wondering what you can do to up your shoe game. Most people just wear the same footwear brand that they've worn since they were a teenager. However, this isn't going to score you many points when you show up to the club to hang out with your friends, or when trying to meet new people.
If you want to impress, it starts with shoes. And there are lots of different ways you can upgrade your shoe style and look fresher than ever. Here's what to do to up your shoe game.
Keep It Classy
There are a handful of brands that offer classic, timeless shoes. You should definitely have a pair or two in your wardrobe so that you can opt for a classic, vintage outfit when the day calls for it.
These can include shoes from Nike, Converse, Vans, New Balance, and others.
In short, these never go out of style, especially with their classic shoe models. Everyone should have a pair of Vans Authentics in their closet, in their color of choice. For most people, it's black.
You can also get a pair of the Vans Old Skools, which have seen a major rebirth as people are interested in retro skate shoes.
When it comes to sneaker style, Nike's Legacy Court shoe is simple, yet exudes class and confidence. Of course, when it comes to streetwear, Nike is constantly putting out new and interesting shoes each year.
Many of them are in short supply and act like collectibles. Some of these pairs aren't meant to be everyday shoes, but should only be worn on special occasions.
To get into some of the limited edition shoes, that are bound to attract jealous eyes, you may need to check out websites like StockX.
When you wear sneakers from classic brands, it looks like you know what you are doing.
Finding Comfort While Looking Good
Looking for fashionable shoes to wear when you are all dressed up? Whether you have a strict dress code at the office or spend your free time at high-end places, you'll need to find a good pair of dress shoes. Or five.
The main problem with dress shoes is that they are seriously uncomfortable. So you'll never be happy if you are wearing a traditional pair.
Try some dress shoes from Toms. Toms became famous with their classic, yet simple, alpargata, an Argentine-based style that donates a pair of shoes for every pair purchased.
All the shoes in the Toms line are known for comfort, and their dress shoes can be worn during even the fanciest of occasions. And if your idea of dressing up is a little spunky, you could even wear the alpargatas at your next event.
Basically, if you can find a dress shoe that looks good and is actually comfortable to wear, then you can start to enjoy fancier parties and events for the first time ever. They are worth the investment.
Look Overseas
Americans aren't always on top of the game when it comes to footwear. Cities like Tokyo are heavily interested in fashion, and often lead the way when it comes to new and exciting trends.
Japanese sneakers, for example, are growing in popularity, especially with such a vibrant culture and fashion scene in the capital of Tokyo. And you don't even have to fly around the world to get yourself a pair, though that's fun, too.
A brand like Xesole ships around the world for free, so you can start taking advantage of Japanese trends without breaking the bank.
Try Going Barefoot
No, I don't mean actually going barefoot, though that's a good idea too. I mean trying out barefoot-style shoes. Also known as minimalist footwear, barefoot-style shoes are those that are designed to make your feet healthier and stronger.
Most shoes on the market have an extra cushion in the heel of your shoe. This raises your heel up above the rest of your foot. So when wearing these shoes, your feet aren't flat.
It's actually quite unnatural and could lead to issues in your feet, which will extend up your legs and into your back. Barefoot shoes are those that have a totally flat sole, so your entire foot is level, providing a more natural stance.
Also, the majority of shoes on the shoe rack at the local store have a narrow toe box. While these shoes may look flattering, they are crushing your toes and pushing them together. Wear shoes like these long enough, and your toes will eventually curl inwards, which can lead to painful problems like bunyons.
Lastly, barefoot shoes are thin and flexible. They aren't stiff, like other types of shoes, and offer limited protection. This is designed to make your foot stronger and more flexible, which is good for foot and body health.
Of course, minimalist footwear is still a very niche category. While the popularity is growing, it's still relatively small. And while many minimalist footwear brands offer nice shoes, they still tend to cater to athletic people and don't offer every day or street-style shoes.
But consider getting ahead of the trends and trying it out for yourself. It's very different from normal footwear, but you may find that you love it and will never go back to normal shoes.
Or you might hate it and wear Nike for the rest of your life. Guess you won't know until you try.
Taking Your Shoe Game to the Next Level
So you've got a few ideas of how to up your shoe game. Which are you going to try?
Invest top-notch streetwear with some new Japanese sneakers? Or go give barefoot-style shoes a try?
Footwear is addicting and having multiple different shoes for different scenarios is definitely a good idea. Maybe it's worth trying them all.
Looking for other articles like this? Head over to the rest of our blog to find other helpful articles.
Read More: Top 5 Benefits of Wearing Running Shoes
Apart from that, if you are interested to know about Off-White Shoes In 2023 then visit our Fashion category.