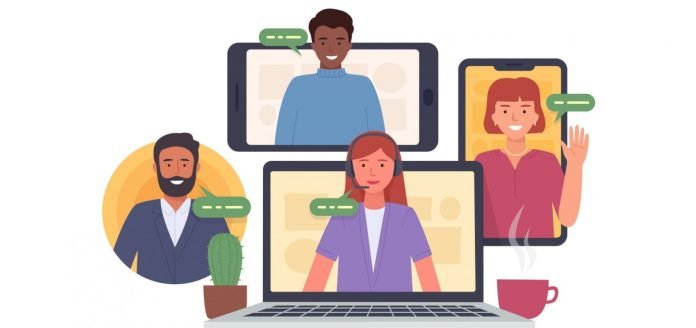 Last Updated on September 13, 2023 by asifa
That would be an understatement to say that the previous few months have been a whirlwind. Live events and conferences scheduled months in advance were suddenly postponed or canceled in a couple of days. We had to learn how to develop programs as virtual events became the new normal. We made it through the storm and gained a lot of valuable lessons. While virtual events have their advantages, live events will always be a vital element of any comprehensive event program, according to one of the most important lessons gained by the event business. With VIRTEX's virtual event platform, make your event worth memorizing.
Now is the time to consider a modified concept of event: hybrid events. In some cases, like this global pandemic, a virtual event will be the only option. There will be times when holding an in-person event is the most efficient method to gather leads and engage your audience. Hybrid events, or those that combine in-person and virtual experiences, will become the new normal in the events business.
We'll go through the essentials of a hybrid event, how to plan a successful hybrid event, and how to adjust your event strategy to accommodate this new, necessary form of programming in this guide.
Hybrid Events and Your Total Event Strategy
Planning and creativity are required for a successful hybrid event. Is this an internal or external event you're hosting? Do you have the tools you'll need to sell and promote your hybrid event effectively? What do you hope your guests will take away from this event? Answering these and other questions can aid you in developing your hybrid event schedule.
When to Host a Hybrid Event
The first decision you must make is whether or not to include any virtual content in your event. Does this make sense to you? When should you conduct a hybrid event as different from an onsite or virtual event?
Hybrid Events
Hybrid events are ideal for programs that can be held both in-person and online. Here are some excellent hybrid event ideas:
Trade shows
Conferences
When many of your attendees who would typically attend in person are unable, hybrid events are a great alternative. Here are some scenarios in which a participant who would normally be on location for an event must attend virtually:
Due to health or safety concerns, the participant is unable or unwilling to go.
The attendee's company has a limited travel budget and so is unable to attend the event.
The good idea is to send out a pre-event survey to gather information about your invitees' present conditions and sentiments. If you feel that many people would prefer to attend remotely, a hybrid event could be the best solution.
Types of Hybrid Events
We will first dive into the differences between internal and external hybrid events and some of the most common examples of each.
Internal Hybrid Events
Internal events are programs organized to benefit your company's internal customers, such as employees, leadership, and staff. Getting all of their team members into the same room for a meeting is virtually tricky for many businesses. Hybrid events are helpful in this situation. Choose a location for your event, such as your company's headquarters, then live broadcast the meeting to the rest of your team.
External Hybrid Events
External events are programs aimed at your customers, prospects, clients, and other relevant individuals. Converting your live external event to a hybrid format can help you attract more guests while reducing your carbon impact.
Core Elements, Goals, and Advantages of Hybrid Events
It's essential to spend time determining the goals of your hybrid event, as well as gathering all of the resources you'll need to achieve them. We've outlined the standard features, aims, and benefits of becoming hybrid with your event below.
Vital Elements of Hybrid Events
Engaging Content
Marketing
Registration
Appointment Scheduling
How to Create a Successful Hybrid Event
It's time to start planning your hybrid event's program now that you've established your objectives and identified the items you'll require. We'll discuss some common problems and solutions to plan the proper schedule and keep your guests interested in the following sections.
4 Elements of a Successful Hybrid Event
Content
As previously said, content reigns supreme at your hybrid event. You want both in-person and virtual participants to be equally engaged. This is where the concept of "one event, two experiences" comes into play. You can't provide the same material to both groups in the same way.
Community
At an event, onsite participants have the advantage of getting a specific look at the community. They find it much simpler to network in person, have honest discussions, and form connections. There are, however, methods to bring this community to your online audience.
Sponsorship
Any event program depends heavily on sponsorship funds. As a result, your hybrid event must provide your sponsors with the same (or more) value as an onsite event. There are various methods to get your sponsors in front of virtual and in-person visitors while still providing excellent value. Experience a Stress-Free 10×10 trade show rental at Las vegas.
Analytics
What you do after an event is equally essential to what you do during the event. It's pointless to host an event if you don't learn anything. Send out a post-event survey to determine which material resonated with guests and how they felt about their in-person vs. virtual experiences. During the event, glance at the data of your attendees. Make a point of following up with anyone who attended many sessions, asked a lot of questions, or interacted with your sponsors.
Apart from this if you are interested to know about Educational Toys For Kids, Newborns, Babies then visit our education category.