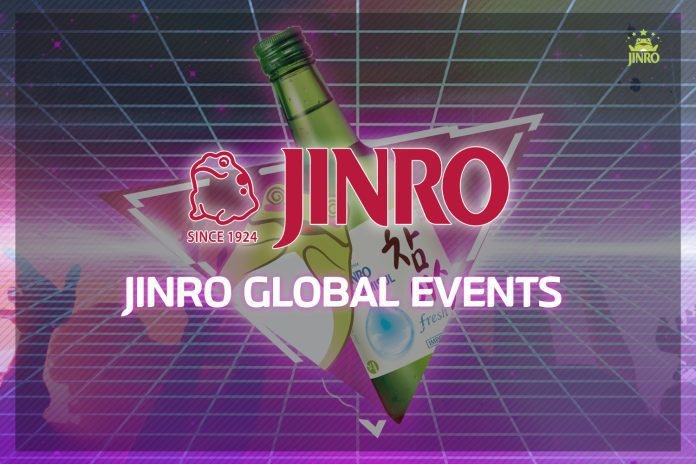 Last Updated on February 24, 2023 by
Have you ever seen any soju brands that held global events? Well, the answer is Yes. Do you know that The Real Original JINRO soju is the only soju brand that has ever organize such global events? HITEJINRO has led the growth of liquor market share in South Korea and has been expanding their market share globally, being the World's No.1 Best-Spelling Spirits for 20 consecutive years. Here are some of the examples of JINRO global events during the past few years.
JINRO Global Events in the Philippines
The most two recent events in the Philippines are "2017 Taste JINRO MasqueRave" at the Chaos Night Club in Manila and "2018 JINRO Light Up the Night" launch party to bring the spirit of Seoul to the streets of Poblacion, Makati. "Taste JINRO MasqueRave" was held on April Fool's Day with a unique concept of masquerade ball tailored to the theme of "Deceiving Oneself". JINRO 24 was introduced to the local crowds and JINRO never disappoint to bring in local and international DJs and models to hype up the night. Did I mention that JINRO gave out free goodies like powerbanks, umbrellas for the crowds to take photo with their JINRO henna as well? Oh, that even had JINRO slushies for the crowds to try and loosen up while having a good time in the party.
Another famous event "JINRO Light Up the Night" was also such a huge success as JINRO introduced their light version JINRO Light to the Philippine market. JINRO Light has a lighter alcohol taste but kicks with the same punch as the regular JINRO 24. They were promoting it as cold shots and a good alternative popular mix of JINRO soju with Yakult. It was a night full of music, fun drinking games and soju shots all night long. JINRO drinks were free all throughout the night as long as you participate in the 'missions' prepared such as posting a selfie with JINRO Light.
Filipino and Korean cultures share a lot in common, from drinking practices to the ability to be the light and the life of the party. Perhaps that is why Filipinos are attracted to the Korean drinking culture so much because it reminds them of their ability to shine bright no matter how dark the night may get.
JINRO Halloween in the US
"2019 JINRO Halloween" was held at Candela La Brea in Los Angeles. The location's maximum capacity was 750 but almost 1,200 people participate for the Halloween event. The night started with open bar all night, beer pong table games and ending the night with a costume contest dance off. Total of $2000 was given out to winners for the best costumes that night. 1st place takes home $1000, $500 for 2nd place and $50 to 10 3rd place winners. The music vibe was popping all night with music performances from Justin Park to special guests Nafla and DJ performances as well. Unfortunately, due to Covid-19, 2020 JINRO Halloween got cancelled. Let's hope for more Halloween Events in the US next year.
JINRO's pop-up store in France
HITEJINRO thought it would be good to introduce JINRO soju to the European market and expand the local market by providing opportunities for local Europeans to engage Korean alcohol drinking culture experiences. They held pop-up stores called "Corea Spirit 2019" where you taste not only Korea's representative finger foods but promote JINRO products ranging from beer to fruit flavored soju and offer tasting events to enhance JINRO's brand awareness. In particular, JINRO Strawberry soju was first introduced through the pop-up store in France after exporting in May 2019. The party atmosphere was maximized with DJ performance of the famous Korean DJ 'Grace Kim' and they lined up JINRO soju bottles and a photo wall for the crowds to join on the SNS photo upload event. More than 500 people visited each of the pop-up stores, showing high interest in Korea's drinking culture and of course JINRO products.
JINRO Night Run in Southeast Asia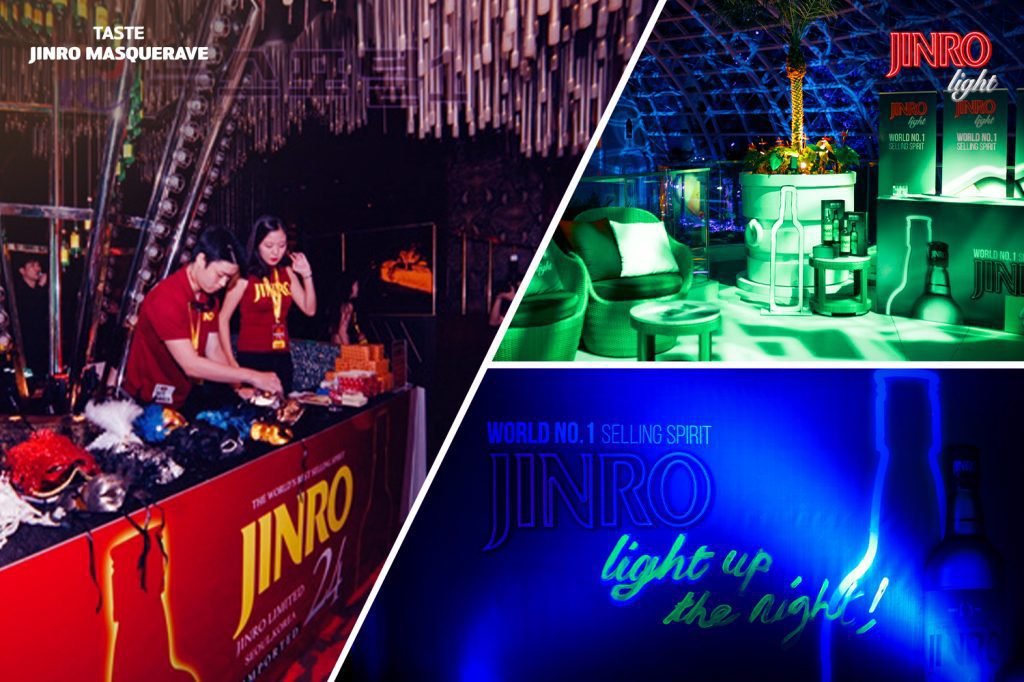 JINRO NIGHT RUN 2021 is a pub-crawl event utilizing influencers to visit JINRO Membership Outlets to help improve JINRO's brand awareness and post it on their social media channels. Influencers performs given missions through online promotional activities and deliver JINRO's brand message while demonstrating the K-Culture through various drinking games and activities. On the day of the pub-crawl event, influencers wore the JINRO Night Run T-shirts and items traveling around the area to find the JINRO membership outlets. For every visit, influencers will introduce each outlet by showing the menu, food tasting and show the characteristics of each outlet. Then, they will make their own JINRO cocktail by either mixing it with beer or tonic water. Lastly, they will show various drinking JINRO challenges and games so that whoever who watches the video can follow the challenge. This JINRO Night Run 2021 is held in several countries including Cambodia, Indonesia, Singapore, and Malaysia. The campaign was such a huge success gaining almost 6 million impressions in total. One of my favorite videos is from cheokboardstudios, a Singaporean Youtube influencer who adds the Singaporean "flavor" and culture into the videos which makes the video more localized for the Singaporean market to understand and enjoy.
Last but not least there's the JINRO Music Festival held in Seoul this 2022
JINRO Music Festival "2022 Isul Live Festival" is the only soju music festival in Korea, and it was held for the first time in three years due to the Covid-19 outbreak. Top-notch singers and rappers performed during the festival and for the highlight of the festival, JINRO impressed 15,000 spectators with the finale of fireworks show and a drone show with 300-unit drones flying around the air. This festival was designed to communicate with the Gen Z and Millennials generation rather than going forward with the common online advertising methods. The festival create content using music that the generation likes and provide it through channel that the Gen Z and Millennials generation uses.
Due to the global pandemic, most of the global events had to be put off for a few years, but not to worry, there will be more upcoming JINRO Global Events in the future, stay tune and do not miss out on more upcoming JINRO events.
Here are some of the other examples of recent Global Events held by JINRO. Check out the article contents from JINRO 360 EDM Festival and JINRO All Points East Festival in UK to find out more about the recent festival events.
If you guys are interested, you can find the products by checking out this link below for more information: https://hitejinroph.com/
Apart from this if you are interested to know about Simultaneous Interpretation then visit our events category.