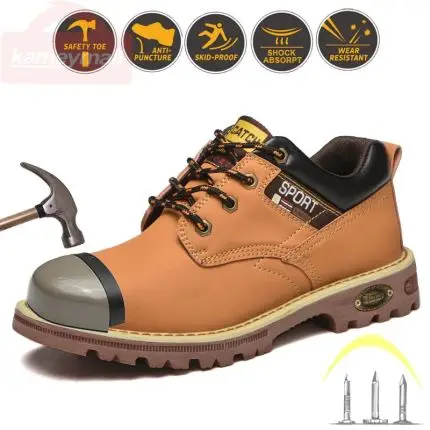 Last Updated on September 12, 2023 by
This guide from Oxwork.com can help you choose the right safety shoes for your activity, workplace, and the risks involved.
All about safety shoes: patterns and shapes
Safety shoes are PPE (Personal Protective Equipment) and are mandatory in some industries regardless of the type of footwear (basketball, boots, etc.). Therefore, they must be selected based on the job title and work location. Work shoes protect against many risks: chemical, mechanical, thermal, electrical, and displacement. It is important not to overlook this protection and to choose the right protective footwear for your own safety and efficiency.
On the one hand, you have to know that there are many types of safety shoes and their histories are varied. Work boots with an arch support are the most comfortable work boots to wear. To choose the right pair, you must understand the pattern and shape that best suits your needs, the characteristics of the shoe, the standard, what it can be made for, and quality in relation to price. On the other hand, different people are attracted to certain brands that are well known to the general public, which is usually a guarantee of quality. But it's also good to know how and where to buy protective footwear.
But most importantly, knowing your shoe size is essential to being comfortable and providing clear work while having complete freedom of movement. Because there are indeed many customers who get lost between French and foreign sizes.
Men's and Women's Size Guide:
In the vast majority of companies, protecting your feet and wearing safety shoes for women is mandatory. In order to provide the best possible product according to the individual, the field of activity, and the work environment, manufacturers, therefore, develop safety shoes in different patterns and shapes to make the right choice.
We can notice that there are different types of shoes:
· One men's safety shoe and one women's safety shoe
· safety sneakers
· safety boots
Among these different types of protective shoes, we find different shapes, for example, high safety shoes and boots, but also low safety shoes. Some of them are lighter and more comfortable. They usually have laces, but a few don't. The occupation a worker develops will strongly influence the choice, as is often the case with work shoes.
To benefit from additional information, you can consult this page: Technical characteristics of safety shoes: patterns and shapes.
The quality of safety shoes
Not wearing foot protection can have serious consequences, especially if the environment is deemed hazardous. Wearing low-quality equipment can be just as dangerous under the same circumstances. That's why Kameymall provides reliable, comfortable, and durable safety shoes to improve the safety of professionals, but also the safety of individuals to avoid any foot injury.
Major brands of safety shoes
To ensure that customers benefit from a very wide selection, the catalog includes a wide range of shoes, sports shoes, and protective boots. We work hard to find you the best value for money among the many brands.
Very well-known brands are showcased, including:
Note that there is a lot more to be discovered in the safety shoe section. Also, more information can be found here: Quality of safety shoes
Use of safety shoes
People generally tend to think that safety shoes are all the same and have no further meaning than the first discovery. But that's wrong because they vary widely depending on the transaction. It is easy to cite the following examples:
To learn more about the use of shoes, you can consult: The use of safety shoes
Depending on the industry, work shoes will vary. Additionally, in certain industries, safety shoes must meet certain standards.
Safety shoe standard
In fact, there are several criteria that need to be adhered to for a buyer to find exactly the type of safety shoes that is best for him. Because they are classified like this in the ISO 20345 standard:
· S1: Indoor Activities / Resistant to Hydrocarbons and Oils / Protects the Toe and Holds the Impact Heel
· S1P: S1+ anti-puncture
· S2: Outdoor activities / Anti-water absorption
· S3: S2 + non-slip sole / puncture proof
· S4: 200 joules of protective shell/shoes made entirely of rubber or polymer / antistatic properties/oil and hydrocarbon resistance/energy absorption in the heel and closed back.
· S5:S4+ non-slip sole/puncture resistance.
For more information on the standard, see: Safety Footwear Standard
Where to buy safety shoes?
With this system, the customer is aware of the protection provided by the shoe and can therefore make his choice with confidence among the products. In addition, thanks to the Oxwork site, he can now complete the purchase of his safety shoes with work clothes or personal protective equipment.
To enhance your security and safety you can also use safety alert app.
Read More: Walkin' the Walk: How to Choose the Best Safety Boots for Your Site Job?