Last Updated on June 10, 2023 by Umer Malik
A Personal loan play helps whenever you are short out of cash. It is one of the many types of unsecured loans that is readily available for those who need cash urgently. Whether you want to consolidate debt, pay medical bills, or plan a wedding, it is the way to get the funds you need to get things done.
Personal loans are a popular financial option offered by banks, other institutions, and even online lenders. Unlike car loans to purchase vehicles or student loan debt for schooling expenses, personal loan funds can be used on any expense – whether they're consolidating bills into one payment or taking that dream vacation. If you get a personal loan you can use it the way you want. You can make purchases or do unfinished repairs and more.
However, these loans have specific repayment terms which should be followed. Before you take out a personal loan, it is essential to evaluate your repayment capabilities. With all that said, there are particular situations when you must apply for a personal loan. With certain unexpected events or expenses in life, a personal loan may be the answer to maintaining financial stability. Here are some scenarios when to apply for a personal loan: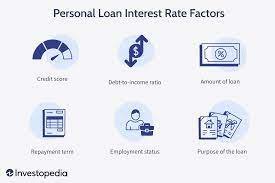 1. When you Want to Consolidate a Loan
The first situation that leaves you no choice but to apply for a personal loan is to consolidate debts. You can apply for a personal loan to clear other debts like credit card debt, or student loan debt. After paying the debts, you will have a single loan with a lower interest rate. The good thing with personal loans is that they come with a longer payment timeline, within a year, giving you enough time to plan on how to repay them.
2. You have an Unplanned Vacation
Exploring the world is an exciting and rewarding pastime, but it can be difficult with limited finances. Luckily, you don't have to forgo those spontaneous vacations. If you want a quick cash loan to enjoy life's adventures without stress, apply for a personal loan. With them comes freedom.
3. You Want to Take Care of Wedding Expenses
Big weddings are now the norm these days. No one wants small weddings that will not be remembered. Everyone wants to make sure their wedding leaves a lasting impact on the guest and all those who attend. However, we know great things come at a cost, and for a wedding to be spectacular, you should have enough funds to cater to that, which of course, is costly.
Financial setbacks are unavoidable in cases like this. So, a personal loan for wedding is the only way you can manage wedding expenses. With lendingplate offering personal loans of up to 2 lakhs, you can get the financial assistance you deserve and enjoy the wedding as you had imagined.
4. You Want to Relocate
It can be costly to relocate for a job or to buy a new house in another city. Applying for a personal loan can help make a move easier and less stressful by providing the funds needed to cover relocation expenses such as moving costs, temporary housing, and travel expenses. In other words, a personal loan will come in handy if you are on a tight budget and don't want to use your savings.
5. To Finance a Vehicle
If you're in the market for a vehicle and don't have enough cash to cover the down payment, auto loans may not be your best option. Consider applying for a personal loan as an alternative. It can make purchasing easier by providing financing without requiring any collateral before approval. Plus, you could even score better rates than with traditional car loans.
6. If You Have Medical Emergencies
Another situation to apply for a personal loan is when you require extra cash to pay medical bills. These emergencies can't be postponed, so the best way to deal with them is to take out a personal loan which can be repaid at a later date. Personal loans are provided in a lump sum which helps you cover the expenses in full and still have enough left for other purposes.
7. When You Want to Remodel Your Home
A personal loan can be a lifesaver for time-sensitive home renovations, such as repairing major leaks before monsoon or making improvements before the sale. A personal loan is an excellent option if you don't have sufficient savings for these projects. It offers incredible versatility with no limits on how the money should be used. So don't just sit and let your house fall, apply for a personal loan with registered NBFC.
Conclusion
All types of loans can be beneficial as long as you have a good understanding and repayment strategy. While personal loans are an excellent option for many reasons, these are some of the best cases when to apply for them. To ensure that your application is accepted instantly without any hiccups, check the terms of the lender to know if you're eligible. Besides, remember that a personal loan is a significant financial resource, so you should use it responsibly.
Apart from this, if you are interested to know more about Personal Loans for Bad Credit then visit our Finance category