Last Updated on April 4, 2022 by admin
Finding ways to save money while home remodeling albuquerque instead of investing tens of thousands of dollars means you'll have more money in your pocket. Aside from shopping for deals on renovation supplies, there are seven other strategies to save money on remodelling work in all of your home's key rooms.
1. For Small Spaces, Purchase Discontinued Flooring
New flooring may give a space a completely different aesthetic, but it can be costly. New wood flooring costs $8 to $10 per square foot, while new laminate costs $5.50 per square foot. If you're replacing flooring in a small space like a powder room, mudroom, or entrance, seek for flooring that has been discontinued, which means the manufacturer no longer produces it. Discontinued flooring is sometimes discounted in retail stores (or online) to clear inventory fast, therefore limited amounts (suited for small spaces) may be available. You can save even more money if you can install it yourself.
To begin, carefully measure your floor space to determine the exact square footage you'll require. Then go to a big box home improvement store or a flooring business in your neighbourhood. Look for big discounts on the minimal amount of flooring you require by browsing the tile, vinyl, laminate, or hardwood flooring selections. Keep in mind that buying a little extra (anything from 5% to 10%) to account for possible breakage or damage during installation is a good idea.
2. Look through the Returned Paint section.
Painting is another simple option to update the aesthetic of your home, but with paint prices ranging from $17 to $105 per gallon, the costs can rapidly add up.
Purchase the returned paint to save money. This is paint that someone else ordered but no longer wants, often known as a "mistint." Perhaps there was a mixing error, or perhaps the paint was returned because the customer had second thoughts, but already-mixed paint is often discounted, which can help you save money on your painting project.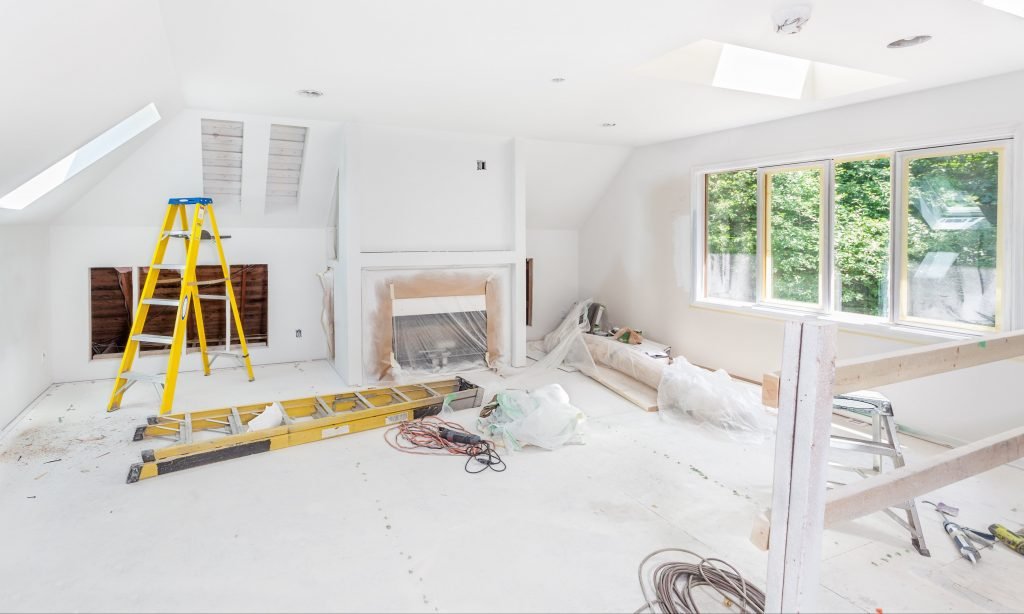 Keep in mind that mistints or returned paint arrive in limited quantities, so this would be suitable for a small space or an accent wall in one room, similar to discontinued flooring.
3. Turn old furniture into new built-ins by repurposing it.
When it comes to upgrading or renovating, who says you have to go out and get something new? Thinking creatively about the furniture you already own and how to use pieces in new ways and in other spaces can save you a lot of money.
Consider repurposing an old low dresser frame with one level of drawers as the bench of a new space-saving corner banquette when remodelling a tiny kitchen. Turn an old desk into a front hall table for your foyer by refinishing and repurposing it. Or, to create a built-in family breakfast nook, use the sturdy wood base of a circular kitchen table to anchor an extension on your kitchen counter.
4. Selecting Used Materials in Person and on the Internet
You may be familiar with purchasing used furniture and appliances for your home, but did you know that you can also purchase used construction and remodelling materials?
You'll find gently used (or even new and unused) lumber, windows, flooring, and other home repair items at Habitat for Humanity ReStores. Used kitchen and bath cabinetry, sinks, toilets, and vanities, as well as windows and internal doors, can all be found here at reasonable costs. Builders frequently donate materials that they didn't use on bespoke jobs or subdivisions, so you'll not only find good used materials, but you might also find new materials.
5. Avoid Making Expensive Design Changes
Consider your options carefully before making big design modifications while looking for strategies to save money on a home remodel. Because of the additional labour and supplies required to relocate the plumbing, electricity, and/or gas lines, additional costs can quickly accumulate.
6. Repurpose rather than replace, repaint, repurpose, repurpose, repurpose, repurpose, repurpose,
Though you may be tempted to rip out your old furniture and replace it with brand new, modern furniture, this is typically the most expensive option for a home redesign. Instead, consider repainting and reusing what you already have, particularly if it's good quality or in good condition but simply out of date.
Kitchen cabinets and bathroom vanities are the best examples of this. You may get a new look without spending a lot of money by painting what you already have and changing the handles and door pulls.