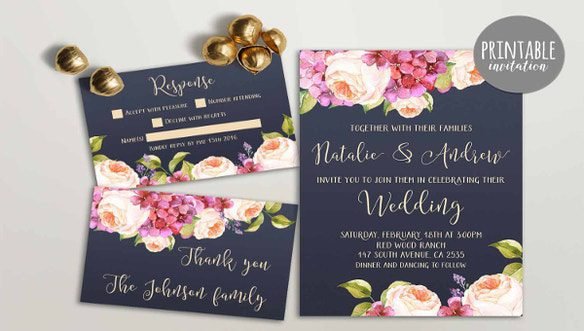 Last Updated on August 5, 2022 by
Wedding planning requires lots of effort. And it is one of the most memorable experiences of our lives, which is why we always want to give our best.
Though many couples hire a professional wedding planner, it could really increase your budget. The good news is, you don't actually need a wedding planner. However, this means a little more work for you. But if you're saving hundreds or thousands of dollars, it is worth it.
But again to make things easier for you, we're here with our latest guide on how to find the best wedding invitation templates. So, without any further ado, let's dig right in.
1- Pick a Matching Theme
Assuming your wedding day is not very far and you have already decided on the wedding theme, you can choose a template that compliments it.
For instance, if your wedding day will have pink colors all over, you can choose a wedding template that's pink in color. You can also consider adding floral designs to it to make it even more attractive.
If you have not yet finalized a theme for your wedding, take time to consult with your loved ones and decide the color for the theme, so you can pick an invitation template accordingly.
2- Choose the Right Shape
Wedding invitation templates come in varied shapes and sizes. Depending on your requirements and budgets, you can pick the one you find the most appealing. Here are some major wedding invitation shapes and sizes.
Tri-Fold:
These invitation cards are folded in thirds in accordion style. However, it is worth mentioning that these can cost you more than other types of invitation cards. But again, they provide an elegant look to your wedding card.
Gate Fold:
As the name suggests, this wedding card opens like a gate to announce the message inside. They also cost you more than standard invitation cards because they're unique.
Square:
They have 90-degree angles at corners and are one of the most common types of invitation cards.
Round:
Just like square cards, these cards are circle in shape. They are also one of the most common types of invitation cards.
Scalloped:
These invitation cards have scalloped edges and are similar to the series of repeating curves across every edge.
3- Pick the Right Font
Words play a vital role in every wedding card. Also, the font in which those words are written is also crucial. That's because it can make your wedding card appealing. However, again, the right font for you relies on your wedding theme. 
Here are some common types of font:
Serif:
Fonts that have decorative lines at the end of a letter are known as Serif. Examples include Garamond and Georgia.
Sans Serif:
The contrary of Serif is considered Sans Serif. It is worth mentioning that it does not have those decorative signs at the end of letters. The most common example of this font is Helvetica.
Script:
They are very similar to handwriting. These are the most common types of font in wedding invitation cards.
Unique fonts:
Everything except the ones mentioned above are considered unique fonts. However, make sure that it resonates with your wedding theme.
Most Popular Wedding Themes
To help you make a quick decision, we have listed some of the popular wedding themes. Here are some of the most popular wedding themes across the globe.
Vintage:
Vintage is back in trend and is definitely on the trending wedding invitation templates. It involves elements of the previous generation.
Traditional:
These wedding cards are all about thematic designs and your traditions.
Floral:
As mentioned above, floral is one of the most common, yet elegant wedding invitation templates.
Concluding Thoughts
Choosing the perfect wedding invitation template could be overwhelming. However, it doesn't have to. That's why we have created this guide to make it easier for you to choose the right template. Hope this has helped. Also, don't forget the cost of the wedding cards as the more unique template you pick, the costlier it will be. Happy wedding!
Read More: These are 10 secret tips that will make your wedding Card Box look Fabulous.