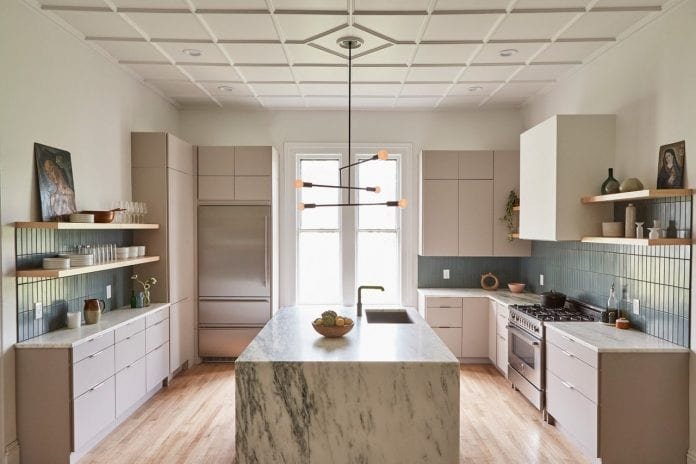 Last Updated on March 11, 2022 by azamqasim
There is no denying that white kitchen cabinets have a huge fan base. More and more people are up for white kitchen themes. Also, these are flexible to go with any countertop color. However, white cabinets look best with quartz countertops. They complement each other very well. From dark to light, quartz has a wide range of colors and veining patterns.
In addition, you can choose contrasts as well as combinations. White cabinets can also make your kitchen look bigger and cleaner. Additionally, they give a classy and modern outlook to your interior. Pairing with a perfect counter can lift the final look of your kitchen. So, you have some great choices in countertop colors that will enhance the grace of your white cabinets.
If you are wondering about the best quartz colors, here is the list of some colors to go perfect with white kitchen cabinets:
White
Beige
Grey
Brown
Black
1- White:
Do you want the cleanest kitchen? If yes, then nothing can beat the look of white quartz countertops with white cabinets. This pair is perfect for a modern kitchen. Also, you can go for plain white quartz or the one with speckles. Both will have a good impact on your place. The white quartz with marble looks has a classy appeal too. Although white quartz has a wide variety, here are a few of them:
– Vena pure white quartz:
If you love having a pure white kitchen, Vena pure white quartz is an ideal choice for you. This white countertop creates a perfect white kitchen with white cabinets. Also, it will make your place look spacious and clean.
– Vena Bianco quartz:
Well, if you like to go with some veining pattern, go for Bianco quartz. This one has dark grey or blue veins on its surface. It gives off the look of marble stone. So, it is a great option to get a marble look with quartz.
– Argento white quartz:
It is white quartz to go perfectly with your white cabinets. Argento white quartz has a dark veining pattern. Also, it flows throughout the surface. In this way, it creates a stunning marble look.
2- Beige:
For a lighter mood and contrast, pair your white cabinets with beige quartz countertops. Surely it will brighten up your place and give an airy outlook. Also, this countertop has a canvas-like feel to it. Neutral shades like beige look best with white cabinets. In this case, the top choices for beige surfaces are:
– Buttermilk quartz stone:
The name of this quartz is as creamy as the look of it. Firstly, it is a consistent beige color to go best with white color cabinets. You will see hints of white and beige speckles on its surface. So, if you want a subtle look, opt for this quartz.
– Mist beige quartz:
This beige countertop has a heavy dark pattern on it. Also, it has a beige base with white and black veining patterns. Well, it will give a contrast to your white cabinets.
3- Grey:
You can never go wrong with grey quartz paired with white cabinets. Fair to say that grey is a new black. You will hardly see a kitchen without a grey tone these days. So, how can you miss grey quartz countertops? Grey surface provides a neutral yet stylish look to your kitchen. But, light grey quartz has a unique and trendy appeal. So, here are some greys for you:
– Light grey quartz:
This light grey has a dark veining pattern. It will look stunning in combination with white cabinets. Also, you may use it as your backsplash. Go for this quartz for a modern kitchen.
– Concrete grey quartz:
Concrete grey has a plain look with whitish veining patterns somewhere on the surface. The pattern does not flow through the surface. So, it is a good choice for a typical stone look on countertops.
– Babylon grey quartz:
On the other hand, opt for dark grey quartz to have a striking contrast. A shiny dark grey top will contrast perfectly with white kitchen cabinets. Moreover, it is the best option to create a minimalistic look.
4- Brown:
You can balance out white cabinets by using brown quartz countertops. It is also a pretty combination for any kitchen. Also, brown quartz with a pink, white, and orange veining pattern is a stunning piece. So, it will be a great addition to your cooking place.
– Berkley brown quartz:
If you want a lighter tone with white cabinets, go with this brown quartz. It has a brown base with white speckles on its surface. So, it has the best visual appeal.
– Dark brown quartz:
White cabinets with dark brown quartz are another best combination for you. It has a darker base with black speckles on it. In this way, it gives a bold texture to your place.
Read Also: 7 Reasons to buy flatweave rugs online.
5- Black:
What is better than a black and white kitchen theme? To achieve this look, pair the white cabinets with striking black quartz. Many people love the look of black quartz. But, the contrast with white cabinets takes your kitchen to another level. You have two main options for black countertops:
– Matte finish quartz:
Matte black quartz has a stark look with white cabinets. It is best to create a black and white themed kitchen. It is the aesthetic appeal you are looking for.
Vanilla noir quartz:
Noir black quartz has a beautiful white pattern on it. This quartz will look perfect with white cabinetry. Also, it has white specks on its surface. So, go for a great contrast to have a modern kitchen.
Conclusion:
So, now you have got many quartz countertops to go with your white cabinets. Choose any color combination for your place. Go for white cabinets for a white kitchen theme. But, for a striking contrast, create a black and white kitchen with black quartz. Similarly, choose brown or grey for a more subtle look. So, pick any quartz color from badger granite to create the desired look.