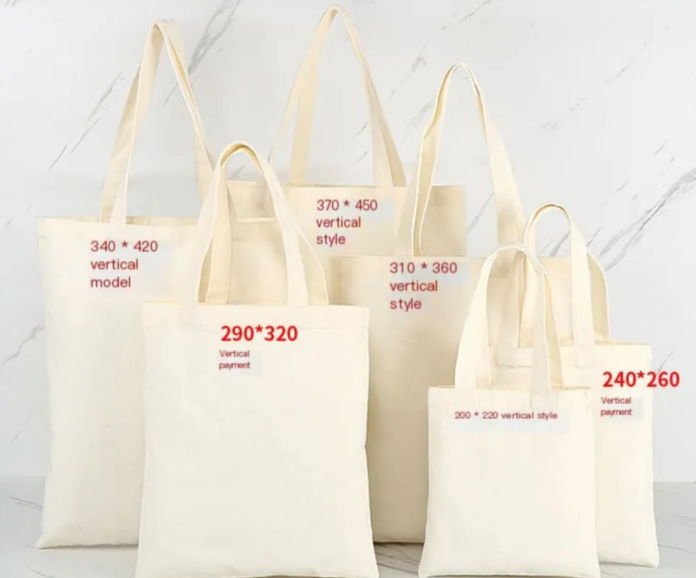 Last Updated on September 3, 2023 by asifa
The price of wholesale tote bags can vary depending on several factors, including the type of bag, material, quantity ordered, customization options, and the supplier you choose. Here are some general price ranges to give you an idea:
Non-Woven Polypropylene Tote Bags: These are usually the most affordable option, with prices ranging from $0.50 to $2 per bag, depending on the size and quantity ordered.
Cotton Canvas Tote Bags: Cotton canvas bags are often considered more durable and have a higher perceived value. Prices typically range from $1 to $5 per bag, depending on size, weight, and customization options.
Jute or Burlap Tote Bags: Jute or burlap bags have a rustic and eco-friendly appeal. Prices for these bags usually range from $2 to $6 per bag.
Polyester Tote Bags: Polyester bags are lightweight and often used for promotional purposes. Prices can range from $0.80 to $3 per bag.
It's important to note that these price ranges are approximate and can vary based on the factors mentioned earlier. Additionally, the prices may differ among different suppliers, so it's always a good idea to request quotes from multiple wholesalers to compare prices and find the best deal.
Customization, such as adding a logo or design, may incur additional costs, such as setup fees or printing charges. The complexity of the customization and the quantity ordered can also affect the final price.
To get accurate pricing for wholesale tote bags, it's recommended to reach out to suppliers directly and provide them with specific details about your requirements, including the type of bag, material, quantity, and customization options. They should be able to provide you with a detailed quote based on your specifications.
DonGuan JunLong Leather Co., Ltd, as a professional bag supplier, provides various services such as custom backpacks, wholesale tote bags, wholesale lunches, etc. We have incomparable advantages in wholesale tote bags.
Affordable: Our wholesale tote bags are cost-effective, because as a professional wholesale customizer, we have a large production scale and relatively low mass production costs. Save money by purchasing wholesale tote bags with discounted prices.
Versatility: We make tote bags that are versatile and suitable for a variety of uses. They can be used as shopping bags, promotional gift bags, giveaway bags, trade show gift bags, event bags and more. They can also be used for personal use such as travel, outdoor activities or everyday carry items.
Reusable: Wholesale tote bags are a good choice compared to disposable plastic bags, our tote bags are made of durable material and can be used many times. This helps reduce consumption of plastic bags, reduces environmental impact and sends a message of environmental protection and sustainability.
Advertising effect: DonGuan JunLong Leather Co., Ltd is a professional wholesale handbag supplier. We can provide customized LOGO services according to the advertising effects that customers want to achieve, and print company logos, brand information or advertising slogans on them. This makes them effective branding tools that can help enhance brand awareness, engage target audiences, and communicate brand values.
Diverse Design Options: DonGuan JunLong Leather Co., Ltd As a professional wholesale tote bag factory, we can provide a variety of design and style options. They are available in different materials (cotton, canvas, polyester, etc.), in different sizes and shapes, and can be personalized with printing or embroidery. This allows them to meet the needs of different businesses or organizations and match their brand image.
Quality Assurance: As a professional bag wholesale supplier, DonGuan JunLong Leather Co., Ltd has strict control over design, selection of raw materials, and production, so as to ensure that customers can obtain reliable quality handbag products.
Apart from that, if you are interested to know about Luxury Leather Bags then visit our Fashion category.