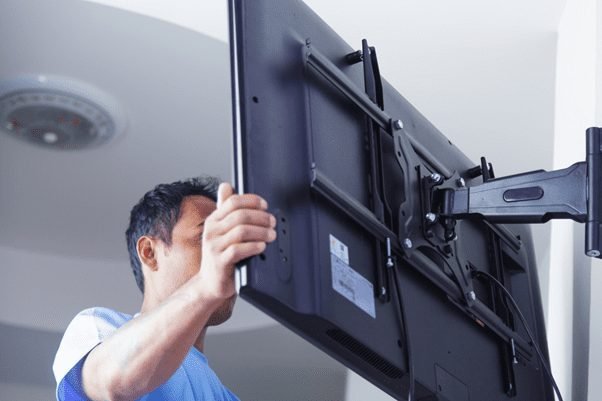 Last Updated on September 4, 2021 by azamqasim
Did you know that mounting your TV is a great way to improve the safety of your home? Over 18,000 people are injured each year from falling TVs. When you think about the safety of your household, the cost to mount a TV is worth their health.
If you weren't interested in TV mount installation before, hopefully, you are now. But how much is the typical cost to mount a TV? It is important to have an idea of the average cost to mount a TV so you'll know for sure that it fits within your budget.
The good news is that you're in the right place to get a clearer picture of how much it will cost to install a TV mount in your home. Continue reading to learn more about how much does it cost to mount a TV.
Types of TV Mounts
There are a wide variety of different TV mounts that are perfect for any home or room. It all comes down to your preferences and needs. Here is a closer look at the different types of TV mounts.
Under-Cabinet TV Mounts
This type of TV mount is perfect for fitting beneath a cabinet in your home. This is a popular option for placing a TV in your kitchen as well as in a home office. Under-cabinet TV mounts are some of the most affordable mounts on the market but they're designed for holding small, lightweight TVs. They'll cost you around $100 for the equipment.
Fixed TV Wall Mount
One of the most common types of TV mounts is the fixed wall mount. This TV mount is secured to your wall and holds your TV in a fixed place. It is important that you're aware that you can't move or tilt your TV when it is attached to this type of wall mount.
The good news is that this type of TV wall mount is affordable and a great option if you want a TV mounted in an area where there are no obstructions. This wall mount will cost you around $150.
Ultra-thin TV Wall Mount
Some people love having the best and newest technology, and TVs are no different. If you want to mount an ultra-thin TV on your wall then there is a mount for that. This type of mount makes your TV barely noticeable and makes the most of the ultra-thin feature. It results in an aesthetically pleasing appearance and will cost you between $150 and $300.
Full-Motion TV Mount
One of the best types of TV mounts for flexibility is the full-motion TV mount. This TV mount allows you to move your TV horizontally and vertically so you'll be able to see clearly no matter where you want to sit. If there is an annoying glare you won't have any issues adjusting your TV for better viewing. This type of TV mount usually costs around $500 depending on the size.
Fireplace TV Mount
If you want to enjoy your favorite shows and sports while sitting by your warm and cozy fireplace then you'll love a fireplace TV. This TV mount is designed to place your TV above the fireplace and provide the ability to move it down to decrease stress on your neck. Depending on the size and quality, this TV mount is available for anywhere between $150 and $500.
TV Mount Prices
There are a number of things that affect the cost to mount a TV in your home. One of the most important ones is the cost of the TV mount itself. This piece of equipment is what will attach to the wall in your home and secure your TV there.
A big factor is the price of the mount itself. This varies depending on the size and weight of the TV you want to be mounted. The good news is that TV mounts are designed to hold TVs of just about any weight as long as they meet the size requirements.
The price of a TV mount changes depending on the size of the mount as well as the features the mount provides. Some mounts provide plug-ins and the ability to swivel. This is great if you like redecorating your living area and want to ensure that everyone can see the TV no matter where the furniture is.
The mounting equipment for a TV that is 25 inches or smaller is going to cost you around $110. Medium-sized TV mounts will cost you a bit more, with TVs that are 35 to 55 inches will cost between $200 and $300. Mounts for TVs that are over 65 inches in size will likely cost you $500 or more depending on quality and features.
Cost To Mount a TV
The installation cost for a TV mount is quite low, but it changes depending on the size of your TV and the mount you'll need for the job. The wall mount itself will cost you somewhere between $60 on the low end and $200 on the high end. Another big factor to consider when it comes to the cost of mounting a TV in your home is the cost of labor.
If you're able to do the labor yourself then it will make the process of getting a TV mounted in your home much cheaper and quicker. You'll need certain tools in order to safely and securely install your TV's wall mount.
Getting your TV installed through an installation service like installmyantenna.com.au will cost you more than if you do the labor yourself. For an average-sized TV, you should expect an installation cost of around $200. The bigger and heavier your TV is, the more expensive the installation will be.
Other factors that determine the cost are your home's location and distance from the installer's place of business as well as the intensity of the work involved with mounting the TV. These installers are experts at determining the best place to mount your TV for your viewing needs.
Get Your TV Mounted Today
The cost to mount a TV is well worth it when you think about the added convenience it provides as well as all of the space it saves you. It provides a clean and classy appearance to the interior of your home and makes a safe environment for your children to play in. The best part is that it is affordable to mount a TV in your home.
For more insightful blog posts, be sure to explore more of our website today.