Last Updated on July 20, 2023 by
In most homes, people would usually use their basement as an additional storage space wherein they'll toss everything they don't want to be seen out of plain sight. However, if there comes a time when you need to pull out something from the basement, you might spend forever looking for a single piece just because you can't remember where you've placed it. To avoid this frustrating scenario, you should practice proper organization inside your basement.
While it might be a workload, organizing your basement is a must. Apart from allowing yourself to find things quicker, you can also help maximize the space that you have and even keep more items inside. Moreover, listed below are the tips for organizing your basement:
1. Declutter First
As you declutter, there are plenty of ways to throw your rubbish. You can have a browse at some rubbish removal company that can take your clutter off of your hands, or you can choose to sell and donate some things you have inside your home. If you could minimize the items you keep inside your basement by half, the better organization skills you can implement.
You can never organize your basement effectively if you keep plenty of clutter around. To allow for a successful organization, you should completely declutter the entire floor and throw everything you don't need inside your home. Just because you have space to keep them doesn't mean that you should. The fewer items that you have, the better. Only keep the things you'll need and not something you just can't throw out.
2. Utilize Containers
If there's one thing your basement should always have, it's the containers. Those special boxes will help you organize and keep your basement tidy all the time. Depending on its size, you can keep almost everything you want, allowing maximum storage space. Even keep your Christmas tree tucked away in a Christmas tree storage bag with wheels. Additionally, they can help keep clutter out of sight and make your basement look organized and tidy.
As you use containers for your basement, it'd be helpful if you could add labels on each box for easier identification. This can help prevent yourself from rampaging from one container to another. With the right labeling system, you can quickly organize your items effectively while also minimizing your time looking for them when you need them the most.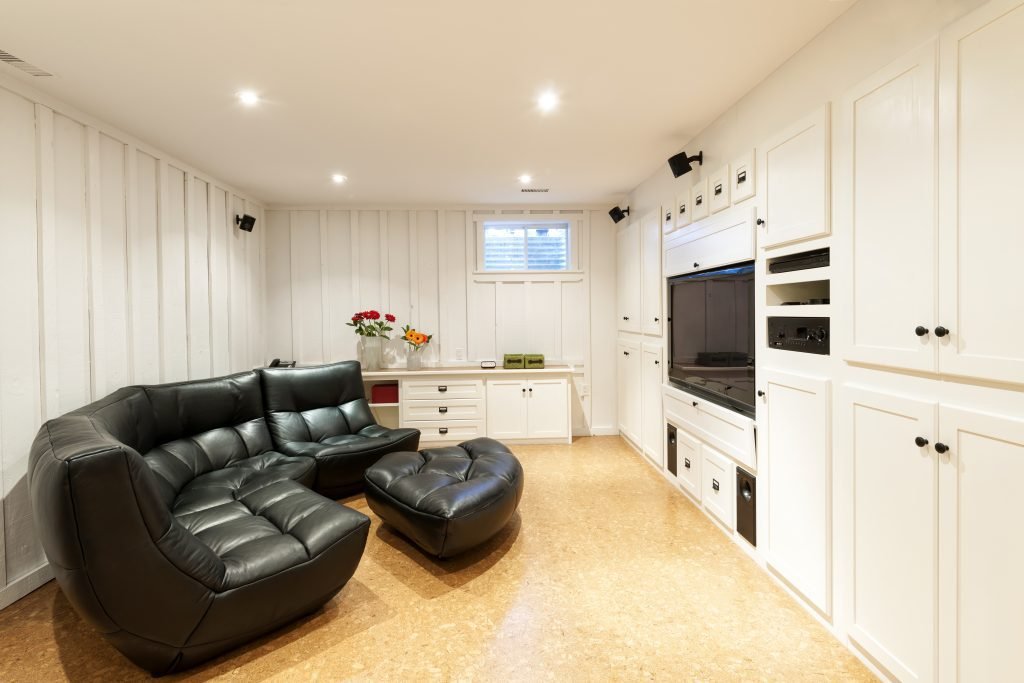 3. Maximize Wall Shelves
Apart from using boxes and containers to organize your things, you shouldn't forget that your wall can also act as an additional storage space. While it might involve some drilling, it'll help save you some space and proper organization. Wall storage would go well for long items that'd best go with being hanged such as hose, vacuum, mop, rope, and more.
When going for wall shelves, ensure that you add plenty of support, especially if you're planning to place heavy things on top of it. This will help guarantee their stability and avoid any possible accidents if they fall out. Moreover, you can use the wall storage to place small containers on top like your toolbox and allow large items to be on the floor.
4. Separate By Purpose
One of the best ways to allow for proper organization inside your basement is by separating everything according to its purpose. This way, you no longer have to spend hours looking for that particular box as you know exactly where you've placed it inside your basement. Just ensure that you keep things back to their original place to allow proper organization to take place.
Ideally, you should keep cleaning tools together. Your power tools should be on a different side of the room. As you separate them by purpose, try to place similar things together, so you don't have to jump from one corner to another to gather the things you need for the day.
5. Create A Custom-Built Storage
If you have enough budget in your pockets, creating custom-built storage would be the best option. Apart from allowing everything to be sleek and fits just right inside your basement, you can also enable the room to look more beautiful and organized. You can even hide the look of the containers and let the built-in cabinets take place. It'll provide a cleaner look, which can be pleasing to the eyes.
As you create custom-built storage, ensure that you list everything you need to keep inside. This will help you decide about the design and structure of your storage, allowing you to utilize every space you need. Apart from building a closed cabinet, you might want to include some open storage areas to create a balanced look. This will help to avoid making the room feel boxy and plain. With visible storage shelves, it'll help to add depth and definition to the room.
The Verdict
Organizing your basement can be tiring, especially if you're keeping plenty of things inside. While the work might be tedious, seeing your basement in its best shape would be worth it. As you organize everything by its purpose, ensure that you place everything back where you've taken them, so they don't get lost.
Apart from this, if you want to know about Basement waterproofing Kitchener then please visit our Home Improvement category