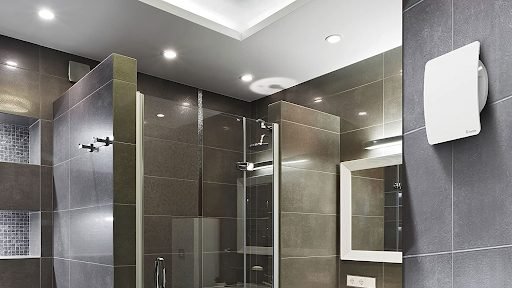 Ventilation is essential throughout the home, but it is especially important in areas where there is a lot of moisture, like bathrooms. Bathrooms with poor ventilation are prone to condensation, dampness, and black mold. Consistent moisture in the bathroom, if not addressed, could spread throughout the home, causing dampness.
This is where a mechanical extractor fan can be a great tool to remove moist air from the bathroom, but it's crucial to pick the right one. They are a one-box solution that often contains all of the pieces you require.
Now read this Best Bathroom Extractor Fans post and learn 7 top tips that can help you get the right bathroom extractor fan.
Know about Bathroom Zones
As electricity and water do not blend well, some nations have restrictions restricting the types of electrical equipment that can be installed in which areas of the bathroom, such as lighting, plug sockets, and extractor fans.
Typically, the bathroom is divided into different zones. Zone 0 is the area inside the bath or shower, and zone 1 is the area above it. Zone 2 is defined as the area that extends 0.6 meters horizontally from the shower. However, devices contain an IP rating that indicates how resistant they are to solids and liquids penetrating their enclosure. The rating's first digit refers to solids, while the second refers to liquids. For liquids, fans in Zones 0, 1, and 2 require high IP ratings.
Operate your Fan with Manual or Auto
When it comes to operating your fan, you have a few options. You may use a cord switch, which is often the same cord as the light switch, or remote control to turn it on manually. Some fans have timers that turn them off once the lights go out.
Fans with humidity sensors switch on and off when the humidity or moisture in the air reaches a specified level, and PIR (Passive Infrared Sensors) function when someone enters the room.
Consider Noise Levels
extractor fans can appear noisy. It may not be the first thing that comes to mind, and you may not notice it unless you can see the device running. This can be a problem if the noise is too loud to disturb neighbors, if you have children who bathe or shower beyond their bedtimes, or if you are sensitive to noise. However, there are many low-noise models on the market, and manufacturers offer a decibel level to give you knowledge of how noisy they actually are if you can't see a model running.
Research Different Designs
We are usually tempted to get a luxury bathroom extractor fan. But, it is not the same all the time. As with the noise issue, this may not be your first thought, but because your extractor fan will be in place for a long time, you should appreciate its look and design.
Decide on Your Air Exchange Rate
Liters per Second (l/s) or Meters Cubed per Hour (m3/hr) are the units of measurement for air extraction. One of the most important variables is the rate at which the extractor fan removes air when it is turned on. In a standard domestic bathroom, a fan must remove no less than 15 L/s, thus most models will meet this requirement. Larger or more often used bathrooms may require higher extraction rates.
Check out Exterior Grilles
You'll have an option of fixed or gravity grilles, which are outside grilles that cover the vent through which the extracted air is discharged, in addition to the fan. Slats in gravity grilles are typically pushed open by the extraction process and subsequently closed by gravity. When not in use, this reduces backdrafts, although it can be noisy, especially if it is installed under a bedroom window. Fixed grilles are cool, however, they may allow air to pass through the slots.
Consider a Heat Recovery Option
Stale air is taken from places such as bathrooms, kitchens, and utility rooms, and sent through a heat exchange, which is normally an option for whole-home ventilation systems. Fresh air is brought in from the outside, filtered, and sent through the exchange, which recycles a large portion of the heat. However, some clever single-room heat recovery systems could accomplish the same feat with just a single unit.
Consider these options when picking a bathroom extractor fan to ensure that your home is well-ventilated and moisture accumulation is controlled.
Read more interesting articles at Readesh