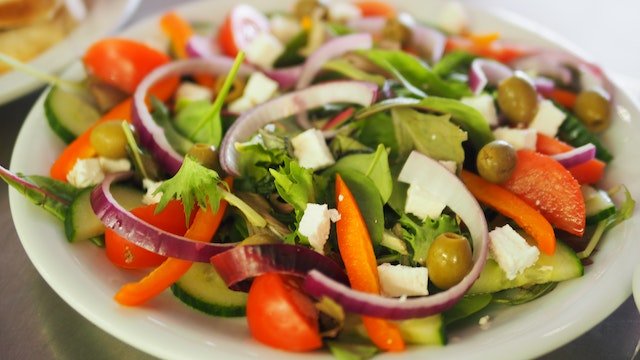 Last Updated on April 2, 2023 by asifa
Do you want to make an authentic but delicious Arabic salad?
Arabic Salad is a classic Middle Eastern dish that can be enjoyed as a side or main course. It's made up of simple ingredients but has big flavours and is sure to be a hit with your friends and family.
The origin of Arabic Salad is difficult to determine since it has been a part of Middle Eastern cuisine for ages. However, most scholars agree that the dish originated in Lebanon and spread throughout the region over time.
How long does it take to make an Arabic Salad?
It usually takes around 10-15 minutes to make an Arabic Salad. This includes the time required to prepare and chop all the vegetables, mix the dressing, and assemble the salad
What Ingredients Are Needs to Make Arabic Salad
The following ingredients are what you need to make a delicious Arabic Salad:
– 2 cups chopped tomatoes
– 1 cucumber, peeled and diced
– ½ red onion, thinly sliced
– ½ cup feta cheese, crumbled
– 2 tablespoons extra virgin olive oil
– 2 tablespoons freshly squeezed lemon juice
– ¼ teaspoon ground cumin
– ¼ teaspoon sumac powder
– Salt and pepper to taste
Step by Step Instruction to Make Arabic Salad
Now that you know the ingredients required, here is a step-by-step instruction to follow that will ensure that your Arabic Salad comes out great
1. Start by washing and chopping all the vegetables for the salad.
2. Place the chopped tomatoes, cucumber, red onion, green bell pepper, parsley and mint into a large bowl.
3. In a separate small bowl, mix together the lemon juice and extra virgin olive oil to make the dressing.
4. Pour the dressing over the salad ingredients in the large bowl and toss to combine evenly.
5. Season with salt and pepper to taste before serving chilled or at room temperature as desired.
Benefits of Arabic Salad:
Arabic salad has a lot of benefits. Some of them include:
1: Nutritional: It is rich in essential vitamins, minerals, and antioxidants because it is packed with a lot of fresh vegetables
2. Low in calories: Incorporating Arabic Salad into your diet is a great way to stay healthy without sacrificing flavour. With its low-calorie count, this dish allows you to enjoy delicious meals with fewer calories!
3. Good for digestion: Due to the presence of herbs such as parsley and mint not only add flavour but also aids in digestion.
4. Heart-healthy: this salad is heart friendly. By adding olive oil, you provide yourself with heart-friendly monounsaturated fats which significantly reduce the chance of heart disease.
5. Boosts energy: Arabic Salad's fresh ingredients make it a perfect option for anyone looking for a nutritious yet light meal.
6. Customizable: This Salad is the perfect dish for both healthy and delicious meals – its versatile ingredients and regional variations make it an ideal option to suit different tastes, dietary requirements, or even just a craving.
Nutritional Information
A single serving of this salad provides the following nutrients:
Calories: 179 kcal
Total Fat: 14 g
Carbohydrates: 11 g
Protein: 2g
Fiber: 4 g
Saturated Fat: 1g
Trans Fat: 0g
Unsaturated Fat: 6g
Cholesterol: 0mg
Sodium: 133mg
Sugar
2g
What Can I Add To My Arabic Salad?
You can add Arabic spices such as cumin, coriander, or sumac to your salad. You can also add feta cheese or olives to make your salad more flavourful.
If you are looking for a vegetarian option, you can add chickpeas or other cooked beans to the mix as well.
What do I Serve with this Salad Recipe?
It can be served in 3 ways either as a
As a side dish
As a main dish
With pita bread
The Arabic salad pairs well with grilled meats such as chicken, lamb, beef or fish. It also goes great with grains like couscous, rice, quinoa and bulgur wheat.
How to Store Your Arabic Salad?
Now that you have your Arabic salad, you can store it for up to two days in the refrigerator. To do this, make sure you place the salad in an air tight container. It's best if you consume the salad within a day or two of making it for optimal freshness and taste. Enjoy your meal
What Are Some Variations of The Arabic Salad Recipe?
There are many different kinds of Arabic salads. Three different variations comes to mind:
1: Lebanese-style:
The Lebanese-style Arabic salad typically includes adding more herbs, such as mint and parsley, and is lighter on the dressing, with a focus on the fresh, bright flavours of the vegetables.
Also for the ingredients, this variation incudes adding some bulgur, tomatoes and green onions. This variation is best serviced as a side dish to accompany traditional Lebanese dishes like kebabs or falafel
2: Syrian-style
This variation adds more to the dressing and includes ingredients like tahini, garlic and cumin. The Syrian-style salad also usually contains lemon juice, olive oil, salt and pepper for seasoning. This is a great option for those looking for a flavourful yet light appetizer or side dish.
C. Palestinian-style:
The Palestinian-style Arabic salad includes adding roasted bell peppers and chili flakes to the salad. The dressing typically contains more lemon juice, garlic and cumin for a bolder flavour. This variation is great served as an appetizer with fresh pita bread or as a side dish for a traditional Middle Eastern feast.
Conclusion
Arabic Salad is a delicious, nutritious and flexible dish that you can enjoy in many different ways including couscous and a whole lot more. Incorporate any of the above variations into your meals for an easy meal. Enjoy!
Apart from that, if you are interested to know about Chocolate or Red Velvet? Which Is a Better Choice for Birthday Cakes? then visit our Recipes category.