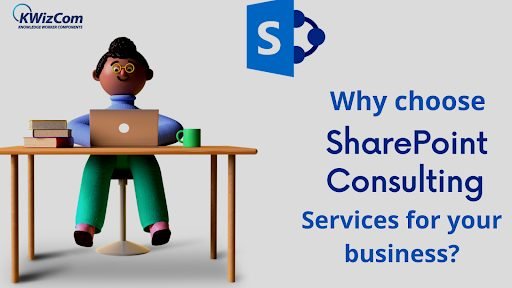 Last Updated on November 24, 2022 by
Most businesses do not have a clear idea of the services they require due to the availability of too many choices. The SharePoint consulting services aim to help companies leverage SharePoint to enhance communications, develop automated workflows, and better document management.
Businesses have to deploy, optimize, and configure to run smoothly and provide better ROI. SharePoint can bring business solutions to collaborate on forms and document management.
What is the set of criteria while getting SharePoint consulting services?
The selection process of SharePoint can be challenging. It would help if you used certain criteria to screen the appropriate partner and efficient solutions. Here let us look at some of them:
1. Pay attention to the SharePoint partner
It is important to know that the consulting services have the right skills and talent to manage your project requirements. Some consultant companies might not have the right experience, good networking, or platform insights.
You know it's important to look below the surface to understand if they have the right capabilities and qualities. Some organizations might have limited experience but great clients. They will allow you to build a strong relationship. Assess their skills by:
Investigate the potential of the organization
Their competition and returns
Seek for references to learn more about their services
2. Communicate with team
While you hope to run a business smoothly, it is important to have some questionnaires about the team. It is important to know more about them from their clients to understand their procedures. The best thing is to interview the staff that delivers the services. This will help you know if the SharePoint consultant has specific knowledge about giving the project requirements as expected.
Try to determine some things like:
What will be the procedure to handle the project?
Are they customizing the features of SharePoint?
How do they maintain the stability of the project?
Do they use any out-of-the-box SharePoint features?
Are they proving better solutions for your business?
3. Check the process of deliverables
To have a successful SharePoint project, you need some cross-functional Microsoft SharePoint Consultants. They will make sure that they meet the deadlines of the project. Moreover, ask if they provide any other services related to it.
Many SharePoint consultants provide a product support structure, management process, training program, and essential strategies for effective returns. This will ensure that you can track the progress of the project.
4. Work on Service Level Agreement
The SLA is a part of the service contract which standardizes the working procedures. The service provider and service users must agree on the scope, responsibilities, and quality of services. The common feature is to ensure the deliverables are on time and resolve any issue quickly. The SLA also helps measure the key performance indicators and ensure you are on the right path.
What are the advantages of getting a SharePoint consultant?
1. Now define the vision of SharePoint
Are you aware if they are implementing SharePoint or SharePoint online? What are the pain points you want to handle? Or you might be looking for strategies to enhance document management or project management?
A Microsoft SharePoint consultant will help you design and plan the stages of your projects. This is where you must look at the features included to determine custom development that achieves business targets.
2. Great User Experiences
With a robust SharePoint implementation, there are chances that many features are left unused and slow down your platform. As the tool has great capabilities which will overwhelm many people. It would help if you had consultants who would customize the device as per your business requirements.
An expert Consultant will provide answers to your questions and perform basic troubleshooting and concerns of your audience. This helps empower your business and adopt a better solution in the industry.
3. Increased Returns
SharePoint expects a significant amount of investment for your business. It is vital to have an expert who will help generate better returns for your investments. A consultant will lower the deployment costs and improve the results by providing solutions to save money.
4. Extended functionalities and features
This Microsoft tool is equipped with great standard features for businesses. The Microsoft SharePoint Consultants will leverage web parts, third-party tools, and custom development to tweak the components. They will help make community sites by tagging, new feeds, blogging, and other interactive functions. All this helps to connect with the platform in a cost-effective method.
5. Custom Workflows for your business
SharePoint is not just valuable for the organization but also makes your team more productive. The consultants will develop a custom workflow with amazing  SharePoint features that will enhance employees' efficiency in collaborating and communicating. 
6. Regular updates
An experienced consultant will analyse and monitor the performance of your business at regular intervals. While for an average business owner, it will be difficult to manage the changes and updates in their platform. So, a consultant eases the burden by handling the updates regularly to run the platform smoothly.
What are the unique features of SharePoint for your business?
SharePoint Migration and Upgrades: You might want to migrate from the SharePoint on-premise to its online or upgrade from the older versions. The platform ensures that your information is secure from any online vulnerabilities.
SharePoint Governance: A custom governance plan will outline the process, roles, regulations, and roles to define user interaction. The main purpose is to keep your organization safe, compliant, and secure, which provides better returns.
SharePoint development: The team specializes in maximizing user engagement. You can deep dive into the company to provide better communication and implement the right strategies to develop the right site.
SharePoint Integrations: If you have the right expertise, they will integrate the tool with other business systems, increasing capabilities and making better results.
The Final Take!
The SharePoint consulting services will provide strong recommendations to ensure user adoption, security, and governance. A successful deployment will provide a secure future for your business as they make the employees more collaborative, organized, and productive.
Read More: Perks of hiring security consulting services for your business