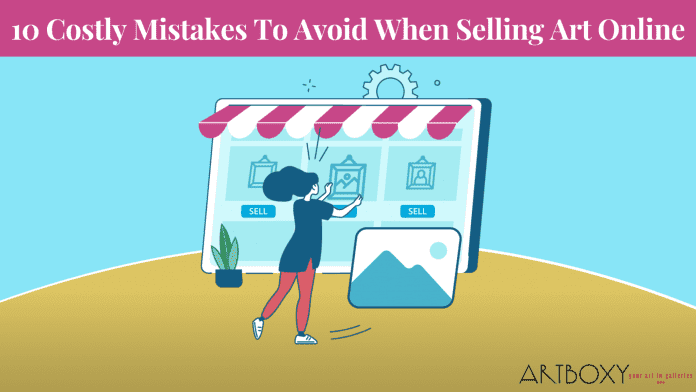 Last Updated on June 1, 2022 by azamqasim
Whether you're a seasoned art professional or a budding artist selling your art is a constant. And there are several costly mistakes that you can make while trying to present your artwork to the world.
Apart from monetary loss, these mistakes can cause reputation damage as well. What are these mistakes? How do I sell my paintings online without falling prey to these mistakes? Let's find out!
10 Costly Mistakes To Avoid When Selling Art Online
Pricing Your Artwork at Heavy Discounts
Many artists put their artworks at discounted prices for an everlasting period to enhance income and sales. This isn't the best tactic, especially if you want to create a valuable brand for yourself.
Consistent low or discounted prices aren't sustainable and impart a negative impression on the minds of the interested art enthusiasts.
When you list your painting at the best online art galleries, ensure pricing confidently and consistently. Track the time, raw materials, and cost it takes to create your artwork. Make a plan for price appraisals as the value of your artwork goes up.
Staying Behind The Scenes
While artists love to grab attention for their artwork, many art professionals don't want to face the camera. In the era of digitization and technological advancement, people are looking to build an emotional connection. So, presenting yourself to the world adds value to your art.
So how do they sell my painting online by introducing a small sneak peek into my personal world:
Post a video/digital introduction
Don't be afraid to close the deal personally
Use your unique tone of voice or conversational language in your digital marketing materials
Post headshots/thumbnails on your website and artist bio page
Include your website or social media links in your email signature and art platform webpages.
Not Creating A Profile On Art Platforms
Art platforms are one of the best channels for upcoming artists to showcase their talent in the global market. Art platforms allow artists to create their profiles and upload artworks on the platform.
Additionally, some platforms have partnerships with the best online art galleries where you can exhibit your art digitally. And did you know the best part? These platforms houses professional art curators who explain and attend to art enthusiasts interested in your artwork.
Lack Of CTAs In Your Digital Marketing Art Copies
CTAs are the lifeline of any digital content to improve interaction and boots sales. You draft your email newsletters, social media copies, web content, marketing initiatives, and social media posts with a purpose in a purpose.
CTAs are the tools to fulfill those purposes. When you send out simple content or updates, you're not generating sales or driving interaction because you're not giving your audience the means to connect.

Dropping A Art Surprise Without Any Suspense
If you're organizing any major exhibition, artists meet or planning to exhibit your art in art galleries, you need consistent marketing to promote that event. You can't drop surprise bombs and expect your audience to attend the event.
Before launching an artwork, announcing an art event/exhibition, or sharing some big news, you require actively building your engagement rate.
Create interesting content with an element of suspense. Don't let your big announcement post get lost in social media noise.
Poor Or Average Quality Artwork Photos
Whether you're into painting, sculptures, or mixed media artwork, digital exhibitions are essential to garner international reach and boost your sales.
So if you're wondering how to sell my artworks online? Start with quality photography. Digital exhibitions it is the only way to depict your artwork. Ensure the image is bright, sharp, and properly cropped to avoid exposing any background.
Read More: Reasons why the cosmetic industry should invest in artwork management software
Entering Incorrect Dimension On The Artwork Description
When customers buy your painting or any other form of artwork, they generally look into two major elements- the intricacy and expertise of the artists and the dimension to fit in the space they're purchasing the artwork for.
Therefore, entering incorrect artwork dimensions can be a huge blunder. The measurements should be accurate. It is recommended that you mention the dimension in centimeters.
Additionally, if your artwork is framed, don't include the frame dimensions with the artwork's. Mention them separately in the description.
Not Considering Art As A Part of your Business
When it comes to the business aspect of the artwork, it isn't as fun and colorful. Instead of playing with paints and brushes, you need to play with data and analytics.
However, you can't deny that living by selling your art requires a certain set of business skills. Although the process can be tedious and challenging, it's valuable to dedicate the time to hone your business skills.
The most established artists know every minute detail of their brand and are comfortable marketing themselves online. Besides keeping track of the financial aspect to understand brand growth, what's selling and taxes are also essential.
Not Offering Valuable Information
Invest time to think about how you can craft valuable information about your artwork, working process, inspirations, techniques you use, and other aspects of your art creation.
Break your content into two segments. 20% of your content should have marketing intent, and 80% of content needs to be informational or valuable.
When you share your personal experiences, inspirations behind a particular artwork, and other information, you create an emotional connection with your audience.
This connection and engaging factor doesn't just support your sales but improves your brand reputation.
Thinking Only Offline Exhibitions Are The Best
Offline exhibitions where people can see and feel the actual artworks in person always had a special charm.
But in the era of digitization, online exhibitions are equally important. The best online art galleries can help you build meaningful connections with not just local customers but international art enthusiasts who actually appreciate the value of your painting.
With offline exhibitions, global attention might not always be a possibility. Therefore, online exhibitions and art shows are equally essential for your brand's success.
Conclusion
These mistakes can affect the sustainability of your brand in the long run. Avoid these mistakes, find solutions, and get ready to earn a steady income from your artistic endeavors.