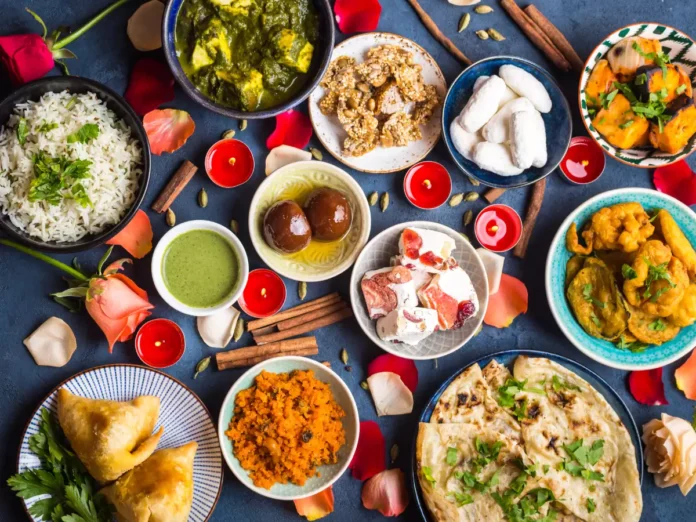 Last Updated on August 22, 2023 by Umer Malik
When it comes to hosting a company celebration, the pressure is on. You want to serve food that will impress your colleagues while still making them feel at ease. Fortunately, there are plenty of delightful dishes that are sure to please. Whether you're looking for finger foods that are easy to eat while mingling or hearty options that will satisfy even the hungriest guest, there's something for everyone.
From decadent desserts to savory appetizers, the key to a successful company celebration lies in the menu. So why not take some inspiration from the following dishes and throw a party that your colleagues will be talking about for weeks to come?
Mini Caprese skewers
Impress your colleagues with a mini Caprese skewer appetizer that is both refreshing and elegant. Skewer together juicy cherry tomatoes, soft mozzarella balls, and fragrant fresh basil leaves for a colorful presentation. A drizzle of balsamic glaze adds an extra burst of flavor that complements the classic Caprese combination of flavors.
These bite-sized skewers are perfect for any party or gathering and are sure to leave a lasting impression on your guests. So go ahead and serve up this delicious appetizer and watch as it becomes the center of attention at your next event.
Chicken Satay skewers
These delectable skewers combine succulent grilled chicken with a zesty blend of spices, including turmeric, coriander, and cumin, to create a flavor explosion in your mouth. And let's not forget about the creamy peanut dipping sauce that takes these skewers to the next level. Your guests won't be able to resist dipping and devouring these bite-sized delights. Trust us, these Chicken Satay skewers are the perfect way to start any celebration.
Beef sliders
Beef sliders are a true gift to carnivores everywhere. These scrumptious miniature burgers burst with delicious flavors that will leave your taste buds tingling with glee. Made with seasoned beef patties and topped with cheese, caramelized onions, and aioli, these sliders are a mouthwatering delight like no other.
And the best part? They're the perfect size for a quick and indulgent snack or a satisfying main dish. So whether you're entertaining guests or just craving a beefy treat, these sliders are sure to impress and leave you feeling fulfilled.
Vegetarian stuffed mushrooms
If you're looking for a vegetarian appetizer that packs a punch, look no further than stuffed mushrooms! These little bites are a perfect option for those who are looking for something savory and satisfying without any meat.
Filled with a delicious mixture of breadcrumbs, Parmesan cheese, herbs, and sautéed veggies like spinach and onions, these mushrooms are sure to be a hit with your vegetarian colleagues. Plus, they're easy to make and bake up to a beautiful golden color that's sure to impress. With their delectable and savory flavors, these stuffed mushrooms are a must-try for any vegetarian gathering.
Shrimp cocktail shooters
As you plan your next company celebration, consider adding a touch of sophistication and class to your appetizer lineup with the addition of shrimp cocktail shooters. These elegant and refreshing bites are a crowd-pleaser that will impress your colleagues and create a memorable culinary experience for all.
Simply fill shot glasses with zesty cocktail sauce and place cooked, chilled shrimp on top for a burst of flavor that is sure to tantalize your taste buds. Don't forget to add a lemon wedge garnish for a pop of citrus zing. Elevate your company celebration with this simple yet delectable dish that will leave your guests wanting more.
Spinach and artichoke dip
There's no denying that spinach and artichoke dip is a classic crowd-pleaser. And why wouldn't it be? Creamy and flavorful, it's the perfect option for any company celebration. Made from a delicious combination of chopped spinach, artichoke hearts, cream cheese, and shredded cheese, this dip is velvety-smooth and addictive.
But what really sets this dip apart is the unique flavor profile – featuring the savory notes of spinach and artichoke that perfectly complement the cheesy goodness. Whether served with toasted baguette slices or tortilla chips, this dip is guaranteed to have everyone coming back for more.
Chicken Parmesan bites
Looking to add some Italian flavor to your next company celebration? Look no further than chicken Parmesan bites. These delectable bitesize pieces of chicken are breaded and baked until crispy, then topped with a dollop of savory marinara sauce, a sprinkle of tasty mozzarella cheese, and a fresh basil leaf.
These small but mighty bites capture all of the delicious flavors of a classic chicken Parmesan dish without the need for utensils, making them the perfect addition to any gathering. Plus, serving them on toothpicks makes them easy and convenient to snack on, while also adding a touch of sophistication to your celebration.
Mini fruit tartlets
There's nothing quite like ending a company celebration on a sweet note, and these mini fruit tartlets are the perfect way to do just that. Each bite is a burst of flavor, combining luscious pastry cream with an assortment of fresh fruits like bright berries, juicy kiwi, and succulent mango.
But it's not just the taste that's impressive – these bite-sized desserts are truly a sight to behold. With their colorful, refreshing appearance, they'll add an eye-catching touch to any dessert spread. So go ahead and indulge in one (or two!) of these dessert delights – your taste buds (and your colleagues) will thank you.
Conclusion
Preparing a menu for any event requires careful thought and consideration of the dietary restrictions and preferences of your guests. Nobody wants to be left out or uncomfortable eating what's served. That's why it's essential to provide vegetarian, gluten-free, or vegan options to ensure everyone can savor your delectable dishes. And to really make a statement, presentation is key!
Think about how you can add fresh herbs, edible flowers, or drizzles of sauce to enhance the visual appeal of your meals, making a lasting impression on your attendees. Lastly, corporate gifts can be the extra touch needed to let your colleagues know how much they're valued and appreciated. After all, it's the little things that can make a big difference in creating a memorable and successful event.
Apart from this, if you are interested to know more about Ideas for a budget holiday in Europe then visit our Travel category.