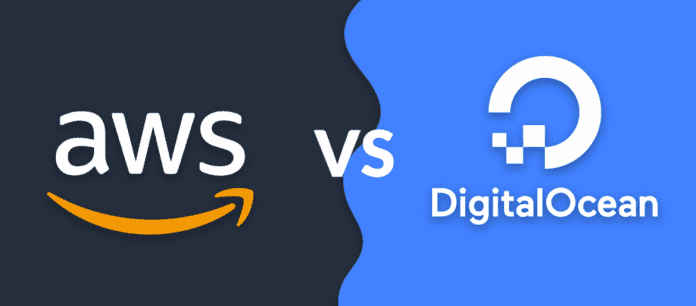 Last Updated on January 15, 2023 by Faiza Murtaza
Which one is preferable, DigitalOcean or AWS? You definitely want to pick up the best cloud hosting services out there as a client. It is understandable that AWS is the market leader, but with their cloud offerings, DigitalOcean has amazed everyone. This article concentrates on comparison between the two, i.e., AWS vs DigitalOcean.
Introduction to AWS
Amazon Web Services is a cloud computing platform that delivers a large variety of cloud services to customers. We may report AWS (Amazon Web Services) as a secure platform for cloud services that offers computing resources, storage of databases, delivery of content and many other features. To be more particular it is a huge package of cloud-based services.
Consider we need electricity for our house. We can either generate our electricity or buy it from companies that produce electricity. We need to set up a lot of infrastructures to produce our electricity, which costs us a lot of cash. Instead, we should buy and pay for electricity when we need it. Hire AWS developers as AWS is also one of the providers of cloud computing that provides us with computing, storage, networking, and many other resources that we can pay for when we use them.
Introduction to DigitalOCean
It is a unique cloud hosting provider that provides business organizations with cloud computing services so that they can scale themselves by deploying DigitalOcean apps that run across multiple cloud servers in parallel without sacrificing performance!
It achieved the honour of becoming the world's third-largest cloud hosting company in terms of web-facing computers in January 2018.
The Comparison Between DigitalOcean and AWS
With a basic introduction done it is now time for us to compare both cloud hosting services. We will be comparing various aspects of what they have to offer to make it easier for you to grasp the comparison.
Services
One of the notable differences you'll notice is the services they need to deliver. With a significance on flexible billing and provision, DigitalOcean only provides VPS servers. To make it realistic, computational droplets are produced which can be used to essentially do what developers want to do. This also helps developers to test out software or host basic apps.
On the other hand, AWS offers many products with the option of servers deployable. Their services belong to different categories, including networking, computing, storage, and databases. With an emphasis on each distinct category, with a large feature list, they are highly functional. Each is a separate service and can be extended accordingly.
If you're looking for a complete solution, then the right pick is AWS. Otherwise, DigitalOcean.
Set-Up
AWS and DigitalOcean are both easy to set up. DigitalOcean offers a much better way to configure and launch projects if you are looking for a nicer UI. For more power, it also comes with an kafka API. On the other hand, Amazon AWS web development services only provide APIs, including add/launch/delete/destroy, to configure the various aspects of the project.
So, DigitalOcean beats AWS hands down if you are looking for a better UI solution. As most of the required options are offered by a user interface, you will feel at home with DigitalOcean. AWS offers a less intuitive way of creating projects because of its wide variety of features and functionality.
Pricing
The DigitalOcean vs AWS price comparison is the next important factor that we are going to explore. In decision-making, pricing plays a critical role, and if you are searching for the best value, then no one beats DigitalOcean. The payment model of DigitalOcean makes it easy for newbies to understand and get started with it. DigitalOcean's most simple package comes with pretty decent specifications, making it a great deal.
On the other hand, Amazon Web Services provide a complex pricing system for each of its services. Amazon's EC2 is, however, reasonably well-priced and is still the most common AWS service. Even though AWS pricing is complex, when it comes to payment models, they do provide flexibility. Depending on what service you have selected, you can pay monthly or hourly.
Time Value
What cloud services are of greater value to you? For instance, if you are working on a simple project, hosting a dummy search engine to check its features, then DigitalOcean might be a great match. However, if you are looking to host a project at the enterprise level, then AWS will undoubtedly suit your needs as it provides better-valued services to handle complexity and requirements.
Support
Both AWS and DigitalOcean are at par when it comes to support. If you're new to the cloud and looking for help that can assist you in your journey. They both provide equal support and ensure that, when needed, you get help.
Amazon provides better documentation, as it is more complex than DigitalOcean. It has a lively community out there as well. DigitalOcean, in contrast, has an awesome group that offers assistance whenever possible. You will get a great set of free tutorials for each of the cloud services.
Complexity
Another factor which we can compare is complexity. While both cloud providers, AWS and DigitalOcean, are easy to get started with, the same is not true when the project is run. You are going to struggle with all of them if you are new to the IT world or server management. But if you are not new and have some IT context experience, compared to AWS, you will find it easy to manage DigitalOcean.
Therefore, as compared to DigitalOcean, we can say AWS is difficult to manage. Hire On-site developers to avoid such difficulties.
Which is better? DigitalOcean VS AWS
Both platforms have great offers when comparing DigitalOcean versus AWS, but they appeal to two different audiences.
Ultimately, these are perfect alternatives, but for different reasons. AWS would be your best bet if you're a fast-growing business and are trying to use the cloud to succeed at the enterprise level.
AWS has a strong global network and hundreds of facilities to support 500 businesses with a massive fortune. DigitalOcean is working hard to extend its global offerings of networks and services but does not come close to matching behemoths such as AWS.
Apart from that if you want to know about Wireless Design Technologies then visit our Technology category.