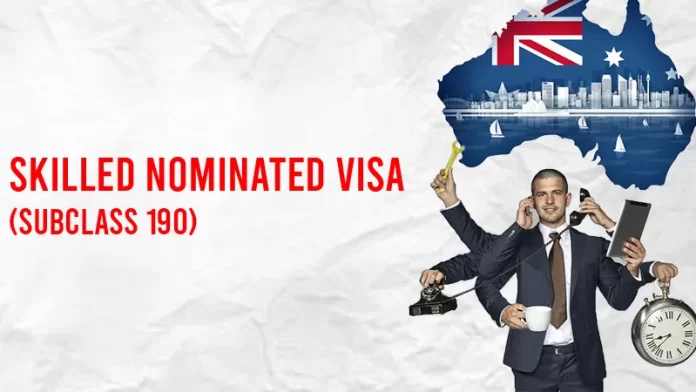 Last Updated on September 13, 2023 by asifa
Visa 190 is a permanent visa for skilled workers who have been nominated and passed a points test by a state or territory government body. It is also called the Skilled Nominated Subclass 190 Visa.
The Australian Government Department of Home Affairs is in charge of visa criteria and application processes. NSW nominates candidates for a visa with the Department of Home Affairs. There is no guarantee that a visa will be granted if an NSW nomination is made.
You can work and live anywhere in New South Wales with Visa 190 NSW.
The NSW Treasury nominates highly qualified persons with occupational talents that the state needs to build its economy.
Benefits of Visa 190 NSW
If you obtain an Australian skilled nominated visa, you will have a great deal of flexibility in the job, education, and travel. Your visa specifically permits you to:
Extend your stay in Australia indefinitely Australia.
In Australia, you can work and study.
Enrol in Australia's public health care system, and have Medicare.
Finance your relatives' visit to Australia
Enjoy travelling to and from Australia for five years.
Have Australian citizenship if you are eligible.
How to apply for Visa 190 NSW?
Visa 190 NSW is only available through invitation.
You must meet the following NSW 190 requirements to be selected by NSW for this visa:
Ensure your occupation is listed on the NSW 190 Priority Skilled Occupations List.
Those whose occupation is listed in the NSW 190 Priority Skilled Occupation List should take an English test, e.g. IELTS, PTE, etc., to improve their points.
Verify that you meet minimum eligibility requirements in NSW.
Complete an Expression of Interest in SkillSelect and be invited to apply during a round of invitations.
Within 14 days, apply for an NSW nomination.
Provide proof for points claims in your SkillSelect EOI and present residence.
Eligibility Criteria for Visa 190 NSW
You must meet the following minimum eligibility requirements before you can submit your Expression of Interest (EOI) in SkillSelect:
Your age must be between 18 to 45 years.
Your SkillSelect EOI score must be 65 points.
You must have a score of at least â* competent English at the time of invitation.
An occupation that matches one on the Visa 190 NSW occupation list would be helpful.
A minimum of three years of work experience is required for all occupations on the NSW occupation list for Visa subclass 190.
You must be a resident of New South Wales on your application. People residing in another Australian state, territory, or offshore will not be invited to submit EOIs to NSW.
Required Documents for Visa 190 NSW Nomination
Passport to verify your age.

English proficiency test results if you claim fluent or proficient English points.
The letter(s) from your employer(s) confirming your employment in your nominated occupation.
Award(s) and transcript(s) – if you have earned a Master's degree or PhD by research in Science, Engineering or IT, five more points will be received.
You must provide evidence that you have completed your professional year (completed within the last 48 months) if you are an accountant, engineer or ICT professional.
If you want to claim points for your partner's skill, you must provide the skill assessment and the English test results.
To claim points for credentialed community language, provide evidence.
Your resume.
Processing Time for the Visa 190 NSW
Visa applications are not processed at a fixed time. If all necessary documents are not included, Home Affairs might delay the processing time. Alternatively, if the application contains complete supporting documentation, it may be processed sooner.
Generally,
75% of visa applications are processed in four months.
However, 90% of applications for Visa 190 are approved within 15 months.
Common reasons for denial of a visa 190 NSW
Some of the most common reasons why applications are declined include:
Didn't qualify for all points within their EOI
EOI owners are responsible for ensuring they can provide evidence for all the claims in their SkillSelect EOI.
Ineligible for residency
For onshore applicants, you must be residing in NSW on the day of your application and:
For the past three months, you must have resided continuously in NSW, or
You must be employed for at least 20 hours a week in your nominated (or closely related) occupation in NSW.
Applicants from offshore (in a permissible occupation) must:
Consisted of living offshore for the past three months.
Employment points that have been over-claimed

You cannot claim points for professional employment before the date on your skills assessment that indicates you have been regarded as skilled in your occupation. This guideline applies to ACS and most VETASSESS assessments in particular.
Conclusion:
Skilled nominated Visa 190 NSW is a great option to investigate if your occupation is on the approved occupation list or if you would struggle to earn high points to qualify for a skilled independent visa.
However, the selection procedure is exceptionally tough due to the large number of applications in the NSW selection pool and the restricted number of spots available.
For the most part, NSW does not offer nominations to the most candidates. Therefore, we strongly urge you not to rely on NSW, inviting you to apply for nomination and explore all other visa options available on the Home Affairs website or consult us at The Migration.