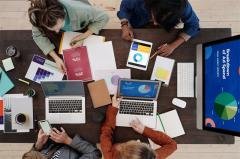 Last Updated on December 13, 2022 by
In today's economy, it's more important than ever to have a strong digital presence. Whether you're a small business or an established enterprise, there are many ways to improve your online marketing efforts. Making sure your website is easy to use, using social media platforms effectively, creating compelling e-commerce experiences, and staying up to date with the latest trends are some of the tips to attract customers.
Digital marketing is the process of designing and executing a marketing campaign that uses digital technologies to reach and engage customers. The number of people using digital media to connect with customers, clients, and constituents is growing every day. Digital marketing is a great way to connect with your customers and create a relationship. Here are seven tips to help you get started: 
1: Establish a strong online presence
If you want your business to succeed in today's digital age, you need to establish a strong online presence to stay competitive. This means having a website that is well-designed and easy to navigate, as well as utilizing digital marketing strategies to attract customers.
The same goes for businesses that sell products online. Ensure that your website reflects your business and that it is easy to use.
2: Use search engine optimization
Another great way to market your business online is through search engine optimization (SEO). Optimizing your website for certain keywords can improve your ranking in search engine results pages (SERPs). This will help you attract more visitors to your site.
3: Utilize social media
Social media is one of the best ways to market your business online. Platforms like Facebook, Twitter, and Instagram offer tremendous reach and allow you to connect with potential customers on a personal level. You can also use these platforms to share news and updates about your business, as well as promotional offers.
4: Create valuable content
Create content that is relevant to your targeted audience. The content on your website should always be useful and valuable. This will help you secure valuable backlinks and increase your rankings on the search engine results pages (SERPs).
5: Use paid advertising
Consider using paid advertising methods like Google AdWords or Facebook Ads. These paid advertising methods help you attract new customers and improve your website traffic. You can then use these new customers to promote your business and increase your customer base.
6: Increase website traffic
The more traffic your site gets, the more people will be able to find out about your products. To increase your website traffic, you need to make sure your site is easy to find. You can do this by:
1. Adding a web address or domain name to your business name
2. Make sure the title of your blog post matches up with the title of your website
3. Using a good web design and layout
4. Giving your website a clean, fresh look that is easy to use
5. Including images in your blog posts that help people in their decision to buy
6. Using a catchy title for your blog post
7. Keeping your blog updated with new articles and making sure your blog posts are interesting, helpful, and of interest to the people who are visiting
7: Measure and track results
There is no one-size-fits-all answer for how to measure and track the results of your digital marketing efforts. However, there are some key things to keep in mind as you go about it.
First, it's important to understand what you're trying to achieve with your marketing. Are you trying to attract new customers? Increase brand awareness? Generate leads? Once you know your goal, you can develop metrics that will help you track whether you're achieving it.
Second, make sure you're tracking the right data. It's not enough to simply track website visits or social media followers; you need to track the data that's relevant to your goals. For example, if you're interested in generating leads, track the number of leads generated from each marketing campaign or source.
And lastly, make sure that you're tracking the right data. You'll have to decide what data is important and what's not. With these metrics, you can measure your business' progress toward achieving its goals.

Whatever industry you are in, you first must have a good product. However, you can't just focus on the product – you also need to focus on the packaging. That's why knowing how to market your product and packaging properly is important. One of the custom packaging manufacturers that understands the significance of digital marketing in their business is PackFancy. They believe in giving their customers the best product and packaging experiences possible, and they've created an entire team of designers, developers, and marketers to do just that.
Digital marketing is a powerful tool that businesses can use to attract more customers, create a more engaging online presence, and improve customer retention. As a result, companies invest considerable time and money into their websites and social media accounts. By using the seven tips listed in this article, businesses can create a successful digital marketing campaign that will help them reach their target audience.