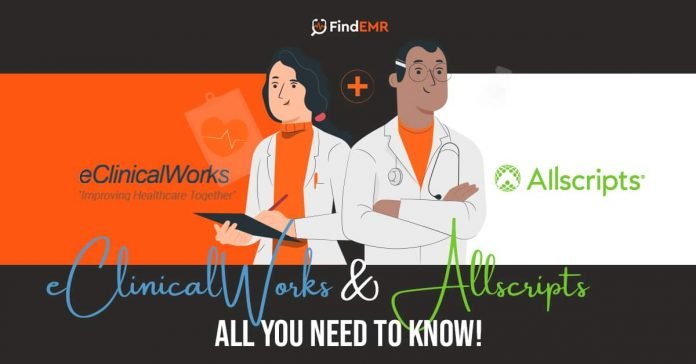 Last Updated on July 19, 2022 by
EMR software is now the standard in any medical practice due to the ease and comfort it provides. You can manage your calendar, communicate with clients, and much more with the healthcare EMR program. If you are looking for an EMR Software, we are going to talk aboit the top 2 in this article. In this piece, we'll discuss AllScripts EMR versus eClinicalWorks EMR, as well as the many features each software offers, in the hopes of making your choice on which program to choose a bit easier! Overall, each of these programs offers advantages and disadvantages; we want to assist you in determining which is the most advantageous for you!
eClinicalWorks Demo, Features, Pricing and More!
You've certainly heard of the eClinicalWorks EMR system before, as it's one of the most well-known names in the medical software industry. The company has been around for a while and is currently used by about a million people! The software is available in more than 20 countries and has continually been a top name in the world of EMRs as well as a top choice for medical practices.
Features
Intuitive/User-friendly Interface
One of the best advantages of eClinicalWorks is its straightforward UI, which allows the program to adjust to your requirements over time by understanding your personal defaults and behaviors. This makes everything go much more quickly for you! This function assists you with anything from logging in client data to creating clinical charts
Telemedicine
The telehealth tool in eClinicalWorks is a fantastic feature, and it proved to be a godsend in 2020 when the Covid-19 pandemic struck. Instead of canceling appointments and closing down their clinics, physicians might use this functionality to plan teleconferencing calls with clients and respond to meetings online. This tool allows you to see clients who are reluctant to come into your office due to various factors such as disability or distance; overall, this is a highly useful function that allows you to see more clients and thus raise revenue at your practice.
Interoperability
Interoperability is one of the nicest advantages of eClinicalWorks EMR software. It makes things easier for you and improves client care and care programs. Data can be sent between facilities and divisions thanks to interoperability. As an outcome, the program examines the data and gives suggestions about what the condition might be and how it should be treated. Basically, this program aids you in identifying the best treatment for your clients while also shortening the time it takes to establish a diagnosis and enabling you to make more precise diagnoses.
How much does eCinicalWorks cost?
Since the software doesn't publish its pricing publicly, we don't know how much does eClinicalWorks cost. However, as per research, the software pricing starts at $499 per month per provider
eClinicalWorks Review and Demo
As for the eClinicalWorks review, it has been moderate. Overall, the software has an average rating of 3.7 out of 5 stars.
Allscripts demo, features, pricing, and more!
Allscripts EMR, which was developed in 1986 and is utilized by hundreds of clinics and hospitals, is a very popular EMR software. It is a versatile software that works for practices and hospitals of all sizes. From a small clinic with a few employees to a huge hospital with thousands of employees. For small to midsize physician practices, Allscripts Professional EHR is the dominant platform of clinical, operational, financial, and wellness solutions.
Features
Easy Access to All the Data
You have a fantastic advantage with AllScripts in that you can link to data offered by other users on the software's network. This implies you'll have a simpler time assessing patients and devising treatment programs for them. It is much simpler to make a diagnosis when you have more knowledge and facts at your disposal.
Appointment Scheduling
You can also effortlessly organize your sessions and client schedule with this program. You can simply create a timetable that is as effective as needed and maximizes your time using Allscripts EMR. This allows you to meet as many clients as feasible in a day, increasing your productivity! In any medical practice, having an easy-to-manage schedule is critical because it allows you to focus on your work.
Lab Integration
One of the most crucial aspects of any small practice is to guarantee that everything is done as effectively. Because the fewer the workforce, the more efficient you must be. The lab integration function of the Allscripts EHR is frequently mentioned in Allscripts EHR reviews. It is known as being highly useful because it simplifies how you acquire the test reports you've ordered for your clients. Essentially, lab integration allows you to receive lab results immediately in your inbox so that you can review them right away. You don't need a staff member or time to phone the lab and request that the findings be provided to you.
Allscripts Pricing
Allscripts pricing has not been published by the vendor. However, you can request the vendor for Allscripts pricing online.
Allscripts Review and Demo
Allscripts EMR reviews have been good as well as bad. The software has an average rating of 3.4 out of 5 stars which is just okay. For the Allscripts EMR demo, you can simply request the vendor.
Final Thoughts!
Allscripts EMR and eClinicalWorks EMR are two great software. If you are planning on investing in any of the two software, we have a few tips for you. Overall, we recommend conducting extensive study before fully committing to any product. When you're looking at software, make sure you've previously made a list of features you'd want in a program and compare them to the capabilities offered by the software you're considering. Both eClinicalWorks and AllScripts EMR are extremely popular solutions. They have hundreds of overwhelmingly positive evaluations accessible on a variety of websites. Whether you choose AllScripts EMR or eClinicalWorks, we are confident that you will make the right option for you!