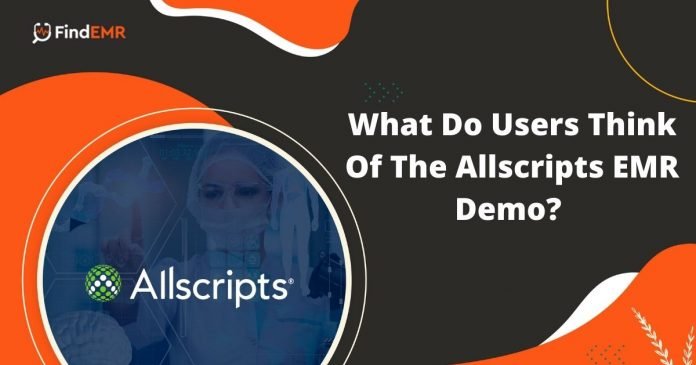 Last Updated on October 15, 2022 by
When talking about products, user reviews play a crucial part in determining whether it is worth buying. Likewise, people turn to software reviews before investing in any EMR solution. Hence, this signifies their importance. However, a few factors that guarantee a positive review include usability, diverse functions, demo accessibility, and customer service. You can find such characteristics in our list of top EHR software, consisting of the Allscripts EMR.
Why Allscripts EMR Software?
Today's medical practices encounter numerous problems. For example, it can be challenging to appropriately interact with other clinicians and pharmacies while dealing with shifting regulatory regulations. Plus, you have to ensure optimized scheduling to streamline patient data and diagnosis documentation.
Allscripts EMR is medical software that meets doctors' needs as physicians developed it themselves. Thus, it is the go-to solution for medical practices looking to provide safe patient care, automate operations, and increase income. In addition, Allscripts offers a complete package consisting of outstanding electronic medical records and practice management software.
Moreover, it drives all patient safety doubts away as the software strictly adheres to the HIPAA guidelines. It saves costs and improves productivity with its comprehensive functions ranging from e-prescribing to prenatal resources. The aim is to remove the complexities within your medical practice that lead to inefficiencies as it is hard to manage them. You can contact the Allscripts EMR vendor directly to get a pricing quote.
Allscripts EMR Reviews: Software Pros
Allscripts EMR gives you one-of-a-kind capabilities to help you transform your practice into a successful enterprise. The most significant part about this solution is that you can experience these features at a fixed rate that will not deplete your finances. The numerous advantages of Allscripts EMR highlighted in the reviews are as follows:
Enjoy Faster Documentation Using Single-click Templates
One of the significant advantages of Allscripts EMR software is its quick, single-click templates. They allow you to effectively and adequately record patient encounters based on the kind of visits they have requested previously under comparable conditions. Furthermore, you can modify it with minimal clicks, thus enhancing your satisfaction. In addition, Physician Desktop makes it simple for you to manage patients by displaying all clinical data on one screen.
Comply with regulatory standards
Allscripts EMR is a market leader in the field of EHR software. It integrates with Physician Quality Reporting System, offering dual advantages. Also, it is validated for use in patient-centered medical housings and accepts reporting from federal health centers.
Allow You To Be Efficient While On The Go
You can avail instant access to the most popular EMR capabilities of the Allscripts demo using its mobile application. For example, you can check your calendars, new messages, e-prescribe, and approve refill orders outside of the medical practice with Allscripts.
Improve Financial Returns
By partnering with Allscripts EMR software, your healthcare practice can boost the incentives received from the government and decrease penalties. It also ensures that you obtain correct and timely reimbursements, optimizing the revenue cycle and avoiding losses.
Meet Your Practice Specialty Criteria
Allscripts EMR demo includes built-in templates and procedures for over 20 practice specializations. These adapt to your internal workflow of the practice and are ready to use right away.
Interconnect With Co-workers and Other Systems
The seamless integration of Allscripts EMR helps link the solutions and companies that you are familiar with and like using at affordable pricing. Moreover, you can also collaborate with and interact with critical healthcare doctors in this way.
Improve Outcomes By Using An Integrated Financial Platform
Allscripts electronic medical records are linked with its financial system and offer various features to streamline your billing completely. These include the following:
Practice administration
Processing of claims
Automating appointments and patient management
Manage collections and revenue cycle
Identify and submit rejected claims
Verify patients' eligibility for insurance in real-time
Clear financial statements
These functions improve the organizational and financial efficiencies, thus allowing you to administer your practice more smoothly.
Allow For Informed, Safer Patient Care
Allscripts Analytics system interconnects with its EMR software analyzes your clinical performance to identify areas for improvement. It sends you alerts about this and gives suggestions on how to resolve the issues. Consistently monitoring patient outcomes is an integral part of this analyzing process.
Allscripts EMR Reviews: Software Cons
As with every manufactured product, it has some flaws along with benefits. During Allscripts EMR's use, some of the weaknesses outlined by the users include:
Occasional Lag In Functioning
There are times when the software's operating speed slows compared to the norm. As a result, it causes a slight delay in the daily clinical operations, but it improves after a while.
Extra Charges For Upgrades
Even though it is a good thing that Allscripts EHR frequently updates to improve user experience, it can sometimes cause inconvenience. In addition, these upgrades are not part of the initial Allscripts EMR pricing package, and you have to pay additional money to update your medical software to the latest version.
Contractual Limitations
As shown in the demo, Allscripts demands its users to sign a relatively long-term contract to use the EMR services provided. Hence, it can make you feel bound and face challenges if you want to change the EMR.
Buffering Of Images
With the software being cloud-based, it tends to freeze sometimes when loading images. As a result, it can cause a delay in exchanging patient information with other providers or with patients. However, you can resolve this as soon as you ask for assistance from the tech support team or restart the internet device.
Waiting Period For Contacting Senior Manager In Allscripts
When you have to interact with a high-profile professional from Allscripts, you might have to wait for a specific time before you can meet. It is a part of their protocol and can be frustrating.
Final Verdict
Allscripts EMR is a highly functioning solution that intends to cater to the needs of every sort of medical practice. It enables you to deliver improved healthcare by providing you with a simple-to-use, intuitive system that gives you immediate access to the medical information you need. Hence, we recommend subscribing to this mobile EHR service. You can begin to act on it by examining its features in detail with the free Allscripts EMR demo.
Read also: What is AWS Big Data – Technologies & Tools