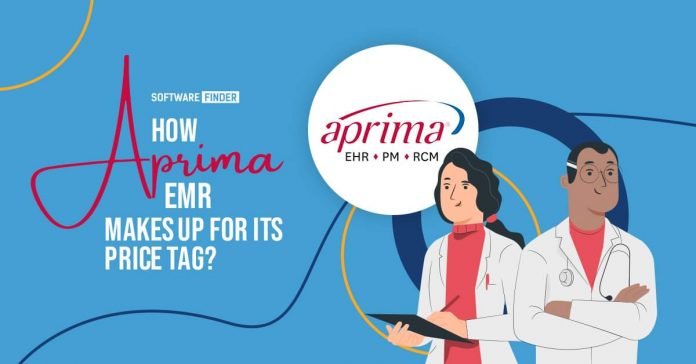 Last Updated on September 15, 2023 by
The first thing that grasps the client's attention while looking for an EMR vendor is its price label. And that's it. The physicians make up their minds about whether or not they should invest in the software only by seeing what the pricing digits do. Small practices, especially, don't even bother looking into the critical aspects of the vendor. The price structure dictated their decision. However, it shouldn't be the case. Vendors like Aprima EMR offer full-packed pricing plans that explain the steep price tag.
No doubt, many vendors are overpriced. But it isn't the case for all healthcare solutions. So, it would be best to consider the facts and figures instead of acting like a fool and playing with numbers. Look for the features that make up for the steep price tag. Read the reviews that back the cost of a vendor. This way, you can make better decisions for your medical practice. In this buyer's guide, we'll elaborate on the features and services of Aprima EMR that make it worthy of investment.
Aprima Medical Software
Aprima EMR is a full-fledged healthcare software working on an intuitive healthcare approach. It leverages technological advancements to offer pro-tech functionalities to all medical practices. The software streamlines clinical workflow by featuring an integrated suite of services. It provides a wide range of features but from one centralized platform. All its modules work in sync, including EHR, PM, RCM, and care coordination.
This top-tier healthcare solution revolutionized clinical practices with its high-end programs. It even supports telehealth services to promote a seamless patient experience. The reason behind its immense popularity is that it's easy to manage. There's no rocket science behind the functions it offers. Physicians can operate it single-handedly during patient visits. Another interesting fact about the software is it works smoothly on the clinical and economic levels.
Features That Define Aprima EMR Cost
It's a better approach to look at the bigger picture instead of looking at all its tools and services individually. So, here we've listed down the key categories into which we divided all the features of Aprima EMR into. This will give you a clear image of what the software holds. You can then compare its provided services with the pricing packages of other EMR solutions. Finally, it will help you understand that Aprima EMR is a solid-budget software. Here we go!
Electronic health records
It is an easy-to-use EHR system that will let you focus on your patients. You don't have to glue your eyes to computer screens to sort out patients' databases. Instead, this robust solution will compile all the data on a single page with just a click. This will help you process documents faster in a well-organized manner—Aprima EMR's services include interoperability, real-time data insights, pre-encounter preparation, etc.
Medical billing
Aprima EMR software offers a feature-rich billing module. It helps in collecting due payments timely. Also, it effortlessly handles claim management to ensure maximum profitability. It provides a personalized clearinghouse to scrub low-profile claims to make this happen. Also, it performs insurance verification checks on all patients. This results in an instant upsurge in revenue generation and boosts clinical efficiency.
Patient Engagement
Engaging patients is a piece of cake with Aprima medical software. The vendor shapes every aspect of patient interactions to grasp patients' attention. Also, it lowers the administrative burden by sending automated reminders to patients. Patient portal, follow-up care, automated messages, telehealth, and call support are the features offered by Aprima EMR software to enhance the patient experience.
Population Health
Then comes the value-based care service of this remarkable vendor. Population health is a comprehensive clinical solution that drives ideal clinical outcomes. It helps physicians get real-time insights by using standard data sources. Aprima's population health solution is designed to deliver next-level patient care. This network-enabled system is a comprehensive suite of exceptional services. It helps provide the proper care at the right time by tracking and monitoring patients.
Care Coordination
Aprima medical software excels at this service by featuring an extensive healthcare ecosystem. The system offers a network of 170,000 care providers. Physicians have an option at their fingertips to seamlessly connect with a pool of care facilities. This HIPAA-compliant service enables data sharing under strict security protocols. And it also coordinates care by allowing doctors to share care plans with the patients.
Aprima Now
Handle patients with care all the time with Aprima Now. This is a mobile-first app by Aprima medical software. This application is usually referred to as the second brain of clinicians. A medical professional can rely on this app for the best clinical support. It enhances healthcare providers' efficacy by letting them handle patient cases even on the go. This one-spot mobile application helps deliver optimal care services and even allows the approval of lab results.
Aprima EMR Reviews
Aprima EMR is backed by its excellent. On average, users give this vendor a 4 to 5-star rating. Studies show users admire all its services, whether billing solutions or population health. Some even say this system is costly compared to other vendors, but its features make it a worthwhile option. You should look into its reviews to learn artistic facts about the vendor, like its usability, scalability, customizability, and flexibility.
Aprima EMR Pricing Plans
The pricing plans of this vendor are not disclosed publically. You have to send a custom quote by adding your required services. Aprima EMR software offers custom-based plans to optimize clinical performances. Also, unlike other vendors, it comes with zero hidden costs. The vendor won't even charge a single penny if you earn nothing. And this is why practices opt for this solution.
Overview
Aprima EMR is a comprehensive electronic medical records system with a reputation for being among the best on the market. With its powerful features and intuitive interface, it is no wonder that the system comes with a higher price tag than many competitors. However, looking at the benefits of Aprima EMR, it becomes clear that the system is worth its price.
Firstly, Aprima EMR is designed to be user-friendly, with an intuitive interface that is easy to navigate. Physicians and other healthcare professionals can quickly access patient information, update records, and communicate with other team members. This efficiency can save time and improve patient care, which is invaluable in today's fast-paced healthcare environment.
Secondly, Aprima EMR is highly customizable, which means it can be tailored to fit the specific needs of individual practices. This can help improve workflows and streamline processes, increasing productivity and profitability. In addition, Aprima EMR offers a range of advanced features, including clinical decision support, patient portals, and e-prescribing, all of which can help to improve patient outcomes and satisfaction.
Finally, Aprima EMR is backed by experienced professionals who provide ongoing support and training. This means that practices can rely on Aprima to keep their systems up-to-date and ensure they get the most out of the software.
Concluding Thoughts
What are you waiting for? Are you still in denial? Then schedule a demo with the vendor to see that it delivers the services it promises. This system makes your investment worthy by deriving potential returns. So, reduce your clinical costs now by purchasing the software that charges according to monthly collections. Then, grow and scale your business by embracing the solid-budget features of Aprima EMR.