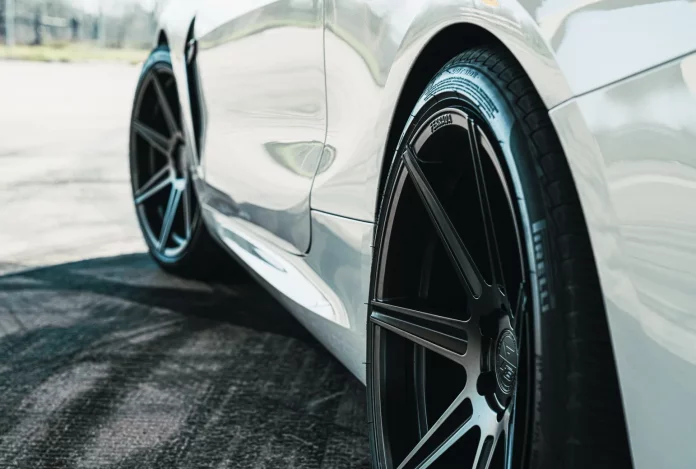 Last Updated on August 30, 2022 by azamqasim
When it comes to high-performance and high-quality custom-made BMW wheels, there are hardly any bigger names than Ferrada Wheels. It has established a niche for itself as one of the most audacious manufacturers of high-end custom rims for the finicky and for collectibles.
In another stunning move that might affect the power dynamics with brands like Fuel Wheels, an all-new set was recently spotted adorning the high-caliber BMW M8 Competition Coupe.
The M8 has also been spotted with an unnamed model of Giovanna Wheels but that is another story for another day.
What sets this incident apart is how extraordinary the M8 Competition Coupe looks with the new Ferrada models.
Unlike many of the past designs, the FR7 has 7 spokes. Since it is adorning the M8 Competition Coupe, it has to be assumed that this is one hell of a strong set of wheels forged out of 6061-T6 aluminum that also has the distinct concave structure used to great effect by Ferrada Wheels over the years.
The 7 spokes merge together at a single point to form a star-shaped pattern which works well for what is arguably one of the most handsome BMW Coupes out there at the moment.
These wheels are extremely lightweight, single-piece rims forged out of a single block of aluminum. In this case, Ferrada has walked the Fuel Wheels way by providing enough space for the vehicle's sophisticated brake kits and TPMS to easily fit inside, leaving no drag and resulting in superior aerodynamic performance.
This special set of wheels has been made available in 21-inch diameters and will easily fit most premium vehicles with relative ease.
A word on the BMW M8 Competition Coupe
The M8 is also available as a standalone unit without the Competition tag, but with the latter model, the plot thickens. This is an AWD vehicle and is powered by a smoldering 4395cc engine that often threatens to leave you behind as you take over the wheels.
With a maximum power output of 591 bhp and a smooth 750 Nm torque, this is one baby which definitely belongs to the racing track. It had, as we mentioned, also been seen with a set of Giovanna Wheels during its initial press display.
Perhaps the one area where the M8 Competition Coupe really stands apart is the sheer speed of the vehicle. With the V8 engine waiting for your command, it can reach 0-50mph in a mere 3.3 seconds and has a set speed limit of 250 kmph, although this can later be modified to go up even further.
What other new Ferrada Wheels are on offer?
It's interesting that you should ask since the company has just launched a series of brand-new rims to keep up with the rise in competition, not to mention perennial rivals like Fuel Wheels.
If you loved the FR7 the company made for the BMW M8 Competition Coupe, you will certainly like the following models:
Ferrada CM1:
This is arguably the flagship of the 'Concave Madness' range of high-quality rims designed exclusively for high-end vehicles only. The CM1 model has signaled a new avant garde approach to forged wheels in true Ferrada style. With the signature concavity and with intricate machining of pockets onto each spoke, these wheels feel like works of art.
Read More: How to draw car drawing
And yet, they are surprisingly lightweight. This means that your premium vehicle will certainly not guzzle a lot more gas than it used to when you use these hot rims.
Each of the lips are polished to a glaze and the overall color scheme of Brushed Cobre is a sight to behold. Perhaps even Fuel Wheels can take some lessons here!
These wheels are available in sizes of 20, 21 and 22-inches. This means they will splendidly suit anything from a Porsche to a Mercedes and a Land Rover or two.
Ferrada FT4:
This model was introduced specifically to satisfy the increasing demand from owners of pickup trucks and SUVs for bigger and more powerful rims which would still resemble the traditionally designed Ferrada Wheels. If you own a heavy vehicle that often has to traverse bad terrain, this is the model you should go to.
In true-blue style, there is the concavity factor here. The wheel is both bold and intricately designed and is meant to raise eyebrows as it sweeps down broad streets.
While the FT4 looks remarkably similar to the 'Haleb' range offered by Giovanna Wheels, there is one pronounced difference: this is the aesthetics of the Ferrada FT4. Although they have been designed mostly for bigger vehicles, it looks as if it could fit any passenger car that we commonly see in the cities and suburbs of America.
Finally, these wheels come in fantastic matte finishes of chrome, bronze, and machine black.
Ferrada has also taken great pains to ensure they are priced competitively.
Wrapping up
With Ferrada bringing its A-game to the forth, it is but a matter of time that Fuel Wheels and other majors also up the ante. Buy them only from authorized retailers and check the sizes carefully.
Read More: Things That Make Your Car Attractive
That's about all!