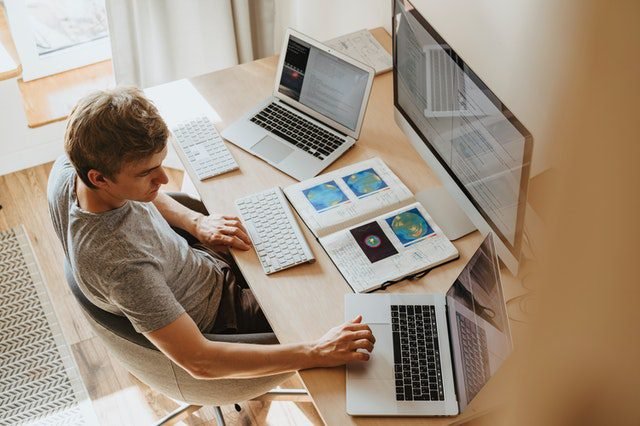 Last Updated on September 15, 2022 by admin
2021 provoked the growth of NodeJS development outsourcing services. Company executives are increasingly willing to accept that in an unstable economy, eliminating the IT component from a company's infrastructure will mean the collapse of sales, logistics, or finances. There are two ways out of this situation: use advanced technologies such as NodeJS and enlist the help of competent professionals. It is these two aspects we will consider in today's article.
Why NodeJS development is important?
Node.js is a software platform that makes JavaScript a general-purpose language. It's also called the JS runtime environment. It knows how to link to external libraries, call commands from code, and act as a web server. To put it simply, it adds a backend to a fully frontend-oriented language, making it possible to create not only websites but full-fledged applications, without having to use a browser.
ch it is easier to handle the load because there is no need to create a separate thread for each connection. Proper resource allocation in NodeJS development helps to handle more connections. This model is ideal for creating a mobile app with many users. Many successful companies use this technology.
Why NodeJS development outsourcing?
Keeping an IT department of experienced professionals in a small company isn't financially justified. As the company grows, requirements for internal infrastructure change. The requirements for a technical specialist also grow. In addition to the administration of physical and virtual servers, there are strategic tasks: to develop the IT infrastructure. Staff maintenance isn't cheap for a developing company.
In this case, NodeJS development outsourcing can compete with the staff of IT professionals. In particular, NodeJS development outsourcing has the following advantages:
Cost
NodeJS development outsourcing implies a full load of a competent specialist. The cost of outsourcing is many times less than keeping your own specialist, while the efficiency of IT outsourcing is higher.
Efficiency
During NodeJS development outsourcing the solution of complex tasks is carried out by a "collective mind" because the experience in solving tasks is accumulated not by a single person, but by the company as a whole. This is a very important feature of NodeJS development outsourcing.
Professionalism
During years of work NodeJS development company develops its own experience in the form of regulations and procedures, which allow not only to solve complex tasks but also to maintain and monitor the current functioning of systems and services. With NodeJS development outsourcing you get not only a competent specialist but also the system of maintenance, which allows you to prevent accidents and monitor the infrastructure.
The best countries for NodeJS development outsourcing
There are plenty of reasons to outsource NodeJS development. 59% of global companies hire foreign programmers to optimize NodeJS development costs. And although the prices for offshore developers vary from country to country, you can still save from 40% to 70% of the total costs.
Ukraine
DAXX company in its report on the attractiveness of different countries for IT outsourcing in 2021 named Ukraine the #1 IT offshore in Eastern Europe and the best in the world for hiring programmers. The reason for this is access to one of the largest pools of talent and low remote NodeJS developer rates of around $30-60 per hour.
Poland
Outsourcing costs among Polish software companies range from $40 to $75 per hour. If you choose one of the outsourcing companies in Poland, the average minimum cost of software development is $43 and the maximum average is $65 per hour.
China
China is one of the most affordable countries for outsourcing software development. While the average hourly rate is $19-38. Nevertheless, the low level of English and the cultural difference speaks against this choice.
So what to do in a situation where you need a top-notch NodeJS development specialist? You should try to work with outsourcing companies! A good outsourcing company will initially do an IT audit and tell you how to implement your business goals with advanced technology. This way you will assess the contractor's competence, and the outsourcer will identify the work front, the state of the IT infrastructure, and bottlenecks.
We also recommend that you pay special attention to companies from Eastern Europe. For example, the firm RexSoft has been providing quality services to customers around the world for over 9 years. With NodeJS development company RexSoft, for a relatively low price, you can get access to more than 50 NodeJS development specialists.