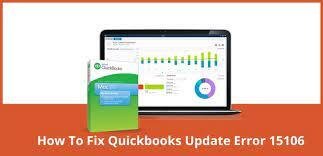 Last Updated on March 1, 2023 by
It is possible to encounter QuickBooks error code 15106 when you use QuickBooks. Error 15106 in QuickBooks mostly affects the update function, and each time a user attempts to do an update for Payroll or QuickBooks, the system will give an error warning "Error 15106". 
The error message is a sign an updated application is damaged. If you're using QuickBooks payroll and trying to update, but are unable to do so, then QuickBooks update error 15106 has affected your system.
In this post, we will talk about the QuickBooks error code 15106. This is among the most frequent 15XXX series of QuickBooks errors. Let's look at the four best methods to tackle error 15106 with ease.
Reasons For QuickBooks Error Code 15106
There are two main reasons for QuickBooks Error 15106 listed below:
You're not connected to the system in administrator mode during the process of updating
Security software such as Antivirus stops the execution
UAC settings are turned on.
Other possibilities for QuickBooks Error 15106 include:
QuickBooks isn't able to install all the other components that are required in order to update the payroll application and software.
There is a chance that you are running WebRoot antivirus software on your computer. It recognizes QuickBooks installers as a possible threat and stops them from running under Windows.
Resolving QuickBooks Error Code 15106
Now, you know what causes QuickBooks Error code 15106 and why fixing it is your first priority. Let's look at some permanent solutions to it.
Solution 1: Turn off UAC
There is a chance that when operating behind the system, the UAC has stopped the downloading of QuickBooks updates. To ensure that you are on the safe side, it's suggested to disable it prior to downloading the update.
Exit QuickBooks and then open it through the Run Window by pushing Windows + R.
Type "Control Panel."
Then, press "Enter."  
On the Control Panel window, tap User Accounts, then select Users Accounts.
After that, tap on Change User Account Setting Control. Now select Yes if you are asked.  
Then, shift the slider to the option reading Never Notify slider and click OK.
Go to User Account Control Settings
Finally, reboot your system and attempt to download the update once more.
Solution 2: Removing WebRoot Spyware Sweeper
Select the Start button at the top of your Windows desktop and choose Control Panel.
Now click on Add / Remove Programs.
Moving on, tap twice on WebRoot in the menu, then select Remove/Uninstall.
Hit Next after selecting Uninstall.
Thereafter, follow the instructions on the screen to eliminate the application completely from Windows.
Then, restart your PC and attempt installing QuickBooks updates again.
If the error was resolved when you remove WebRoot and then install it again following the update. You could also include QuickBooks along with its associated services, such as QBDBMgrN.exe, Qbupdate.exe, and QBW32.exe, to the QB exclusion list in order to prevent receiving QuickBooks Error 15106 ahead.  
Solution 3: Switching The User Mode To An Admin Mode
Log in using user mode.
After that, find the QB Desktop icon.
Tap it with a right-click.
After that, tap on Run as Admin mode.
Log in to your administrator ID using a password
Click OK to confirm.
Now you are logged in using an admin account.
Then, you need to find the Start option.
Look to the right side of the screen and tap on the arrow.
Moving on, click on Switch-user.
Then, it would be best if you typed your admin credentials to shift to your admin account.
Solution 4: Do A Clean Installation of QuickBooks In Selective Mode
The steps are:
First, gather all the information needed to make a backup.
Additionally, you must maintain a copy of the license, as well as the product key.
Start your system using a selective mode.
Make sure that no other programs hinder the execution of windows that are active.
You have to shift to the selective start mode. The steps below are suggested:
Open the Run page.
Type up the MSConfig command there.
After entering the command, click OK.
Select General and then select startup & load the service.
Moving on, tap on Discover Services and choose to hide all Microsoft services.
 Tick "Hide MS-Services."  
Click on disable all.
Make sure that the Windows Installer checkbox shows up in the services list.
After you have checked your Windows Installer on the window for configuration and hit the Restart button.
Then wait for the system to restart.
Then, you can uninstall your QB application.
After that, reinstall the program.
Shift the mode to Normal start mode
Then, restore the system's settings to the normal configuration.
Take note of the following instructions:
Open Run Window.
Write up MSConfig there.
Tap on the OK button.
Select the normal start-up.  
Then, look for the General option.
Click OK.
It will show the Configuration Window.
Select Restart.  
Quickbooks Error 15106: Causes, Symptoms, and Solutions
Quickbooks is an accounting software used by millions of small and medium-sized businesses worldwide. While it's a highly reliable and efficient software, Quickbooks users may encounter various error codes, including Quickbooks Error 15106. In this article, we'll discuss what Quickbooks Error 15106 is, its causes, symptoms, and solutions.
What is Quickbooks Error 15106?
Quickbooks Error 15106 is a common error code that occurs when the software cannot update, download, or install the latest payroll or software updates. This error can be frustrating and may prevent you from accessing important information on the software.
Causes of Quickbooks Error 15106
There are several reasons why Quickbooks Error 15106 may occur. The most common causes include the following:
Incomplete installation or corrupted Quickbooks software
Antivirus software blocking Quickbooks updates
Incorrect user permissions to update Quickbooks
Damaged download link or Quickbooks update files
Symptoms of Quickbooks Error 15106
When Quickbooks Error 15106 occurs, you may notice the following symptoms:
Error message: "The update program cannot be opened" or "The update program is damaged."
The Quickbooks software freezes or crashes frequently
You're unable to download or install Quickbooks updates
The Quickbooks Payroll may not function properly
Solutions for Quickbooks Error 15106
To resolve Quickbooks Error 15106, follow these solutions:
Restart Quickbooks with Admin Rights: Restart the Quickbooks software with administrative rights to resolve user permission issues.
Stop Antivirus Software: Temporarily disable your antivirus software and download Quickbooks updates.
Update Quickbooks Manually: Manually download and install the Quickbooks updates by following the instructions provided on the Quickbooks website.
Rename the Folders: Rename the folder containing the download file, and reinstall Quickbooks updates.
Repair Quickbooks Installation: Uninstall and reinstall Quickbooks, ensuring that the installation process is complete.
Final Words
This article focuses on the various aspects related to QuickBooks Error 15106. The best four solutions are enough to fix the issue from the root and stop it from happening again.