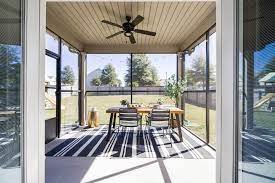 Last Updated on July 18, 2023 by
Most homes usually have indoor ceiling fans, even though outdoor fans are uncommon. Still, for people who have outdoor spaces in front of a nicely maintained garden and want to have their time over there, having a ceiling fan in summer can be an ideal choice to facilitate their home with additional features and to spend quality time. 
Installing a ceiling fan not only be helpful for you in summer but overall add value to your property. It's a simple formula, the more you add features to a home, the more value you get when sold. 
To do so, this article will cover a comprehensive guide regarding choosing an outdoor fan from the best fan company to ensure quality and considerations to keep in mind that will help the fan to have an extended life. So without wasting any time. Let's get straight into it.
Factors that you should consider when selecting an outdoor ceiling fan.
These factors can play a significant role when choosing the fan for your outdoor space.
Size: The fan size should be considered wisely where the fan will be installed. They come in various sizes, so select a fan appropriate for your outdoor area's square footage. The size shouldn't be much extensive or shorter.
Location: The next step is to determine its ideal location. You need to be specified about your decision and then select the place. If you don't choose the place carefully, the fan will be exposed to moisture and get rust.
If you live in an area where your moisture issue, the wet-rated fans are suitable for sites, they are also capable of resisting rain and snow. On the other hand, damp-rated fans are better suited for areas with less moisture exposure.
Style: Styling is also another element that can't be overlooked. You should select a style that complements the aesthetic of your outdoor area. Additionally, they come in a variety of styles, including rustic, tropical, and modern, so choose one that fits your design preferences. You can also go for decorative outdoor ceiling fans with different patterns. This is all up to you.
Motor Quality: There are different motor quality motors for a fan. If you go with a high-quality motor, it will provide adequate airflow for your space. In general fans with larger motors tend to be more durable and efficient. You can consult with your electrician or get him along when you buy.
Blade Material: Let's talk about the blade quality. The blade matters a lot. As it impacts the durability, speed, and appearance of the fan. Common materials used for blade manufacturing include wood, plastic, and metal. You can choose whatever type you want.
Energy Efficiency: The modern fans come up with an Energy Star rating and some other energy-efficient features, such as a variable-speed motor and LED lights. These efficient fans significantly reduce energy costs and feel less on the pocket. They can also be used as ceiling fan winter that moves the blades in the clockwise setting to reverse the airflow during the winter season. So, the efficiency is at its peak. 
Control Options: Different modes and controller systems have been introduced in the market for a long tim, making the controlling system more effective and convenient. You can choose the controlling solutions, such as pull chains, wall, or remote controls.
What is the perfect size for an outdoor ceiling fan?
The perfect size of an outdoor ceiling fan depends on the space where it will be installed.
The following chart shows the recommended fan size based on the square footage of the outdoor area.
| | |
| --- | --- |
| Outdoor Space Size | Fan Size |
| 100 square feet or less | 36 inches or smaller |
| 100-150 square feet | 36-42 inches |
| 150-300 square feet | 44-52 inches |
| 300-450 square feet | 52-60 inches |
It's important to note that this chart provides a general guideline for selecting a fan size based on square footage. Other factors, such as the ceiling height and layout of the outdoor space, may also influence the optimal fan size.
A general rule of thumb is to hang the fan at least 7 feet above the ground and 8-10 inches below the ceiling for optimal airflow.
Can I Run an Indoor Ceiling Fan on My Patio?
Running an indoor ceiling fan on a patio or outdoor area is not recommended. Indoor ceiling fans are primarily designed for indoor use and are not equipped to withstand exposure to moisture, heat, and other outdoor elements.
Using an indoor ceiling fan outdoors can lead to electrical hazards, such as shorts or electrical shock, and damage to the fan's motor, blades, and other components.
In addition, running an indoor fan on a patio or outdoor area will not provide the necessary airflow to keep you comfortable, as indoor fans are not made to accommodate the larger space and air volume of an outdoor area.
Can fans be controlled with WiFi?
Yes, it is possible to control a ceiling fan through WiFi using the intelligent fan control system.
With smart control, you can use a smartphone or tablet app to turn the fan on and off, adjust the speed, and manage other features like lighting and direction settings.
Some smart fan controls also allow you to set schedules, monitor energy usage, and integrate with voice assistants like Amazon Alexa and Google Assistant for hands-free control.
You will always need a stable WiFi connection and a compatible smartphone. After reading the user manual, you get a QR code to scan and download the application. When you are done with the process. You are good to go.
Apart from that, if you are interested to know about Top 5 Benefits Of Outdoor Landscape then visit our Lifestyle category.