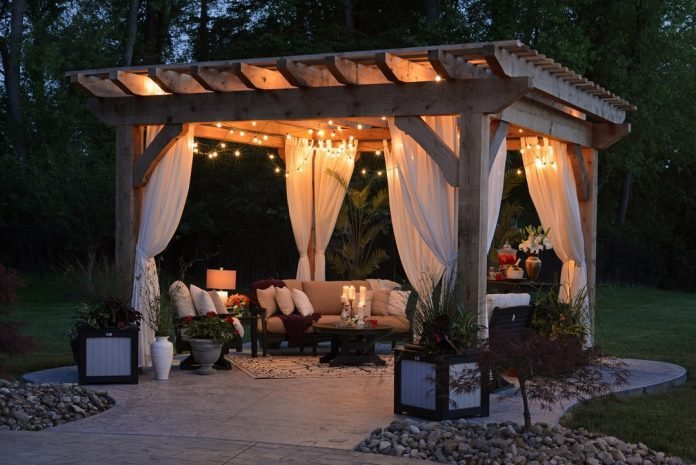 Last Updated on February 25, 2023 by rida
Did you know that having a backyard is still one of the top features that homeowners seek for their property? Ample backyard space is full of endless possibilities, whether you live alone, with a family, or you have pets.
Have you ever thought about how you can bring your outdoor space to the next level? Here are five ideas that you can consider for your outdoor decor and functionality.
1. Add in a Water Feature
Running water is a great way to play with movement in your outdoor decor. You can install a fountain of any size with water features that can light up the night or bring tranquility during the day.
If you have more space to work with, try putting in a pond or waterfall. Filling the pond with fish and plants can give it a natural feel. Koi fish are one of the best options because they are visually stunning and can grow to a large size.
2. Build an Outdoor Grill
Do you like to entertain in your patio space? If so, then a built-in outdoor barbecue may be a wonderful addition to your outdoor decor.
Rather than just buying a top-of-the-line grill, you can customize your outdoor kitchen space. If you want to jazz it up more, try putting in an outdoor pizza oven or other appliances to store food before you cook it.
3. Place Stunning Sculptures
If you want to make your outdoor decor more regal, then you should definitely consider adding in some bronze statues. You can get a bronze sculpture made in virtually any shape that you want, so it is very customizable.
You can even collect bronze sculptures surrounding a backyard theme. Check out a collectors guide to learn all about how you can maintain bronze in your yard.
4. Put in New Flowers and Plants
You should try to balance out the grass and foliage in your outdoor decor so that one does not overwhelm the other. Flowers and bushes can border walkways or sit beneath windows to lend aesthetic appeal.
For low maintenance, plant bushes, and flowers that will grow year after year. They will go dormant in the winter season and blossom when the weather starts to heat up.
5. Upgrade Your Patio Furniture
Nothing invites people to your patio space like comfortable furniture. Make sure that you get furniture that lets you lounge outside for long periods of time without feeling uncomfortable.
You should also be mindful of the weather when you choose outdoor furniture. For example, if it rains a lot in your area, then you may want to avoid cloth chairs.
Design the Best Outdoor Space
Whether you are a new homeowner or you simply want to revamp your backyard, you should not have to worry about coming up with good ideas. With these and many other tips, you can have the outdoor space of your dreams.
Would you like to learn more about all of the ways that you can transform your property? Check out our site for more ideas and inspiration today.
Read More: 8 Important Grilling Tips for Beginners