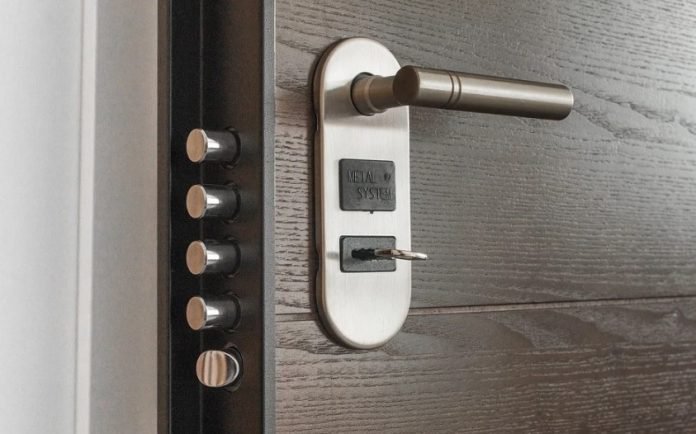 Last Updated on May 31, 2023 by
Home is where everyone feels safe but as per the increase in crime rate, everyone should consider an extra efforts to improve home security to surpass any possible danger in the future. There are various ways through which a person can make their home secure.
Due to the development in technology, it is easy now to have full control over every inch of your home without your presence. Here are some tips and also some gadgets that everyone should consider to make their homes a better and secure place to live for yourself and your loved ones.
Install a CCTV System to Improve Home Security
A CCTV camera system is known to be the most common and one of the most effective ways to keep burglars away.
A CCTV camera installed in a premises makes it look more secure to others and due to recent technology improvements, you don't have to sit in front of a computer screen to monitor them but also you can access them through your smartphones and even when you are not home you can check any activity going in your home.
These cameras might not stop criminals to do what they do but they are extremely helpful during the investigation and can help police to easily find them and help you get your valuables back.
Mostly the thing that scares people is the price of these CCTV. People think these might cost them thousands of dollars but in reality, they aren't that expensive as they look. For instance, if you are living in the UK a pack of 8 wireless CCTV cameras will only cost you about 500 pounds which is still acceptable and as per its benefits, it is worthy of investment.
You can find CCTV cameras from different stores or maybe law firms but if you are still concerned and want to take your home's security to another level then discussing with a risk management company like PD risk management is the first thing you should do. These companies have a specialty in helping people improve the home security of their premises in every possible way. You can discuss your situations with them and come out with the best security measures.
Don't keep valuables in plain sight
The most important thing is that burglars target people that have valuable items and that are easy to steal. If you make yourself an easy target, no security matters then. If you manage to show that you don't have any valuable things in your house and you don't have much to steal from, it will encourage burglars to skip your house and not waste their time.
For instance, if you have a nice luxury or any expensive car, hide it in the garage. If you have a nice LED, keep the curtains closed at night. If you have recently bought anything expensive, don't just leave the box outside your premises so that they don't get any encouragement to spend their criminal mind and keep an eye on your place.
Forget the "hide-a-key"
Hide-a-key is one of the common things most people do before leaving their homes and most of the people hide their keys that are easy to track down and remember. Burglars have an eye on people's activity they want to rob so they always keep an eye on where you drop your keys, when you go out, and when you come back.
However, as technology strives, now you should upgrade your doors. A door that can be accessed with a key and a user code is the best option. This code that only you and your loved will know and burglars or any other person won't stand a chance to access it without your consent. Keep the keys with you and even in the case, you lost it, you know the code.
Work with a Team
Teammates are your neighbors. If you ever plan to go out on vacation or for any other possible reason. It is very important to let know your neighbors about it. An empty home is what burglars look for.
Before leaving ask your neighbor to collect your emails and have an eye on your home and make it look like someone is living there. Park your car (if you are not taking it with you) in the same spot that you usually do will distract burglars and avoiding your home to be their potential target.
Avoid doors with glass near the handle
Glass doors entice burglars to attack as they are experienced and can easily break a glass to enter a place. Avoid installing a door with a glass near handles so that you are not triggering any burglar to enter your home easily.
Invest in motion-activated lights
Lights that lit up when the sensor finds some movement in range. Motion-activated lights can help you a lot when you are away from your home. For instance, if a burglar breaks into your house and suddenly the lights lit up, it will scare the criminal thinking owner might be at home and may change his mind and fall back from whatever he wanted to do.
Keep your second-floor safe
While most of the people concerned about their home security focus on the first floor of the house. If you have a second floor on your premises then you should take care of the entry points on the second floor too.
To avoid any inconvenience, install a window sensor, locks, and glass break sensor to keep the burglars away from your second floor.
Window locks to Improve Home Security
Windows are potential targets of criminals and their first choice when they want to enter a home. If you want to maximize your security and minimize the threats, then focusing on windows is also needed. You can install window sensors that have alarms that go on when someone accesses it from outside or when someone is breaking it. Most people usually don't lock their windows or have locks that can easily be unlocked. Try to install window locks that only persons inside can open and close them at night to avoid anyone entering your home without your consent.
Read More: Changing The Locks On Your New Home
These are the measures that you can take to make your home a more secure place for you and your family to live in.
Apart from that, if you are interested to know about How to Increase Security of Your Home then visit our Home Improvement category.