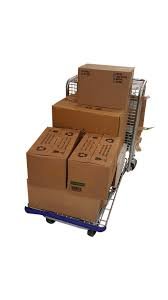 Last Updated on May 9, 2023 by Umer Malik
While there are many things you need to consider when packing for a move, it should also be light and stress-free. Always remember that moving down the block or across the state means a new beginning. Thus, it should be something that's relaxing and not disastrous.
If you're pressed for time, it still is not a reason to panic and make your packing day frustrating. There are ways to make it hassle-free, fun and fulfilling.
How to Pack for Your Move in One Day
Here are 12 tips to make your packing quick and easy:
Create a To-Do-List
The first thing you should do is to keep everything organised. What better way to accomplish this than creating a list of all the things you need to accomplish until your packing day. This way, unnecessary things will not disrupt your one-day packing strategy.
Call All Your Utility Providers for Disconnection
One of the many firsts in moving techniques is calling your utility providers to process disconnections. This includes gas, cable, electricity and water. Figure out when you need these utilities shut off. It may be best to make the call about a week before your intended date of disconnection.
In case you are renting an apartment, ask your rental service provider about how these can be done. This can help you settle necessary fees for the disconnection processes. It will also avoid having to worry about the hassles of having disconnection guys around during your packing day.
Buy All Your Supplies the Day Before
Packing will not go smoothly without containers, buffers, cling wraps, packing tape, labellers and other packing essentials. Make sure all of them are ready the day before your packing day. This can help ease the work without having to be bothered about going out for supplies.
Start Early and Enlist Help
Ask everyone to help in packing their belongings. This way you can concentrate on your own things. You can also distribute the common spaces among yourselves for simultaneous packing.
Sleep early the night before your scheduled packing day. Encourage everyone to have an early night's rest to make sure that they are energised and ready for the day. Set an alarm if you tend to oversleep to make sure that you are up early.
Tackle One Room at a Time
If you are assigned with more than one room to pack, do it one at a time. You may focus on packing your room first, then the next area of the house. This way, you won't mix up things and create a mess during the unloading and unpacking.
Strategise Your Containers
If you bought boxes for the move, get a few of them ready and labelled. This way, you can simply put the things you pick in their corresponding boxes.
Let's say, you labelled them with clothes, shoes, knick nacks, crafting material, and so on. As you pick a thing, you can just shoot it inside the box where it belongs. When the boxes are full you can simply close and seal them. Make sure to double-check the labels if correct.
If you're running low on boxes, look around your house and check for containers like PVC boxes, hampers, baskets, and even your drawers, small cabinets or dressers. Drawers and cabinets containing clothes or other things need not be emptied. You can leave the things inside and move them as is. Just make sure that there are no breakables inside and seal them with cling wraps.
Pack your Prized Possessions First
The first thing that you should be packing are your prized possessions. For example, you have had a collection of wines since the 1980s. These can be considered valuables and should be packed first. Make sure that they have enough buffers to keep them safe and intact during the move.
Get Rid of Everything You Don't Need
During the packing day, clear your mind and remember to be less sentimental. Remember to get rid of everything that you no longer need or those that will just create clutters to your new home. You can throw, donate or sell them.
Make Use of Your Clothes
Instead of taking all the time folding your clothes, use the clothes are buffers for breakables. This way, you're saving half the time packing. You can also use other things such as towels, pillowcases, blankets, curtains and other fabrics.
Use Trash Bags as Containers
You don't have to spend too much on boxes or expensive containers. You can use trash bags to pack things that are not breakable like toys and other knick-knacks. Another good trick is for you to pack your hanging clothes with their hangers in trash bags. It can also help ease unpacking them later on.
Label Everything
Create a labelling system. Whether you use colour coding or label them by rooms and category, make sure you label them all to help manage your time when unpacking them.
Call for Professional Help
Lastly, call for professional help. Ask a removalist you can trust to help you with the packing. They can help orient you with what and how to pack and what to let go of. They can also provide the needed lifting equipment for big and heavy appliances and furniture.
If you opt to pack everything yourself, you may need to consider tips 1 to 11. But for easier and hassle-free packing services, call for professional help.
Contact Cairns Coast Removals today!
Read More: Why You Should Hire a Moving Company for Your Upcoming Move