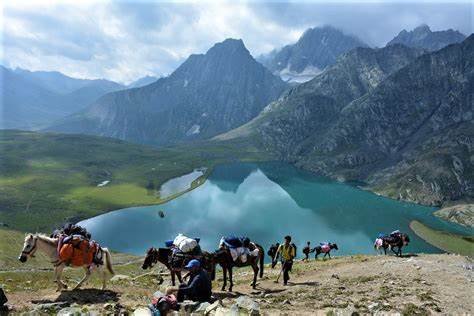 Last Updated on August 14, 2023 by
Great Lakes of Kashmir Trek is one of the most beautiful treks in India. Cliffhangers India is delighted to present this blog on the Great Lakes of Kashmir Trek from a trekker's perspective.
The pristine alpine lakes, vast colorful meadows, adventurous steep mountains, rocky passes, etc. are just a few attractions of this trek. The Great Lakes of Kashmir Trek has almost everything that a trekker expects while going on a classic Himalayan trek. Indeed, there are very few treks in India that are as beautiful as the Kashmir Great Lakes Trek. The striking blue lakes and the spectacular Himalayan mountain ranges, leaves every hiker in awe with the beauty of this place.
A seven to nine days trek from Sonamag to Naranag via Nichnai and Gadsar Pass are amazingly beautiful trekking routes in the Himalayas. The Great Lakes of Kashmir Trek has many beautiful alpine lakes throughout the trail and the scenery is truly fascinating! So we say that The Kashmir Great Lakes Trek should be on the bucket-list of every hiker.
(For growing professionally, a Basic Mountaineering Course is also offered at JIM, Pahalgam for those who are keen on doing more in this field. One can also check for other suitable short term and long term courses available in Kashmir.)
For those of you who are only interested to spend the trek time in Kashmir and return quickly to the hometown, the Kashmir Great Lakes Trek can be the best choice to experience all of Kashmiri beauty in this one trek!
The Kashmir Great Lakes Trek generally starts from Sonamarg, a popular tourist destination in Kashmir. It is a scenic 4 hours drive from Srinagar to Sonamarg. One can stay at Gagangir, which is little ahead of Sonmarag, as an option. Hotel Czara, located here is right next to the river Sindh Nallah.
(One can get a good place to stay, eat and rest anywhere in Kashmir except for the tourist seasons, that is summer. Advance booking is always recommended).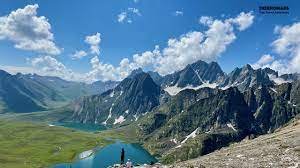 The following trail on the Kashmir Great Lakes Trek goes like this:
With a heavy breakfast, off loading the luggage, the view of the zigzag trails, the maple and pine trees, the shepherds serving noodles and Kashmiri Kavha, the beautiful sunset and some rest gets you refreshed for the trail ahead.
Shekhdur meadows to Nichnai pass
The sounds of the horses roaming freely in the meadows, the sunrise, a breakfast, a descend to the forest Bhoj and its silver birch trees, lunch or noodles and Kavha are what can keep the spirit of the hikers going on through this trail.
Trek to Krishnasar Lake

Gadsar Pass is the highest point on this trek at an altitude of 13,800 ft. Beautiful yellow flowers, a relishing lunch, watching the cliffs and snow around the circular pristine Gadsar lake is a pretty rejuvenating experience.
A breakfast, crossing a stream, ascending a narrow trail takes one to Satsar lake. Satsar means seven lakes. Maybe it has the beauty of all the seven lakes! Delicious food for lunch, evening snacks and tea and a movie at night in the tents can make any hiker fall in love with this trek.
Satsar to Nandkol via Zaj pass

Crossing a wooden bridge, a small rocky trail leading to the boulder area takes one to the Zaj pass. The twin lakes of Gangabal and Nandakol can be seen from here from the top. A descend to Nandkol, a beautiful view of Mt. Harmukh and the night sky are what wraps up this part of the trail.
Nandakol to Naranag and Srinagar.

The last day of the trek is a thanks giving day for hikers towards their support staff and people around. Reaching Naranag is a long walk. Spending a night at the Dal Lake can give you a pleasant time to wind up!
Now let's also talk about one more trekker's favorite Kashmir trek, The Tarsar Marsar Kashmir Trek.
Kashmir valley is blessed with Nags (springs) and Sars (lakes). You can choose the Tarsar Marsar Kashmir Trek to view the twin lakes in the Kolahoi mountains. The best time to go on high altitude treks in Kashmir is from July to September. A good fitness regime will get you a place on the Tarsar Marsar Trek anytime of the year with the authentic tour operator's consent. The Tarsar Marsar Trek begins at Aru, the basecamp,which can be reached from Srinagar.
Aru, near Pahalgam is the basecamp for this trek. Meadows, flowers and pine trees make the beginning of the Tarsar Marsar Trek awesome. Starting from Aru, a five day Tarsar Marsar Trek covers Lidderwat, Shekwas, Tarsar, Sundersar and Marsar.
A quick health count, precautionary medication for altitude sickness can be essential in the beginning of the trek.
Fluffy clouds, colorful flowers, pleasant cows grazing on wet green pastures and alpines are the special features of the start of the Tarsar Marsar Trek from Aru to Lidderwat. A climb from Aru at 7,958 ft. to Lidderwat at 9,131 ft. can take about 7 hrs for a 10 km trail. This trek is not very steep yet challenging.
Shekwas at 11,039 ft., can be reached in about 5 hours, covering a distance of around 5.5 km. Leaving Lidderwat in the morning one can easily reach Shekwas by afternoon. River Lidder, Gujjars and Bakerwals grazing their sheep, dhokas (mud huts), hot kehwa (green tea) or noonchai (salt tea), maeshkraer (local mozzarella-like cheese) are all the refreshing features of this journey besides the thrilling trail.
The trek to lake Tarsar (12,449 ft.), can take around five hours for the 5km trail. An eating break for hot pakoras with tea along the view of the beautiful alpine lake Zadsar, can make you enjoy the trek to the fullest. Tarsar Lake is surrounded by the peaks of the Kolahoi mountains. Marsar is on the other mountain. These twin lakes are like twin sisters. A steep ridge is to be climbed from Tarsar to get a view of Marsar lake. At an altitude of 13000 ft. everything looks breath-takingly beautiful from here!
Satlanjan waterfall (Satlanjan means seven streams, probably that's how it originates) Bhoj Patra and beautiful silver birch trees are what one can remember from this part of the trail, that is, Tarsar to Lidderwat.
Returning to Aru from Lidderwat can be a physically, mentally and emotionally refreshing journey.
Now, if you are a hiker or one who wants to go on these treks, Cliffhangers India can provide you with all the necessary and further details. Cliffhangers India is a registered entity and a specialized tour planner for Kashmir treks like The Kashmir Great Lakes Trek and The Tarsar Marsar Trek.
Cliffhangers India is looking forward to hearing from you to offer you truly fascinating Kashmir Tour and Trekking packages. Contact Cliffhangers India for further details and exciting offers!
Apart from that, if you are interested to know about Tarsar Marsar Trek then visit our Travel category.