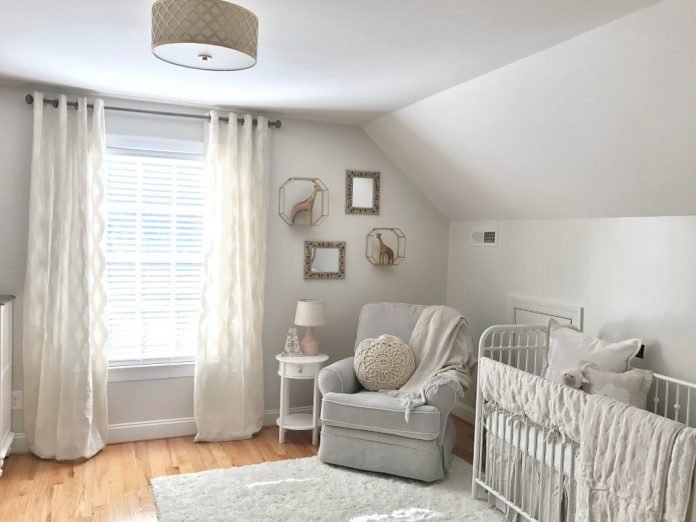 Last Updated on August 9, 2022 by
Designing a nursery for your newborn is one of the most exciting things you can check off your to-do list as you await his or her arrival.
Whether you've decided to keep the gender of your new bundle of joy a surprise or intend to reuse the décor for any future children, designing a gender-neutral nursery is the perfect option.
Not to mention, moving past the traditional gendered pinks or blues opens up a world of design opportunities, and, when done correctly, will provide your little one with a beautiful space to learn and grow in for many years to come.
In need of some inspiration? The trick to creating a timeless, gender-neutral nursery is to focus on these four key elements.
1. Decide on a Theme
Developing a theme for your child's nursery is where all the fun begins. Indeed, the sky is the limit with your design approach. However, make sure whatever you choose reflects your personality; after all, you'll be spending a lot of time in this room making memories with your little one.
Do you love the ocean? Then perhaps it makes sense to have a nautical theme. Or maybe you love the night sky and want to decorate the nursery with stars, fairy lights, and other dreamy elements. With an almost unlimited amount of design options available at your fingertips, make it a point to get creative and have fun with it.
2. Pick Out Some Furniture
Though it might be tempting to add a crib, chair, or dresser with bright colors, the furniture is what will anchor the gender-neutral color palette in your nursery. Stick with furniture pieces that are black, white, cream, natural wood, or gray. Keeping the furniture a neutral color will allow you to continue using it for years to come, no matter how the rest of your room design changes.
3. Opt for Neutral Paint Color(s)
Paint is another area in which you'll want to avoid bright colors, although you can get a little more creative with wall color compared to the hues you decide on for the furniture.
While grays have recently become popular for nurseries due to their versatility, muted shades of traditionally brighter colors are an option, too. Whatever color you decide to go with, remember it will need to be cohesive with the overall theme of your nursery now and versatile enough to remain relevant as your baby grows older.
4. Add Pops of Texture and Color with Accessories
Since the wall color and furniture in the nursery will be neutral tones, the accessories you decide on are how you'll add texture and color to bring your theme to life.
Colorful rugs and pillows in bright colors create pops of color and add depth to any room. These decorative accessories are also easy to change out as your child gets older and the room theme changes over the years.
Additionally, don't forget to add wall art. Just like wall art is often the focal point in other rooms of your home, the same should be true for any nursery. Choosing kids' wall art that reflects your overall theme and personality will add warmth and tie all the elements of your gender-neutral nursery together.
Pulling it All Together
Designing a gender-neutral nursery can be fun and interesting. As your child grows and comes into his or her own, though, you want to ensure the choices you made for their nursery will still hold interest and look modern with each passing year. By following these tips, you can create a nursery that's beautiful, sophisticated, and timeless.
Read More: Enter The Most Beautiful Garden Competition