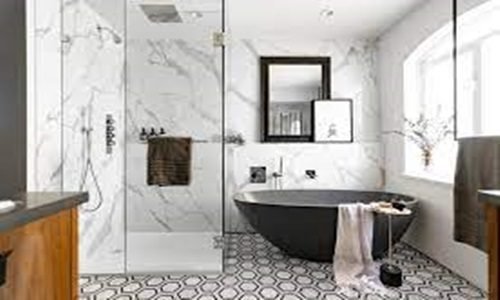 Last Updated on August 22, 2022 by
According to studies, the average American bathroom remodel minus a custom shower pan can cost between $14,000 and $15,000.
You've been tasked with designing a commercial bathroom, but you're not sure where to start.
Commercial bathrooms can be tricky – there are so many things to take into account! How do you make sure that your bathroom is both stylish and efficient?
We've got you covered. Check out our 5 key tips for commercial bathroom design and get started on creating the perfect space for your business.
1. Use Space Wisely
Commercial bathroom designs should be well-organized and easy to use. It's important that you leave enough space for everything people need when they go to the bathroom — such as sinks, toilets, hooks for coats and bags, etc.
While it might seem intuitive that the toilet area should take up more space than, say, the sink area, we recommend creating different zones within your commercial bathroom where all needs can be met.
Streamline your commercial bathroom design with ample space between zones so that people can move easily about the restroom without bumping into or blocking other users.
If you have a big bathroom and are looking to fill the space, you need to make sure these things don't mark the walls. To avoid unnecessary commercial bathroom maintenance, you'll need chair wall protection.
2. Wash Spaces and Fixtures Should be Easy to Keep Clean
Your commercial bathroom must have enough room in its fixtures and spaces for all of us to clean it thoroughly after use (obviously). If we're unable to clean the bathroom properly, germs will build up and spread!
Here are some bathroom cleaning tips:
Add a shower to your restroom
Use different colors in the stalls and on walls
It's also crucial that you purchase materials for your commercial bathroom that are easy to clean.
You don't need to use precious time cleaning up grout or scouring the floor when people are just going to mess things up again soon after. Instead, opt for smooth porcelain surfaces that are simply wiped down.
Stainless steel is another great option if you're looking to add glistening accents to your commercial bathroom design.
3. A Comfortable Temperature is Key
What is most important when comfortable? Different people have different preferences, so it would be wise to test out your commercial bathroom, particularly when it is in use.
People need to stay cool in the summer and warm during the winter months. This will ensure that your commercial bathroom isn't too cold or hot for people to comfortably do their business inside.
4. Add Some Flair with Commercial Bathroom Decor
Commercial bathrooms don't have to be dreary, boring spaces! If you want to jazz up your shared restroom, consider adding an accent wall behind one of the stalls or hanging some stylish prints on the walls.
Choose colors that match your existing office decor — perhaps jewel tones for a sleek office?
5. Keep Commercial Bathroom Supplies Handy
Even the sleekest commercial bathroom won't be able to keep its occupants happy if it's out of toilet paper or soap. Stick to your office color palette when purchasing supplies so that you don't clash with the decor.
Additionally, keeping high-traffic items stocked and replenished at all times will ensure that your commercial bathroom is always fully functional for employees and guests alike.
Create the Perfect Commercial Bathroom Design
The bathroom is one of the most important places in a business. It's where employees and customers come to clean up, relax, and rejuvenate. That's why your commercial bathroom design must be on point.
Want more home improvement articles like this? Check out our blog for more!